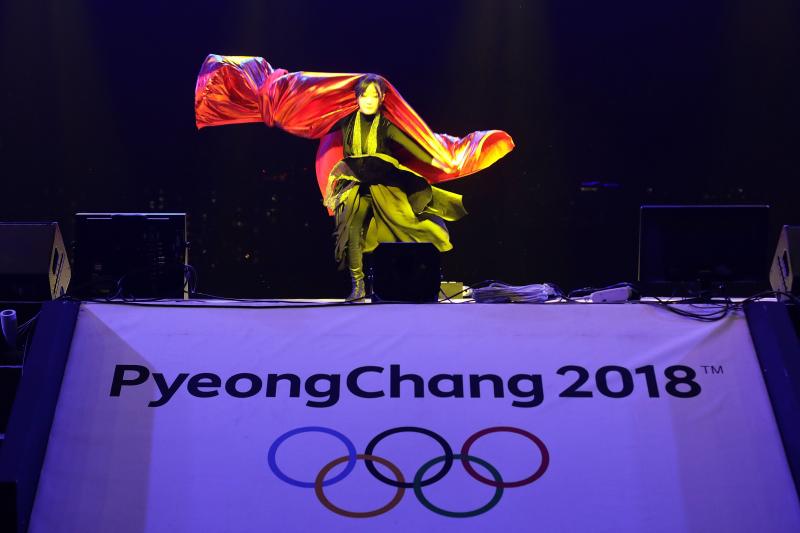 Bob Costas is gone, Matt Lauer long gone, but Katie Couric is back on her old network to co-host the XXIII Olympic Winter Games Opening Ceremony (NBC, 8 p.m.) from the Pyeongchang Olympic Stadium with the former ESPN sportscaster Mike Tirico. Who knows what kind of spectacle South Korea is planning. Something will likely be Gangham Style. And all the athletes will enter the arena, country by country, all of them capturing their experience on iPhone, apparently not realizing that this thing is being broadcast worldwide. It's repeated at 12:38
The games are already affecting late night schedules: No "Late Late Show with Seth Meyers" tonight.
Michael Douglas narrates the new four-episode "Grand Prix Driver" (Amazon, streaming) about a famous Formula One race team.
George Clooney is the interview subject on the second episode of David Letterman's "My Next Guest Needs No introduction" (Netflix, streaming.
A new documentary, "Seeing Allred" (Netflix, streaming), chronicles the work of attorney Gloria Allred defending women in going after targets from Bill Cosby to Donald Trump.
"2 Dope Queens" (HBO, 11:30 p.m.) host Sarah Jessica Parker and the comedians Aparna Nancherla, Rhea Butcher and Sheng Wang..
The comic marks 30 years in the biz on "Eddie Griffin: Undeniable" (Showtime, 10 p.m.).
Rebecca tries to be realistic on "Crazy Ex-Girlfriend" (The CW, 8 p.m.), though she will likely break into song from time to time.
"Jane the Virgin" (The CW, 9 p.m.) tries to be friends with Rafael.
A fourth season starts for "My Lottery Dream Home" (HGTV, 9 p.m.) with a couple who use their new $1 million to find a new house in Florida.
What they're calling the three-night "Celebrity Big Brother" (CBS, 8 p.m.) premiere event comes to an end with a two hour eviction episode.
Rep. Adam Schiff, April Ryan, Johann Hari, Richard Painter and Bari Weiss are on a new "Real Time With Bill Maher" (HBO, 10 p.m.).
On "High Maintenance" (HBO, 11 p.m.), an ex-Hasidic man explores the outside world with a writer and a nightclub performer's night out takes a weird turn.
The second episode of the documentary series "The Trade" (Showtime, 9 p.m.), Don Miguel responds to a shooting while Det. Edwards looks into another overdose.
A robot treats a 7-year-old on "Untold Stories of the E.R.: Extra Dose" (TLC, 9 p.m.).
A father and son go to Porcupine Creek, Alaska, as part of their "Gold Rush" (Discovery, 9 p.m.).
A finale comes for the kids quiz show "Child Support" (ABC, 9 p.m.).
"Diners, Drive-Ins and Dives" (Food, 8 p.m.) goes to New Orleans and, at 9, to Phoenix.
"The Rap Game" (Lifetime, 10 p.m.) contestants have to entertain a Sweet 16 birthday party
"The Graham Norton Show" (BBC America, 10 p.m.) hosts will.i.am, Imelda Staunton, Cuba Gooding Jr. and George Ezra.
Costume design gets the spotlight on Turner Classic Movies' 31 Days of Oscar with "Seven Samurai" (6:15 a.m.), "Nicholas and Alexandra" (9:45 a.m.), "The Facts of Life" (1 p.m.), "Travels With My Aunt" (3 p.m.), "Tess" (5 p.m.), "What Ever Happened to Baby Jane?" (8 p.m.), "A Room with a View" (10:30 p.m.), "Darling" (12:45 a.m.), "The Age of Innocence" (3 a.m.) and "Les Girls" (5:30 a.m.).
NBA action includes Clippers at Detroit (ESPN, 7 p.m.) and Minnesota at Chicago (ESPN, 9:30 p.m.).
Men's college basketball includes Toledo at Miami, Ohio (CBS Sports, 6 p.m.), Davidson at Rhode Island (ESPN2, 7 p.m.), Princeton at Harvard (ESPNU, 7 p.m.), Minnesota at Indiana (Fox Sports 1, 7:30 p.m.), Detroit at Oakland (ESPN2, 9 p.m.) and Kent State at Ball State (ESPNU, 9 p.m.).
Women's games include Marquette at Xavier (Fox Sports 2, 8 p.m.).
Men's college hockey has Ohio State at Notre Dame (NBC Sports, 7:30 p.m.) and St. Cloud State at Miami, Ohio (CBS Sports, 8 p.m.).
Daytime Talk
Kelly Ripa and Ryan Seacrest: Tyra Banks, Julie Chen. The View: Joel McHale. The Talk: Gina Rodriguez, Arielle Kebbel. Harry Connick: Alexandria Daddario, Chef John Seymour. Steve Harvey: La la Anthony, Tracey Edmonds, Kim Gravel, Ta'Rhonda Jones. Ellen DeGeneres: Drew Barrymore. Wendy Williams: Sunny Hostin. The Real: Jerrika Hinton.
Late Talk
Stephen Colbert: Nathan Lane, John Oliver. Jimmy Kimmel: Chadwick Boseman, Dave Salmoni, ZZ Ward with Fitz (rerun). Jimmy Fallon: Paul Rudd, Laurie Metcalf, Alice Merton. James Corden: Channing Tatum, Adam Scott, Diego Luna (rerun).