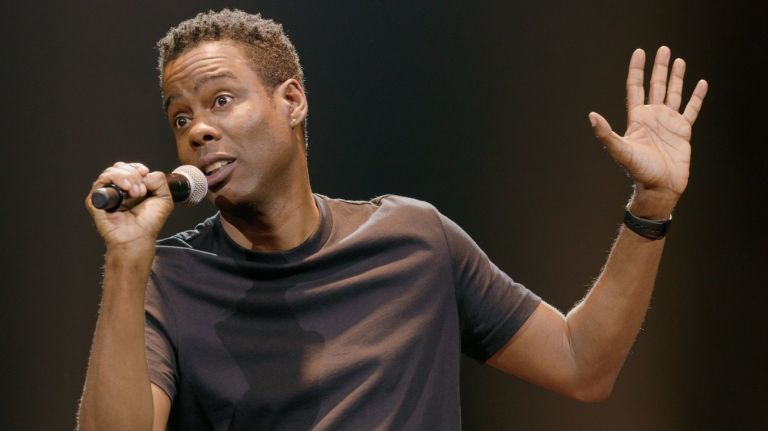 Chris Rock chooses Valentine's Day for his first standup comedy special in a decade, "Tamborine" (Netflix, streaming). The timing is in part so he can talk about his own failures in marriage that led to his 2014 divorce. "Sometimes you sing lead, and sometimes you're on tambourine," he says of a relationship. "And if you're on tambourine, play it right." Other topics include Trump, police shootings in the session, taped last year in Brooklyn.
Speaking of standup and Valentine's Day, "Relationships Just for Laughs" (The CW, 8 p.m.) is a special culled from routines captured at Montreal's Just for Laughs Festival, with  Maria Bamford, Bill Burr, Kevin James, Mo'Nique, Whitney Cummings and Tom Papa, among others.
It's paired with "The Top 14 Greatest Valentine's Day Movies of All Time" (The CW, 8 .m.), as ranked by Popstar magazine, which means there will be more "Sleepless in Seattle" than "Casablanca." The host is Dean Cain, the former Superman who starred last month in his own romance on Hallmark, which tonight goes for its even more recent "Very, Very Valentine" (Hallmark, 6 p.m.) and "My Secret Valentine" (Hallmark, 8 p.m.).
Shoshannah Stern and Josh Feldman are deaf actors playing deaf best friends on the ground breaking new comes "This Close" (Sundance Now, streaming). Which sounds interesting, but is anyone signed up to Sundance Now?
More figure skating, Alpine skiing, skeleton and speed skating are on tap at the Winter Olympics (NBC, 8 p.m.).
The 52-day siege begins on "Waco" (Paramount, 10 p.m.) and David Koresh awaits a sign from God.
Time moves further back on "The Assassination of Gianni Versace: American Crime Story" (FX, 10 p.m.) as Naval officer Jeffrey Trail meets Andrew Cunanan and Gianni Versace comes out of the closet.
In the new original movie "Love Per Square Foot" (Netflix, streaming), Sanjay Chaturvedi and Karina D'Souza play a couple who get married so they can buy a flat in Mumbai.
"The Amazing Race" (CBS, 9 p.m.) goes from Bahrain to Thailand.
The "Animals with Cameras" series concludes on "Nature" (PBS, 8 p.m., check local listings) with some spying on brown bears and Chilean devil rays.
Benita Alexander reports on her relationship with a former finance, the transplant surgeon Paolo Macchiarini, on "He Lied About Everything" (Investigation Discovery, 8 p.m.).
On "Grown-ish" (Freeform, 8 p.m.), Zoey gets a fellowship at Teen Vogue.
Scientists take a look at the famous World War II military operation in "Great Escape at Dunkirk" on "NOVA" (PBS, 9 p.m., check local listings).
Looking for a mentor, Esther and Benji invite a lesbian couple to a dinner party on "Alone Together" (Freeform, 8:30 p.m.).
It's casual Friday on "Corporate" (Comedy Central, 10 p.m.).
Quentin confronts his foe on "The Magicians" (Syfy, 9 p.m.).
Alice's sister is acting weird on "Channel Zero: Butcher's Block" (Syfy, 10 p.m.).
Already losing track of "Celebrity Big Brother" (CBS, 8 p.m.).
"Expedition Unknown" (Travel, 9 p.m.) is still in Egypt.
Six sand islands near Dubai are made into luxurious travel spots on "Impossible Builds" (PBS, 10 p.m., check local listings).
Judy Greer, Colin Quinn, Judan Friedlander, Caroline Rhea, Orlando Jones and Abby Elliott play "Match Game" (ABC, 10 p.m.).
Turner Classic Movies presents past Oscar nominees and winners for best adapted screenplay with "Random Harvest" (6:45 a.m.), "Great Expectations" (9 a.m.), "Brief Encounter" (11 a.m.), "Lili" (12:30 p.m.), "Here Comes Mr. Jordan" (2 p.m.), "Meet Me in St. Louis" (4 p.m.), "Wuthering Heights" (6 p.m.), "Gigi" (8 p.m.), "Little Women" (10:15 p.m.), "Doctor Zhivago" (12:30 a.m.) and "Tom Jones" (4 a.m.).
NBA action includes Clippers at Boston (ESPN, 8 p.m.) and Golden State at Portland (ESPN, 10:30 p.m.).
Hockey has Columbus at Toronto (NHL, 7 p.m.).
Men's college basketball includes South Florida at UCF (ESPNews, 6 p.m.), Virginia Tech at Duke (ESPN2, 7 p.m.), Davidson at VCU (CBS Sports, 7 p.m.), Kansas State at Oklahoma State (ESPNU, 7 p.m.), Villanova at Providence (Fox Sports 1, 7 p.m.), East Carolina at Tulane (ESPNews, 8 p.m.), St. John's at DePaul (CBS Sports, 9 p.m.), Kentucky at Auburn (ESPN, 9 p.m.), Memphis at SMU (ESPNU, 9 p.m.), Seton Hall at Xavier (Fox Sports 1, 9 p.m.), Wyoming at San Diego State (CBS Sports, 11 p.m.) and Nevada at Boise State (ESPNU, 11 p.m.).
Daytime Talk
Kelly Ripa and Ryan Seacrest: Lupita Nyong'o. The View: Michael B. Jordan, Catt Sadler. The Talk: Josh Hartnett, Piers Morgan. Harry Connick: Danny Seo, Lais Ribeiro, Brad Gorki. Steve Harvey: NeNe Leakes, Matt Iseran, Akbar Gbaja-Biamila, Sean "Diddy" Combs (rerun). Ellen DeGeneres: Natalie Portman, Dax Shepard. Wendy Williams: Taye Diggs.
Late Talk
Stephen Colbert: Jodie Foster, Tom Hanks (rerun). Jimmy Kimmel: Charles Barkley, Chloe Bennet, Monica. James Corden: Michael Pena, O'Shea Jackson Jr. (rerun). Jordan Klepper: Vincente Fox (rerun). Conan O'Brien: Patton Oswalt, Andy Serkis, Royal Blod (rerun).