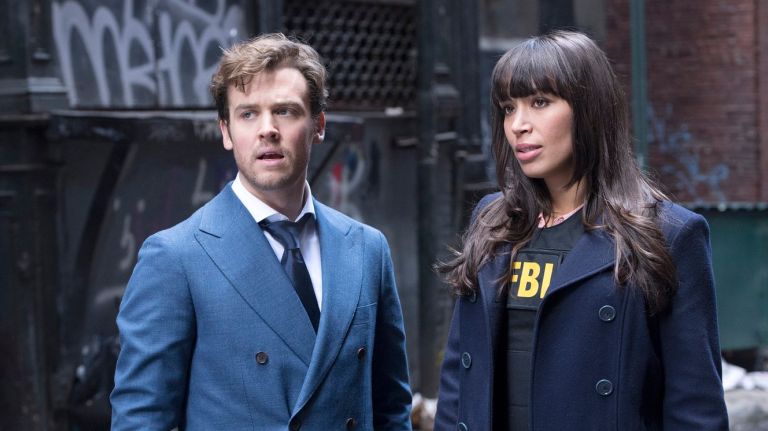 A particularly dumb caper police drama is the new "Deception" (ABC, 10 p.m.) in which an illusionist volunteers to help solve crimes. Presumably, he'll cut bad guys in half. The problem premise is compounded by the annoying performance of Jack Cutmore-Scott as the magician (which, come to think of it, may be called for in that profession). His FBI enabler, played by Ilfenesh Hanera is much better, possibly by comparison. But why would she allow him near crime scenes in the first place?
DJ Khaled and Hailey Baldwin host the "iHeartRadio Music Awards" (TBS, TNT, truTV, 8 p.m.) live from the Forum in Los Angeles, with performances from Eminem, Cardi B, Maroon 5, Bon Jovi, Ed Sheeran, Charlie Puth and Camila Cabello, among others.
It was 12 years ago when Judith Regan tricked O.J. Simpson into saying he murdered his ex wife for a book and TV project so fraudulent it was never aired (though the eventual book became a brief bestseller). Now the fake news world is such that a special like that, once called TV's all time low, is perfectly fine for prime time Sunday viewing. So here's "O.J. Simpson: The Lost Confession?" (Fox, 8 p.m.) for an exploitive two hours. It's as if Fox is kissing off "American Idol" (ABC, 8 p.m.) which premieres tonight on what's being called "America's network," with a return to its lowball days as the network of "Celebrity Boxing," "When Animals Attack" and "The Swan."
And here's some fake sports: "American Ninja Warrior: USA vs. the World" (NBC, 7 p.m.).
"Timeless" (NBC, 10 p.m.), the time-traveling series that got canceled then reinstated to the schedule, begins its second season, finding themselves in World War One France, where they meet Marie Curie.
Daryl finds himself in bad company on "The Walking Dead" (AMC, 9 p.m.).
The fourth season of "The Royals" (E!, 10 p.m.) begins, alongside the second season of "The Arrangement" (E!, 9 p.m.).
Carrie puts a plan in motion on "Homeland" (Showtime, 9 p.m.).
The Sunday night documentary series turns to the Vatican with "Pope: The Most Powerful Man in History" (CNN, 10 p.m.). It's adjacent to a series about a family that produced the first Catholic president: "American Dynasties: The Kennedys" (CNN, 9 p.m.).
"Naked and Afraid" (Discovery, 10 p.m.) comes back for the eighth season of its particular torture.
Ash discovers he has a daughter on "Ash vs. Evil Dead" (Starz, 9 p.m.).
Brandon tries to reconcile with Jerrika on "The Chi" (Showtime, 10 p.m.).
"NCIS: Los Angeles" (CBS, 9 p.m.) has a rescue mission in Vietnam.
There are trade problems for "Madam Secretary" (CBS, 10 p.m.) as well.
The family continues to have complicated problems on "Here and Now" (HBO, 9 p.m.).
The story of Whitey Bulger and the Boston mob is told on "Kingpin" (History, 9 p.m.).
Dates continue on "To Rome for Love" (Bravo, 9 p.m.).
On "When Calls the Heart" (Hallmark, 9 p.m.), Abigail tries to keep the town's bank afloat.
There's a Doris Day and Rock Hudson double feature on Turner Classic Movies with "Pillow Talk" (8 p.m.) and "Lover Come Back" (10 p.m.). Then it's John Barrymore in the 1924 silent "Beau Brummell" (midnight). The evening closes with two classics from Eric Rohmer, "Love in the Afternoon" (2:15 a.m.) and "Claire's Knee" (4 a.m.).
Quayle deals with his new wife's identity on "Counterpart" (Starz, 8 p.m.).
"Our Cartoon President" (Showtime, 8 p.m.) battles the news media.
"Fear Factor" (MTV, 7 p.m.) goes on a family road trip.
Maddie goes into labor on "Sister Wives" (TLC, 8 p.m.).
"The Real Housewives of Atlanta" (Bravo, 8 p.m.) try to salvage their Barcelona trip.
Brackets are announced for March Madness in the NCAA selection show (TBS, 6 p.m.).
Before that there are a few championship games to get out of the way: Harvard vs. Penn (ESPN2, noon) for the Ivy League title; Kentucky vs. Tennessee (ESPN, 1 p.m.) for the SEC title; Texas Arlington vs. Georgia State (EPN2, 2 p.m.) for the Sun Belt title; and Cincinnati vs. Houston (CBS, 3:30 p.m.) for the AAC title.
In women's college basketball, it's Nicholls State vs. Stephen F. Austin (CBS Sports, 1 p.m.) in the Southland title game, and Princeton vs. Penn (ESPNU, 4 p.m.) for the Ivy League title.
NBA action has Golden State at Minnesota (ABC, 3:30 p.m.) and Cleveland at Lakers (ESPN, 9 p.m.).
Hockey has Boston at Chicago (NBC, 12:30 p.m.) and Dallas at Pittsburgh (NBC Sports, 7:30 p.m.).
Spring baseball includes Pittsburgh at Toronto (MLB, 1 p.m.) and Cincinnati at Seattle (MLB, 4 p.m.).
The final round is played in golf's Valspar Championship (Golf, 1 p.m.; NBC, 3 p.m.).
NCAA men's and women's indoor championship track and field finals (EPN2, 7 p.m.) are on tonight.
And in rugby, it's Wales vs. Italy (NBC Sports, 2:30 p.m.) in the Six Nations Championship.
Sunday Talk
ABC: White House deputy press secretary Raj Shah. CBS: CIA Director Mike Pompeo, Sen. Cory Gardner. NBC: Treasury secretary Steven Mnuchin, Sens. Jeff Flake and Elizabeth Warren. CNN: Warren, Sen. Ron Johnson. Fox News: Pompeo, Warren.