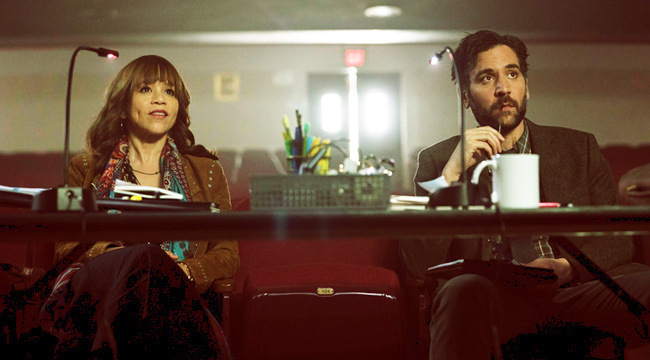 NBC's new prestige show "Rise" (NBC, 10 p.m.), about the establishment of a musical theater program in a rural Pennsylvania high school, may remind some of a rural "Glee," but it's also grounded in the midwest ethos of a previous show by one of its executive producers, Jason Katims, "Friday Night Lights."
"What I love about this show is as much as it's about high school theater, it's also about the football team," Katims told reporters at the TV Critics Association winter press tour in January. "I love the idea of striking the balance between the two of them."
Josh Radnor, formerly of "How I Met Your Mother," stars as a teacher who tries to stage a production of "Spring Awakening" at a steel town's struggling high school theater department.
Katims said he wanted to do the story, based on the book Drama High by Michael Sokolove, in part because of the connection to "Friday Night Lights" in the way they were "telling the story about this small town and making it feel very authentic.
"And while it had this engine of the musical theater and we got to follow that, we also could go into the lives in this blue collar town in Pennsylvania and follow their relationships and family stories and the story of that community, and I was very drawn to that."
There's no doubt that NBC is trying to parlay the kind of audience it developed in "This is Us" for "Rise," whose premiere follows the second season finale of the family drama.
"Having a show like 'This Is Us,' that has had the success that it's had, has kind of cleared the path, in a way, for doing shows like 'Rise,'" Katims says. Besides the focus on character-driven, human stories, which was also the basis of his last series, "Parenthood," he says "to be on the network with "This Is Us" and to have our first episode air after their finale is also an incredible opportunity for us."
For the actors, the show is a way to remember how important teachers were in their ending up in their profession.
"I feel like, if my life has been blessed in any way, I've just had multiple teachers and mentors in my life that have come along at just the right moments starting in high school," Radnor says. "I started acting in musicals in a public high school in the Midwest. So I really understood this world."
Unlike his last TV role, laying a Civil War doctor on PBS' "Mercy Street," which required some research, this one did not, "because this is the world I grew up in, I understood it."
Radnor says the first musical he ever did was "Oklahoma," in what he remembered as a "Guffman-esque" production.
"But, the next year, I played the emcee in 'Cabaret,'" he says. "And there was just something about that. And then I had a guidance counselor who pulled me aside and said, 'You are not allowed to stop acting. Even if you become a lawyer, you've got to do community theater.' She made me promise her. So that, I always held that in my heart ,as a I kind of felt like my life went from black and white to color at that moment. It just felt like a pivotal moment."
Radnor mentioned one teacher in particular he had at Kenyon College, Harlene Marley, a department chair who taught there for 40 years..
"She was just this wonderful, wonderful woman, and she died about two weeks before we started filming this pilot," Radnor says. "There was a prop cart that had all of these plays on it on my very first day of filming, and there was 'Rumors' by Neil Simon, which is a play I did at Kenyon. And I hadn't seen a copy of it since I did it in college.
"I picked it up, and I was leafing through it," he says, "and I realized that Harlene had directed me in this play. And it was such a weird, mystical moment. I felt like she had just kissed me on the forehead."