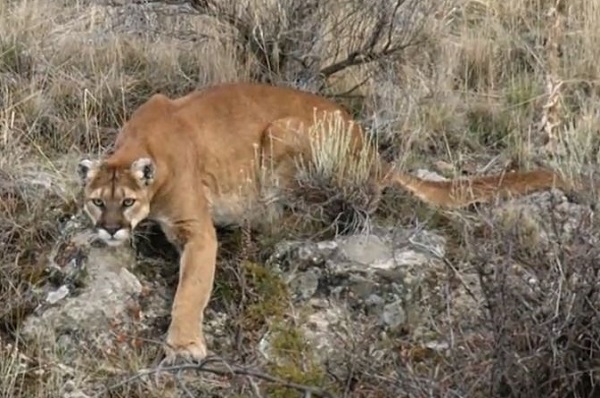 Montana wildlife photographer Casey Anderson has seen a lot of animals near his home in Paradise Valley, close to Yellowstone. But he was particularly excited about getting so close to an elusive mountain lion he gave her a name, Mama Mo and began tracking her life with her three cubs, using all the latest high tech cameras. The result is the documentary "The Mountain Lion and Me" (Smithsonian, 8 p.m.).
The filmmaker's six episode web series also starts today, "Casey Anderson's Wild Tracks" (SmithsonianEarthTV.com).
The journey into the past continues on "The Assassination of Gianni Versace: American Crime Story" (FX, 10 p.m.) so we see the designer's beginnings as well as a young Andrew Cunanan.
"Survivor" (CBS, 8 p.m.) has been doing pretty good in the ratings, for a show in its 36th season.
A new "Full Frontal with Samantha Bee" (TBS, 10:30 p.m.) has a lot of ground to cover.
Benji makes a music video on "Alone Together" (Freeform, 8:30 p.m.).
The INS checks the legitimacy of Stella's marriage to Wes on "Life Sentence" (The CW, 9 p.m.).
Tecumseh and Lewis & Clark get the spotlight on "The Men Who Built America: Frontiersmen" (History, 9 p.m.).
Archie's dad considers running for mayor of "Riverdale" (The CW, 8 p.m.).
On "The Blacklist" (NBC, 8 p.m.), Liz gets new details on a cold case from early in her career.
"Criminal Minds" (CBS, 10 p.m.) looks into a kidnapping case.
A video leaks of the president visiting prison on "Designated Survivor" (ABC, 10 p.m.).
Zoey protests at college on "Grownish" (Freeform, 8 p.m.).
"The X-Files" (Fox, 8 p.m.) investigates a cult.
A homeless man is crushed in a garbage truck on "9-1-1" (Fox, 9 p.m.).
On "Law & Order: Special Victims Unit" (NBC, 9 p.m.), a surgeon harvests a girl's organs without her parent's permission.
An alderman is killed on "Chicago P.D." (NBC, 10 p.m.).
Quentin and Alice search the castle on "The Magicians" (Syfy, 9 p.m.).
On "Channel Zero: Butcher's Block" (Syfy, 10 p.m.), Zoe and Alice confront the Peach family.
A venue is sought for the spring gala on "American Housewife" (ABC, 9:30 p.m.).
Maya has jury duty on the first of two new episodes of "Speechless" (ABC, 8 p.m.).
Melody meets her father's estranged family on "Black Ink Crew" (VH1, 9 p.m.).
Devon plans a romantic surprise for Tanya on the first of two episodes of "Little Women: Atlanta" (Lifetime, 8 p.m.).
"Expedition Unknown" (Travel, 9 p.m.) goes to the Lost Colony in Roanoke, Va.
Elizabeth Taylor's extravaganza on Turner Classic Movies continues with "Raintree County" (8 p.m.), "Giant" (11 p.m.), "Ivanhoe" (2:45 a.m.) and "Beau Brummell" (4:45 a.m.).
The final play-in games for the NCAA Men's College Basketball tournament occur, with North Carolina Central vs. Texas Southern (truTV, 6:40 p.m.) and Arizona State vs. Syracuse (truTV, 9:10 p.m.).
First round NIT play has Harvard at Marquette (ESPN2, 7 p.m.), Temple at Penn State (ESPNU, 8 p.m.), Nebraska at Mississippi State (ESPN2, 9 p.m.) and BYU at Stanford (ESPNU, 10 p.m.).
NBA action has Washington at Boston (ESPN, 8 p.m.) and Lakers at Golden State (ESPN, 10:30 p.m.).
Hockey has Pittsburgh at Rangers (NBC Sports, 8 p.m.).
Spring baseball includes Yankees at Baltimore (MLB, 1 p.m.), Cincinnati at Arizona (MLB, 4 p.m.) and Colorado at Dodgers (MLB, 10 p.m.).
The Paralympic Games (NBC Sports, 2 p.m.) has sled hockey and curling.
Daytime Talk
Kelly Ripa and Ryan Seacrest: Alicia Vikander, Skeet Ulrich. The View: Lena Waithe. The Talk: Josh Duhamel, James Vaughan. Harry Connick: Kate Somerville. Steve Harvey: Jimmi Simpson, Geoffrey Zakarian. Ellen DeGeneres: Sean Hayes, Nick Robinson, Dua Lipa. Wendy Williams: Dorit Kemsley, Jerry O'Connell. The Real: Roma Downey, Jazz Smollett, Tony Rock.
Late Talk
Stephen Colbert: Paul Giamatti, Sean Bean, Brandi Carlile. Jimmy Kimmel: Will Forte, Vanessa Bayer, the Dirty Heads. Jimmy Fallon: Alicia Vikander, Jim Sturgess, Kali Uchis with Tyler the Creator. Seth Meyers: Ricky Gervais, Lena Waithe, Luke Mitchell, Brendan Canty. James Corden: Tony Hale, Jason Schwartzman. Carson Daly: David Arquette, Typhoon, Jay Ferguson. Trevor Noah: Krysten Ritter. Jordan Klepper: Maya Wiley. Conan O'Brien: Jeff Goldblum, Sebastian Maniscalco, Nothing But Thieves.