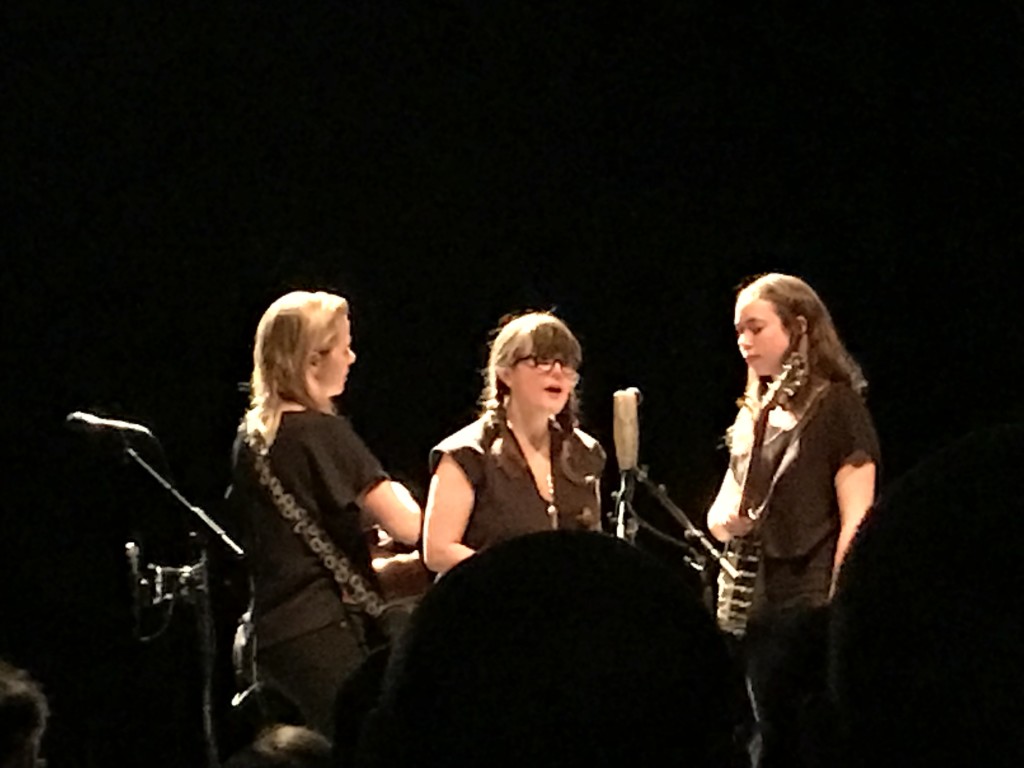 They blushed and smiled as if they couldn't believe it. Their debut had come out less than a month before, yet here they were playing all these new songs before a sold out crowd that was as loud in their cheers as the group had been hushed in their fine harmonies.
"Who are you people?" Sara Watkins asked at one point.
It's not that the group, I'm With Her, is full of newcomers, or that each of its members hadn't faced acclaim as part of their previous endeavors — Watkins with Nickel Creek, the trio with her brother and Chris Thile; Aoife O'Donovan with Crooked Still and her own albums, and Sarah Jarosz, at 26 the youngest of the three, but who already has two Grammys, rising up from mandolin prodigy to folk star.
The three were surprised to find how well they harmonized together on a one-off collaboration at the Telluride bluegrass festival four years ago, kept performing together, first playing covers or arrangement of their own established songs at first before putting together their songwriting skills together as well for the recent full album.
They'd named themselves I'm With Her a year before Hillary Clinton used the same phrase for her presidential campaign, but the same kind of self-reliant, woman-powered confidence shone through their approach.
With no men in the background backing them up, they were truly three equal sisters on the stage of the packed 9:30 Club Tuesday, hushing them with their pristine harmonies, each stepping up to sing lead on songs they wrote together — rather than one stepping up to do her song as they others stepped back.
Even Crosby, Stills & Nash had segments in their shows where they showcased their own stuff but for I'm With Her, it's all for one and only one cover of a pre-established song from the repertoire, O'Donovan's "Hornets."
There's still a few covers scattered through the set, that they have been switching up every night — Jim Croce's "Walkin' Back to Georgia," a stark, acapella reading of Gillian Welch's "Hundred Miles" to start the encore; the requisite Bill Monroe benediction, "Lord Lead Me On," and their exquisite version of John Hiatt's "Crossing Muddy Waters" that became their first single.
It may have become a cliche for folk females to rework pop songs, but they picked a good one, Adele's "Send My Love (To Your New Lover)" that got an extra cheer from the adoring crowd. They're even in the position to play songs from their friends, such as Tom Brousseau's standout love song from a Dairy Queen in the Dakotas, "Today is a Bright New Day."
Otherwise, the set was all from the new album — which came as a free download to ticket buyers. They were songs of stark breakup or willingness to rise above relationships, empowering things strengthened by the singular sound they create together in harmonies.
At the same time, each woman's voice stands out when they take lead on an individual song or verse. Jarosz, the youngest of them at 26, has a way of singing directly that cuts to the soul; Watkins has the most country-tinged with the clarity of a string band vocalist; O'Donovan a slightly higher voice that approaches the Joni Mitchell world.
What's remarkable live is to find that as well as their voices blend, their string work is just as accomplished and intricate as they blend together, with Watkins a dream on fiddle switching to acoustic guitar and, in one surprise an electric guitar line on "I-89." Jarosz kept switching instruments the most, from mandolin to banjo to guitar; O'Donovan kept things nailed down on her acoustic.
While each performed on her own microphone through the show, for the encore they gathered around a single central microphone, in the manner of old string bands — and the way they recorded their own album. There it was even more clear how much magic they created among themseveles — and how they shouldn't be surprised how people are reacting.
The setlist for I'm With Her Tuesday was:
"See You Around"
"Game to Lose"
"Wild One"
"Walkin' Back to Georgia"
"Little Lies"
"Ryland (Under the Apple Tree)"
"Pangaea"
"I-89″
"Ain't That Fine"
"Crescent City"
"Today is a Bright New Day"
"Close It Down"
"Hornets"
"Send My Love (To Your New Lover)"
"Overland"
"Crossing Muddy Waters"
"Hundred Miles"
"Waitsfield"
"Lord Lead Me On"