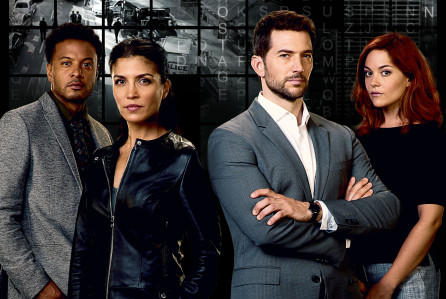 The second season starts for the Canadian import "Ransom" (CBS, 8 p.m.), a network drama you may not remember at all that stars Luke Roberts as a negotiator, with Sarah Greene, Nazeen Contractor and Brandon Jay McLaren. CBS only picked it up for season two in October. It's the only non-rerun scripted show on primetime broadcast TV.
Ivory, the Dudley Boyz, Ivory, Goldberg and Hillbilly Jim are all honorees in the 2018 WWE Hall of Fame Induction Ceremony (USA, 10 p.m.). Past honorees include the current president of the United States. The event originates in New Orleans, where WrestleMania occurs Sunday.
A second season also starts tonight for "Nate and Jeremiah by Design" (TLC, 10:10 p.m.), in which the duo helps another couple redo their kitchen.
When a woman changes the tire of a visiting prince traveling incognito, it's all romance and problems on the made-for-TV "Once Upon a Prince" (Hallmark, 9 p.m.).
An OBGYN is not what she seems on the thriller "Evil Doctor" (Lifetime, 8 p.m.).
"Amanapour: Sex and Love Around the World" (CNN, 10 p.m.) visits Berlin, said to be "carnal capital of Europe."
"Ghost Adventures" (Travel, 9 p.m.) travels to a mine in Jackson, Calif.
Captains interrogate one another on "Deadliest Catch: On Deck" (Discovery, 9 p.m.).
The death of an auto parts store owner is called "A Crime to Remember" (Investigation Discovery, 10 p.m.).
On "The Book of John Gray" (OWN, 10 p.m.), John tries to navigate young Christian men through the world of dating and sex.
It's loris breeding time at "The Zoo" (Animal Planet, 8 p.m.).
"Iyanla: Fix My Life" (OWN, 9 p.m.) tries to help a woman who wants a relationship with her firstborn daughter, raised by her mom.
NBA action includes Oklahoma City at Houston (ABC, 8:30 p.m.) in prime time. Earlier, it's Denver at Clippers (NBA, 3:30 p.m.).
Baseball hs Tampa Bay at Boston (MLB, 1 p.m.), Cubs at Milwauke (Fox Sports 1, 4 p.m.) and Oakland at Angels (MLB, 10 p.m.).
In golf, there's third round play in The Masters (CBS, 3 p.m.).
In tennis, it's U.S. vs. Belgium (Tennis, 5 p.m.) in the Davis Cup semifinals.
NASCAR has the My Bariatric Solutions 300 (Fox, 3 p.m.).
College baseball includes Oklahoma at TCU (ESPNU, 8 p.m.).
College softball has Florida at Alabama (ESPN2, 1 p.m.), Arizona at Oregon (ESPN, 3 p.m.), Tennessee at Auburn (ESPN2, 3 p.m.) and Missouri at Georgia (ESPNU, 6 p.m.).
The men's college hockey Frozen Four Championship  has Minnesota-Duluth vs. Notre Dame (ESPN, 7:30 p.m.)
College baseball includes Oklahoma at TCU (ESPNU, 8 p.m.).
Cyndi Lauper plays an "Austin City Limits" (PBS, 11 p.m.) from last year.
Chadwick Boseman of "Black Panther" hosts the first new "Saturday Night Live" (NBC, 11:30 p.m.) in a few weeks. Cards B is musical guest.