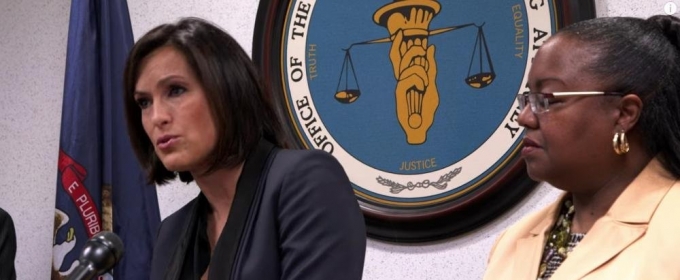 It's odd when you're on a TV show: People connect you with the character even if it's clear you are playing a role.
It happened to Mariska Hargitay who in 19 seasons of playing Olivia Benson on "Law & Order: Special Victims Unit" received letters from viewers about their own experiences as rape and sexual assault victims, as if she could do anything.
Well, now she has done something anyway. In producing and throwing herself into the documentary "I Am Evidence" (HBO, 8 p.m.), she shines a light on the appalling practice of rape kit backlogs. Taken shortly after rape reports in an effort to collect evidence, they were sealed, packed away, ignored and never tested (let alone open). In thousands of cases, they were simply thrown out.
Beginning in Detroit, where the negligence came to light when an abandoned warehouse full of unopened rape kits caught fire, and moving to Cleveland, where a systematic attempt began to gather and tie evidence together, to Los Angeles, where it's clear most rape reports were never taken seriously, Hargitay's report is clear and single-minded — and as important as anything she did on "SVU."
On "Independent Lens" (PBS, 10 p.m., check local listings) a film looks at the effect of a massive chemical spill in West Virginia that left 300,000 without drinking water for months.
Could one man be connected to more serial killings than anybody thought? That's the conclusion on "It Was Him: The Many Murders of Ed Edwards" (Paramount, 10 p.m.), a true crime series featuring Det. John Cameron.
Five years later, the Boston Marathon bombing is relived on "Days That Shaped America" (History, 10 p.m.).
How life began on Earth is explored on "One Strange Rock" (National Geographic, 10 p.m.).
"Scorpion" (CBS, 10 p.m.) goes to Africa on the fourth season finale.
"Supergirl" (The CW, 8 p.m.) returns with new episodes with the arrival of Winn's estranged mother.
A new special looks at the death of the actress in 1981, "Natalie Wood: An American Murder Mystery" (Investigation Discovery, 10 p.m.).
The Top 24 sing live on "The Voice" (NBC, 8 p.m.), and half are voted out in real time.
The Top 24 on "American Idol" (ABC, 8 p.m.) sing duets with celebrities.
Illness blurs the captain's judgment on "The Terror" (AMC, 9 p.m.).
It's Katie and Tom's first anniversary on "Vanderpump Rules" (Bravo, 9 p.m.).
"Antiques Roadshow" (PBS, 8 p.m.) winds up its visit in Portland.
Mary Pat puts a financial burden on "Good Girls" (NBC, 10 p.m.), forcing them to do another heist.
Conrad is hit by a bike on "The Resident" (Fox, 9 p.m.).
On "iZombie" (The CW, 9 p.m.), Liv eats the brain of a bachelor playboy.
Reece faces off with her pursuers on "The Crossing" (ABC, 10 p.m.).
On "UnReal" (Lifetime, 10 p.m.), Serena is ambushed by someone from her past.
"Lucifer" (Fox, 8 p.m.) looks into a case where a witness claim an angel saved her life.
Adam finds Andi's been hiding secrets on "Man With a Plan" (CBS, 8:30 p.m.).
Gary's prison sentence is over on "Final Space" (TBS, 10:30 p.m.).
Arthur is caught with an expired license on "Superior Donuts" (CBS, 9 p.m.).
The rabbi stays with Chip and Leslie on "Living Biblically" (CBS, 9:30 p.m.).
The five bakers have to use agave as sweetener on "Spring Baking Championship" (Food, 9 p.m.).
The month-long Monday night salute to William Holden on Turner Classic Movies continues with "The Moon is Blue" (8 p.m.), "The World of Suzie Wong" (10 p.m.), "Love is a Many Splendored Thing" (12:15 a.m.), "Apartment for Peggy" (2:15 a.m.) and "Father is a Bachelor" (4 a.m.).
Earlier, it's all about zombies and such with "Dead Men Walk" (8:45 a.m.), the 1936 "The Walking Dead" (10 p.m.), "The Baby Snatcher" (11:15 a.m.), "Isle of the Dead" (12:45 p.m.), "The Mummy" (2 p.m.), "Macabre" (3:30 p.m.), "Death Curse of Tartu" (4:45 p.m.) and "Dracula A.D. 1972" (6:15 p.m.).
The NBA playoffs have Miami at Philadelphia (TNT, 8 p.m.) and San Antonio at Golden State (TNT, 10:30 p.m.).
Stanley Cup Playoffs have Boston at Toronto (NBC Sports, 7 p.m.), Tampa Bay at New Jersey (CNBC, 7:30 p.m.), Nashville at Colorado (NBC Sports, 10 p.m.) and Anaheim at San Jose (CNBC, 10:30 p.m.).
Baseball includes St. Louis at Cubs (ESPN, 7 p.m.).
NASCAR gets to complete its Food City 500 (Fox, 1 p.m.).
Women's softball includes North Carolina State at North Carolina (ESPNU, 7 p.m.).
And today is the running of the Boston Marathon (NBC, 8:30 a.m.).
Daytime Talk
Kelly Ripa and Ryan Seacrest: Parker Posey, Pentatonix. The View: Mariska Hargitay. The Talk: Tyra Banks, Carolyn London, Big Boy. Harry Connick: Mae Whitman. Steve Harvey: Cress Williams. Ellen DeGeneres: Tracee Ellis Ross, Jason Aldean. Wendy Williams: Ashlee Glazer, Shallon Lester. The Real: Mike Epps.
Late Talk
Stephen Colbert: Elisabeth Moss, Charlamagne Tha God, Neil Scovell. Jimmy Kimmel: Rob Lowe, Michelle Wolf, Jorda Smith. Jimmy Fallon: Robert De Niro, Bridget Everett, Rex Orange Country. Seth Meyers: Kelly Clarkson, Kal Penn, Jim Riley (rerun). James Corden: Jeff Daniels, Tracee Ellis Ross, CAM. Carson Daly: David Arquette, Typhoon, Jay Ferguson. Trevor Noah: Alex Wagner. Jordan Klepper: Rick Tyler. Conan O'Brien: Timothy Olyphant, January Jones.