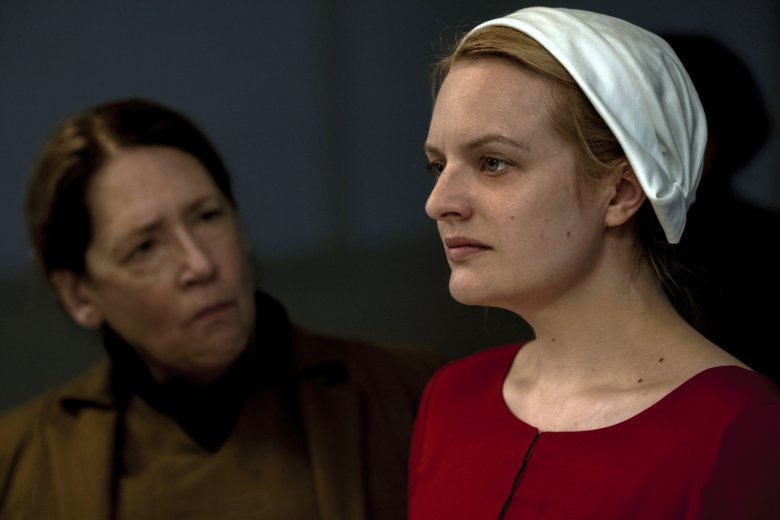 The multiple Emmy-winning "The Handmaid's Tale" (Hulu, streaming) begins its second season unmoored from its Margaret Atwood source material, as Elisabeth Moss's remarkable Allred faces the fate for trying to escape the appalling oppression of women that marks the too-familiar American society in the near future and heads to Canada.
Even more of the action seems to happen within Moss' expressive face, but the producers do a good job keeping the all-too-conceivable horror going in this well-wrought cautionary tale. Two episodes stream tonight, with new episodes each Wednesday.
Meghan Markle, who will walk down the aisle in a royal wedding next month, walks down another one tonight in a precursor ceremony marking her final appearance as Rachel Zane in the two-part season finale of "Suits" (USA, 10 p.m.). She will be busy doing other things in the future presumably.
A drug bust and shootout begin the third season starts for the hospital drama "Code Black" (CBS, 10 p.m.) that stars Marcia Gay Harden, Rob Lowe and Luis Guzmán.
The popular animated spy caper "Archer" has, in recent seasons, gone with wildly different settings and approaches for its cast of characters. For season nine, "Archer: Danger Island" (FXX, 10 p.m.), is placed in the South Pacific in World War II.
"Full Frontal with Samantha Bee" (TBS, 10:30 p.m.) gets to know Mike Pompeo.
Lucious and Thirsty file legal papers in an effort to stop Eddie's takeover on "Empire" (Fox, 8 p.m.). Alfre Woodard begins a run as Cookie's mother.
A look at crabs, macaques, spiders, tigers and lizards and their stealing ways are the focus on "Nature" (PBS, 8 p.m., check local listings).
Then on the initial episode of the spinoff "Nova Wonders" (PBS, 9 p.m., check local listings) looks at animal communication.
A power alliance is targeted on "Survivor" (CBS, 8 p.m.).
On "The Americans" (FX, 10 p.m.), the summit approaches quickly.
Andy Coetzee hosts the latest reality series on the sea, in search of dangerous species, on "Fishing for Giants" (Smithsonian, 8 p.m.).
New York's gay ballroom scene will be the subject of a couple of series in the coming months, one of them, "Pose," coming from Ryan Murphy this summer. For now, there's a documentary series about the contemporary scene in "My House" (Viceland, 10:30 p.m.).
Lifetime launches a game show for married couples who have to compete in various challenges, "My Partner Knows Best" (Lifetime, 10 p.m.).
On the first of two new episodes of "Alex, Inc." (ABC, 8:30 p.m.), the podcast starts intruding on family life. Then at 9:30, he starts working with his wife.
On "The Expanse" (Syfy, 9 p.m.), Earth tries a risky tactic in the war on Mars.
Sky throws a party on "Black Ink Crew" (VH1, 9 p.m.).
Liz forces Red to uncover his secrets on "The Blacklist" (NBC, 8 p.m.).
In the Korean film "Psychokinesis" (Netflix, streaming), a father with supernatural powers tries to help his estranged daughter.
"SEAL Team" (CBS, 9 p.m.) sends Ray undercover for a money swap.
Rainer throws a charity event on "Famous in Love" (Freeform, 8 p.m.).
On "Star" (Fox, 9 p.m.), jealousy rises between the label's artists.
An investigation begins on "Designated Survivor" (ABC, 10 p.m.).
Christy has a botox party on "Little Women: L.A." (Lifetime, 8 p.m.).
On "Krypton" (Syfy, 10 p.m.), Seg is faced with a tough choice.
An high school incident in "Riverdale" (The CW, 8 p.m.) leaves the town edgy.
The final four make breakfast on "Iron Chef Gauntlet" (Food, 9 p.m.).
Flipping comes to Idaho on the new series "Boise Boys" (HGTV, 11 p.m.).
"Expedition Unknown" (Travel, 9 p.m.) looks for Captain Kidd's treasure and then at 10, looks for crystal skulls.
Brooke Burke-Charvet, Robert Buckley, Hayley Orrantia and Soleil Moon Frye visit "Hollywood Medium with Tyler Henry" (E!, 9 p.m.).
It's Lil Jon vs. Lil Mama on "Hip Hop Squares" (VH1, 10 p.m.).
A month of Michael Curtiz-directed movies Wednesdays on Turner Classic Movies concludes with "The Man in the Net" (6 a.m.), "The Boy from Oklahoma" (7:45 a.m.), "Bright Leaf" (9:30 a.m.), "The Helen Morgan Story" (11:30 a.m.), "Night and Day" (1:45 p.m.), "The Story of Will Rogers" (4 p.m.), "Jim Thorpe—All American" (6 p.m.), "Young Man with a Horn" (8 p.m.), "The Breaking Point" (10 p.m.), "The Proud Rebel" (midnight), "The Adventures of Huckleberry Finn" (2 a.m.) and "Trouble Along the Way" (4 a.m.).
NBA Playoffs include Washington at Toronto (NBA, 7 p.m.), Indiana at Cleveland (TNT, 7 p.m.), Utah at Oklahoma City (NBA, 9:30 p.m.) and Minnesota at Houston (TNT, 9:30 p.m.).
In the first round of the Stanley Cup Playoffs, it's Toronto at Boston (NBC Sports, 7:30 p.m.) in a decisive game seven.
Baseball includes Seattle at White Sox (MLB, 2 p.m.) and Cubs at Cleveland (ESPN, 7 p.m.).
College baseball includes Indiana at Purdue (ESPNU, 7 p.m.).
It's Towson at Johns Hopkins (ESPNU, 4 p.m.) in women's college lacrosse.
Daytime Talk
Kelly Ripa and Ryan Seacrest: Hank Azaria, Ali Wentworth, Dr. Melina Jampolis. The View: Sting & Shaggy, Dr. Whitney Bowe. The Talk: Marcia Gay Harden; Terri, Bindi and Robert Irwin, Ellen K. Harry Connick: Rita Moreno (rerun). Steve Harvey: Tyra Banks, Carolyn London, Garcelle Beauvais, Rachel Lindsay, Emily Skye. Ellen DeGeneres: Charlize Theron, Danai Gurira. Wendy Williams: W. Kamau Bell. The Real: Romeo Miller.
Late Talk
Stephen Colbert: Lucy Liu, Henry Winkler, Run the Jewels. Jimmy Kimmel: Chris Hemsworth, Chadwick Boseman, Karen Gillan, Sebastian Stan, Josh Brolin, Middle Kids. Jimmy Fallon: Serena Williams, Priyanka Chopra, David Blaine. Seth Meyers: Jimmy Fallon, Patton Oswalt, Kylie Minogue, Sarah Tomek. James Corden: Mark Buffalo, Mackenzie Davis, Chelsea Clinton. Carson Daly: Ari Melber, Typhoon, Michelle Buteau. Trevor Noah: Gov. Ricardo Rossello, Christina Hendricks. Jordan Klepper: Annie Waldman. Conan O'Brien: Jim Jefferies, Chris Gethard, Joe Machi.