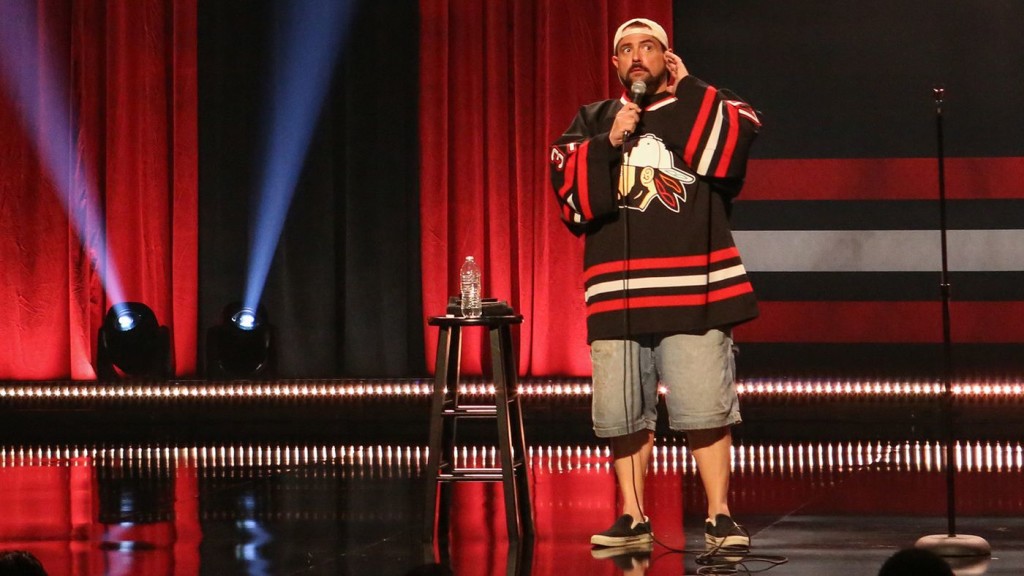 An hour before his heart attack in February, Kevin Smith taped his comedy special, "Kevin Smith: Silent But Deadly" (Showtime, 9 p.m.). Luckily it didn't kill.
Mark and Jay Duplass are behind the new documentary "Evil Genius" (Netflix, streaming) about the group that put a bomb around the collar of a pizza delivery man in Erie, Penn., in 2003 and made him rob banks for them lest he blow up.
It seems like a celebrity edition of "Undercover Boss" (CBS, 8 p.m.) complicates the point of the reality show is: Hiding one's identity. First up is Olympic gymnast Gabby Douglas, in a big curly grey wig disguise as she tries to find new gymnastic talent (something she probably could have done without the ruse).
The overnight party celebrating high school graduation 2018 is the basis of the new series "All Night" (Hulu, streaming), starring some names that may be known from YouTube: Jenn McAllister, Teala Dunn and Eva Gutowski.
A reboot of "The Adventures of Rocky and Bullwinkle" (Amazon, streaming) with a different drawing style than Bill Ward, brings some timely Boris and Natasha jokes.
"Dynasty" (The CW, 8 p.m.) ends its first season, with Nicollette Sheridan's plan for takeover of the Blake family business complicated by competition.
Also reaching its finale is "Blue Bloods" (CBS, 10 p.m.), amid a spate of drive-by shootings.
The first of what's expected to be a week's worth of TV specials on the wedding a week from Saturday is "Meghan Markle: An American Princess" (Fox, 9 p.m.).
Andrew Rannells sings "Live from Lincoln Center" (PBS, 9 p.m., check local listings). The "Book of Mormon" star who was also featured on "Girls," will sing Bruce Springsteen's "Born to Run" and Peter Gabriel's "Big Time" to mention two non-traditional cabaret choices.
On "Life Sentence" (The CW, 9 p.m.), Stella is on a road trip with Dr. Grant and Sadie.
Rep. Duncan Hunter, Ethan Hawke, Robert Reich and Killer Mike are guests on a new "Real Time with Bill Maher" (HBO, 10 p.m.).
The curse is broken at Hyperion Heights on "Once Upon a Time" (ABC, 8 p.m.).
McGarrett joins a SEAL Team to capture a target on "Hawaii Five-0" (CBS, 9 p.m.).
Jane recruits someone from her past on "Blindspot" (NBC, 8 p.m.).
Daisy may not be the destroyer of worlds any more on "Marvel's Agents of S.H.I.E.L.D." (ABC, 9 p.m.).
A new set of "BatttleBots" (Discovery, 8 p.m.) fight.
And a third season begins for "Bill Nye Saves the World" (Netflix, streaming).
British actress Lesley-Anne Down stars in three 1970s films on Turner Classic Movies: "The Great Train Robbery" (8 p.m.), "Hanover Street" (10 p.m.) and "From Beyond the Grave" (midnight). They're followed by the Japanese films "Funeral Parade of Roses" (2 a.m.) and "Crazed Fruit" (4 a.m.).
The Stanley Cup conference finals begins with Washington at Tampa Bay (NBC Sports, 8 p.m.).
Baseball includes White Sox at Cubs (MLB, 2 p.m.) and Oakland at Yankees (MLB, 7 p.m.).
College baseball includes Mississippi State at Kentucky (ESPNU, 7:30 p.m.).
College softball includes Villanova vs. DePaul (Fox Sports 2, 1 p.m.), South Carolina vs. Arkansas (ESPNU, 3 p.m.), St. John's vs. Creighton (Fox Sports 2, 4 p.m.), Tennessee vs. Florida (ESPNU, 5:30 p.m.) and UC Riverside at Cal State Fullerton (ESPNU, 10:30 p.m.).
Daytime Talk
Kelly Ripa and Ryan Seacrest: Kim Kardashian West, Kris Jenner, Kristin McGee. The View: Annette Bening. The Talk: Ralph Macchio, Jason George. Harry Connick: Kathie Lee Gifford, Danny Seo, Chef Bernard Wells. Steve Harvey: Ralph Macchio, William Zabka. Ellen DeGeneres: Jane Fonda, Foo Fighters. The Real: Gabrielle Union.
Late Talk
Stephen Colbert: Mayim Bialik, Melissa McCarthy, Daniel Boulud. Jimmy Kimmel: Bill Hader, Sen. Cory Booker, Rae Sremmurd (rerun). Jimmy Fallon: Julie Bowen, Justin Hartley, Dov Davidoff. Seth Meyers: John Mulaney, Lauren Ambrose, Carter McLean (rerun). James Corden: Drew Barrymore, John Bodega, Weezer (rerun). Carson Daly: Cress Williams, Angus and Julia Stone, Charlie Plummer.