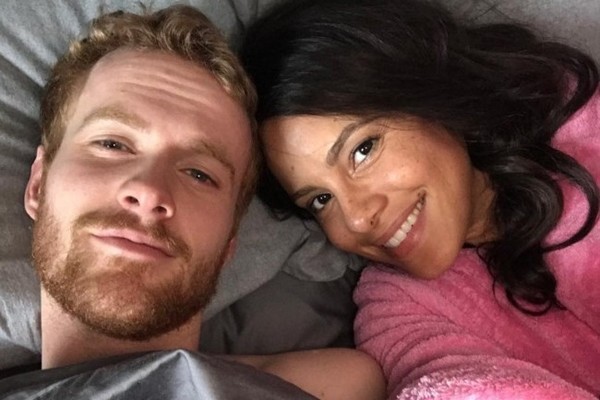 It takes a streaming star (Parisa Fitz-Henley of "Jessica Jones" and "Luke Cage") to play a cable star (Meghan Markle of "Suits") in the first made-for-TV movie about this week's big ceremony, "Harry & Meghan: A Royal Romance" (Lifetime, 8 p.m.). It also stars Murray Fraser ("The Loch") as Prince Harry. It's followed by the documentary "Harry & Meghan: Royal Rebels" (Lifetime, 10:20 p.m.). It's not the only documentary today. Markle is also profiled on "Million Dollar American Princesses" (Smithsonian, 9 p.m.).
Her first Netflix comedy special made when she was pregnant with her first child, made her a star; she's back for a second child and comedy special in "Ali Wong: Hard Knock Life" (Netflix, streaming).
The delightful first season of "Barry" (HBO, 10:45 p.m.) has its finale, with its title character vowing to quit crime once and for all.
A second season starts for "This is Life Live" (TLC, 9 p.m.), in which major events for various families are shared on TV. Tonight, that includes survivors of the Las Vegas shooting reuniting with strangers who helped save them, and a seven-year-old who receives a prosthetic hand.
In the last couple of days "Brooklyn Nine-Nine" (Fox, 8:30 p.m.) was both canceled by its network after five season and picked up for the sixth by NBC, where star Andy Samberg once worked for "SNL."
Just plain canceled after one season, though, was "Deception" (ABC, 10 p.m.).
"Madam Secretary" (CBS, 10 p.m.) was renewed for a new season, however. Tonight, terrorists threaten to cause floods.
The Top 5 perform on "American Idol" (ABC, 8 p.m.).
Episodes of "Westworld" (HBO, 9 p.m.) aren't becoming easier to understand or any shorter — tonight's extra 15 minutes bumps the rest of the network's schedule accordingly, starting with the season five finale of "Silicon Valley" (HBO, 10:15 p.m.), in which PiperNet is almost ready to launch.
Despite last week's semi-convincing kiss off, the host of "Last Week Tonight with John Oliver" (HBO, 11:20 p.m.) didn't really call an end to the series.
On the second season finale of "Timeless" (NBC, 9 p.m.) the crew goes back to 1863 and bothers Harriet Tubman.
Four suspects have alibis on "Unforgotten" (PBS, 9 p.m., check local listings).
"The Simpsons" (Fox, 8 p.m.) go to Denmark, so Grandpa can get free health care.
The family on "Bob's Burgers" (Fox, 9:30 p.m.) celebrate Mother's Day by getting free food at open houses.
On a new "United Shades of America" (CNN, 10 p.m.), W. Kamau Bell meets the Gullah Geechee people of coastal South Carolina.
Eve and Carolyn go to Moscow on "Killing Eve" (BBC America, 8 p.m.).
On "Billions" (Showtime, 9 p.m.), Axe tries for a fresh start.
Tess discovers after hours on the second episode of "Sweetbitter" (Starz, 8 p.m.).
"The Circus: Inside the Wildest Political Show on Earth" (Showtime, 8 p.m.) looks at the U.S. withdrawal from the Iran deal and the Senate hearing for a new CIA director.
Unsolved business mars a confirmation ceremony on "Trust" (FX, 10 p.m.).
The widow tries to connect with the two sisters on "Vida" (Starz, 8:30 p.m.).
"I'm Dying Up Here" (Showtime, 10 p.m.) plays up its 70s setting as Ron and Adam visit "Soul Train" (Showtime, 10 p.m.).
It's down to three teams on "Genius Junior" (NBC, 8 p.m.).
Blind cannibal assassins show up on "Into the Badlands" (AMC, 10 p.m.).
"60 Minutes" (CBS, 8 p.m.) gets a peek at Wim Wenders' new documentary about Pope Francis.
A wounded visitor forces John Dorie to change his ways on "Fear the Walking Dead" (AMC, 9 p.m.).
On "NCIS: Los Angeles" (CBS, 9 p.m.), a counterfeiter's daughter is killed in prison.
"The Real Housewives of Potomac" (Bravo, 8 p.m.) get a weekend escape.
Tamica and Jared take a road trip on "Southern Charm New Orleans" (Bravo, 9 p.m.).
"Anthony Bourdain Parts Unknown" (CNN, 9 p.m.) goes to Newfoundland.
Deadly creatures surround the survivalists in Brazil on "Naked and Afraid" (Discovery, 9 p.m.).
"Breaking Homicide" (Investigation Discovery, 10 p.m.) has a two part episode on the murder of five women in Honolulu more than 30 years ago.
Captain Hebert has a bad attitude on "Wicked Tuna" (National Geographic, 9 p.m.).
"Snoop Dogg presents the Joker's Wild" (TBS, 10 p.m.) welcomes Aubrey Plaza and Wiz Khalifa.
It's Darren Criss vs. Gaten Matarazzo of "Stranger Things" and a battle of former "Walking Dead" stars Chandler Riggs and Chad L. Coleman on "Drop the Mic" (TBS, 10:30 p.m.).
A day full of films for Mother's Day on Turner Classic Movies begins with "So Big" (6 a.m.) and continues with "Pocketful of Miracles" (7:30 a.m.), "Caged" (10 a.m.), "Bachelor Mother" (noon), "Light in the Piazza" (1:30 p.m.), "Sounder" (3:30 p.m.), "I Remember Mama" (5:30 p.m.), "Mildred Pierce" (8 p.m.) and "Stella Dallas" (10 p.m.).
Then it's Mabel Normand in the silent "Mikey" (TCM, midnight) and two from Andzej Wajda, "Danton" (TCM, 2 a.m.) and "A Generation" (TCM, 4:30 a.m.).
It's game two of Washington at Tampa Bay (NBC Sports, 8 p.m.) in the Stanley Cup easter conference finals.
It's game one of the Eastern conference finals of the NBA Playoffs, with Cleveland at Boston (ABC, 3:30 p.m.).
Sunday night baseball has Washington at Arizona (ESPN, 8 p.m.). Earlier games include White Sox at Cubs (MLB, 2 p.m.).
The final round is played in golf's Players Championship (NBC, 2 p.m.).
Auto racing hs its Spanish Grand Prix (ESPN2, 9 p.m.).
College baseball includes Texas A&M at Arkansas (ESPN2, 1 p.m.) and Kansas at Kansas State (Fox Sports 1, 1 p.m.).
College softball has its NCAA championship selection show (ESPN2, 10 p.m.).
Bicycling's Tour of California (NBC Sports, 4 p.m.) begins.
In the men's lacrosse NCAA tournament, it's Robert Morris at Maryland (ESPNU, noon), Denver at Notre Dame (ESPNU, 2:15 p.m.), Georgetown at Johns Hopkins (ESPNU, 5 p.m.) and Cornell at Syracuse (ESPNU, 7:15 p.m.).
ABC: National Security Adviser John Bolton. CBS: Secretary of State Mike Pompeo, Sen. Lindsey Graham, former secretary of defense Robert Gates. CNN: Sen. Bernie Sanders, bolton, Rep. Val Demings. Fox News: Pompeo, Ret. Admiral Mike Mullen.