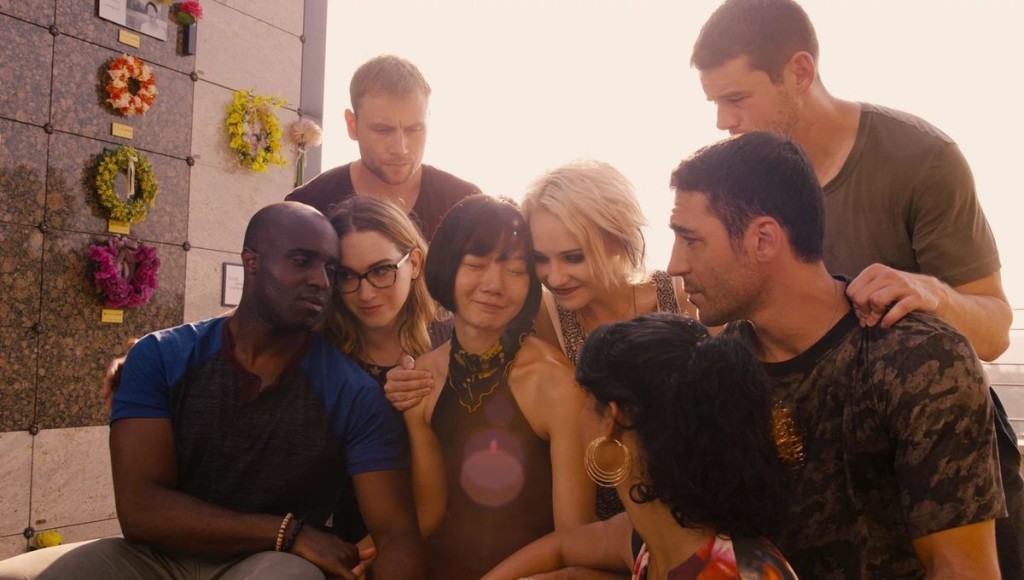 The inventive "Sense8" (Netflix, streaming) was built on following the lives — and unexpected interactions — between eight global personalities who are able to show up and help one another in a flash. The abrupt end of the series from "Matrix" creators Lana and Lilly Wachowski and "Babylon 5" mastermind J. Michael Stracynski after two seasons caused consternation from the show's fervent fans, leading to this two hour stand-alone finale, which will help wrap up the various stories in the appealing series, particularly of the German Wolfgang, kidnapped in the second season finale. (I also wrote a bit about tonight's wrap-up for TV Guide and its website, TV Insider).
A teenage boy (Daniel Doheny) realizes he's gay in Craig Johnson's new film "Alex Strangelove" (Netflix, streaming).
Also new online is the Australian import "Ali's Wedding" (Netflix, streaming) in which a young man tries to convince his Muslim family he's going to medical school. It's loosely based on the experience of the film's writer and star Osamah Sami.
The granddaddy of true crime docudramas, "The Staircase" (Netflix, streaming) is now available online, in a slightly updated version.
The new "Just Another Immigrant" (Showtime, 9 p.m.) follows UK stand-up comedian Romesh Ranganathan as he establishes his family in Los Angeles.
The Warriors can sweep the NBA Finals with a win in Game 4 of Golden State at Cleveland (ABC, 9 p.m.). Before the game, Ryan Gosling is guest on "Jimmy Kimmel Live: Game Night" (ABC, 8 p.m.).
A second season becomes available for "Marcella" (Netflix, streaming), the British detective series starring Anna Friel, written and directed by Hans Rosenfeldt, creator of "The Bridge."
Soccer stars continue their road to World Cup dreams on "Phenoms" (Fox, 8 and 9 p.m.).
Several years ago, Jewel went undercover at karaoke clubs showing she could sing Jewel songs better than anyone. A variation of that comes tonight on "Undercover Boss: Celebrity Edition" (CBS, 8 .m.) in which she takes a disguise and sings badly at an open mic night as she tries to recruit musicians for a holiday tour.
The documentary series about people with terminal illnesses, "My Last Days" (CW, 8 p.m.), continues.
Michael Eric Dyson, Fareed Zakaria, Linda Chavez, John Heilemann and Shermichael Singleton are scheduled for a new episode of "Real Time with Bill Maher" (HBO, 10 p.m.).
Ethan Hawke, Toni Collette, Aidan Turner, Jo Brand and Liam Payne are on a new episode of "The Graham Norton Show" (BBC America, 11 p.m.).
Halle Berry disrupts a basketball game on Rachel Dratch's "Late Night Snack" (truTV, 11:30 p.m.).
NBA stars order fancy aquariums on "Tanked" (Animal Planet, 9 p.m.).
One of the best parts of "I'm Dying Up Here" has his own standup specials: "Erik Griffin: AmERIKan Warrior" (Showtime, 10 p.m.).
Another comedy special tonight is "Julian McCullough: Maybe I'm a Man" (Comedy Central, midnight).
"C.B. Strike" (Cinemax, 10 p.m.) connects with a model who has some information.
On "Life Sentence" (CW, 9 p.m.), Stella discovers information about Wes that concerns her.
Internet pioneer Tim Berners-Lee is profiled on "Foreveryone.Net" (PBS, 8:30 p.m., check local listings).
Ships may get stuck in pursuit of "Bering Sea Gold" (Discovery, 9 p.m.).
A profile of Bob Hope is replayed on "American Masters" (PBS, 9 p.m., check local listings).
The serial killer Edmund Kemper is named one of the "World's Most Evil Killers" (Reelz, 8 p.m.).
Restorative justice and the lack of women in medical research are among "Wyatt Cenac's Problem Areas" (HBO, 11:30 p.m.).
"The Dead Files" (Travel, 10 p.m.) looks into paranormal activity in Grant Township, Mich.
Blacklisted director Edward Dmyryk is featured on Turner Classic Movies tonight with his films "Warlock" (8 p.m.), "The Left Hand of God" (10:15 p.m.) and "Obsession" (midnight). Then a couple of movies about mad scientists and half-animal creatures: "Twilight People" (2 a.m.) and "Island of Lost Souls" (3:30 a.m.).
Baseball includes Pittsburgh at Cubs (MLB, 2 p.m.) and Yankees at Mets (MLB, 7 p.m.).
In NCAA college baseball tournaments it's Stetson at North California (ESPN2, 11 a.m.), Washington at Cal State Fullerton (ESPN2, 2 p.m.), Minnesota at Oregon State (ESPN2, 5 p.m.) and Mississippi State at Vanderbilt (ESPN2, 8 p.m.).
At the French Open, it's the men's semifinals (Tennis, 6 a.m.; NBC Sports, 11 a.m.).
In WNBA action, it's Seattle at Los Angeles (ESPN2, 10:30 p.m.).
Soccer has Poland vs. Chile (beIN Sports, 2:30 p.m.) in an international friendly.
Daytime Talk
Kelly Ripa and Ryan Seacrest: Bill Clinton, James Patterson. The View: Niecy Nash, Rob Reiner. The Talk: Jennifer Jason Leigh, Bryton James, Pat Harvey. Harry Connick: Kristen Bell, Stephanie Humphrey (rerun). Steve Harvey: Lester Holt, Renee Bargh, Shannon Boodram, Garcelle Beauvais (rerun). Ellen DeGeneres: Sarah Paulson (rerun). Wendy Williams: Ne-Yo, Chassie Post.
Late Talk
Stephen Colbert: Jeff Glor, David Koechner, Interpol. Jimmy Kimmel: Billy Bob Thornton, Hannibal Buress, Aloe Blacc. Jimmy Fallon: Sterling K. Brown, Willie Geist, Pete Lee (rerun). Seth Meyers: David Letterman, Aurora, Steven Wolf (rerun). James Corden: Shaquille O'Neal, Victoria Beckham, Jamiroquai (rerun). Carson Daly: Hayley Attwell, Mimicking Birds, James Norton (rerun).