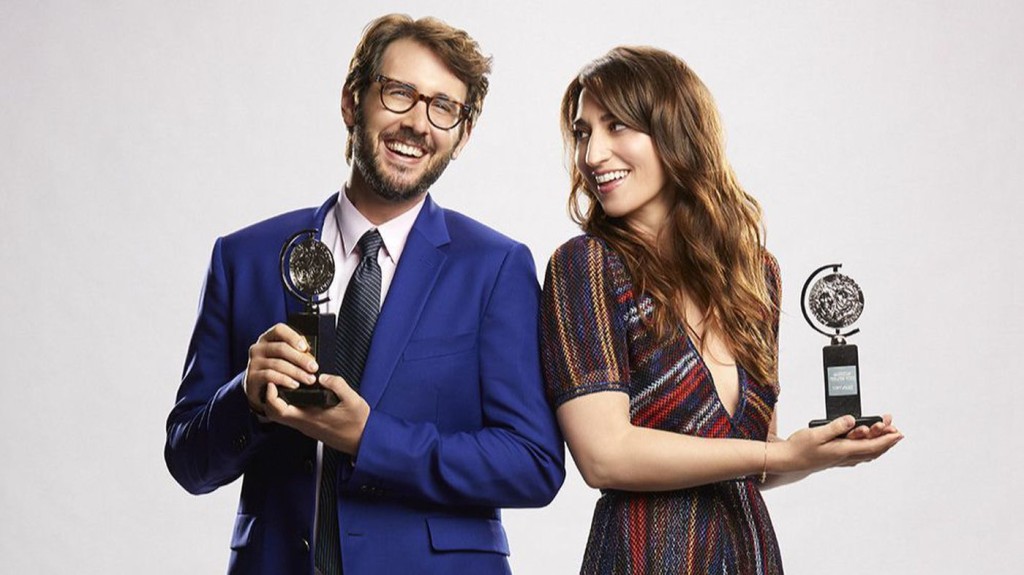 Bruce Springsteen sings on the 72nd Annual Tony Awards (CBS, 8 p.m.), where he's been responsible for helping create a successful season on Broadway (though his show will only win a special award). Sara Bareilles and Josh Groban are hosts of the event that will feature scenes from many of the nominated works, from "Mean Girls" and "SpongeBob SquarePants: The Musical," which lead nominations with 12 each, to "The Band's Visit" and "Carousel," which each have 11. Presenters include Robert De Niro, Claire Danes, Tina Fey, Billy Joel, Jeff Daniels, Andrew Lloyd Weber and Kerry Washington.
The loss of Anthony Bourdain to suicide hit the world hard. There's a lot to remember of the man who used food to voraciously explore culture worldwide and was always an honest, no b.s. host. The Travel Channel scheduled a 12 hour marathon today of his earlier show "No Reservations" (Travel, 7 a.m.).
The special "Remembering Anthony Bourdain" (CNN, 10 p.m.) follows a new "Anthony Bourdain Parts Unknown" (CNN, 9  p.m.), meanwhile, has the host following the steps of David Bowie in Berlin. It is given a new introduction by Anderson Cooper.
Russians have brutally taken over the shop on "Claws" (TNT, 9 p.m.) as well, as the colorful show begins its second season.
The ever-controversial Kanye West and his wife, the presidential adviser Kim Kardashian lead teams on "Celebrity Family Feud" (ABC, 8 p.m.), kicking off its summer season along with "The 100,000 Pyramid" (ABC, 9 p.m.), where Leslie Jones, Julie Bowen, Mario Cantone and Debra Messings play, and "To Tell the Truth" (ABC, 10 p.m.) where Octavia Spencer, Dermot Mulroney, Nikki Glaser and Gabby Douglas appear.
Wendy has to pick a side in the third season finale of "Billions" (Showtime, 9 p.m.).
The new series "Extinct or Alive" (Animal Planet, 9 p.m.) has Forrest Gallante traveling to Zanzibar, discovering new species and some thought extinct years ago.
The Adam Scott and Craig Robinson "Ghosted" (Fox, 8:30 and 9:30 p.m.) itself disappeared last fall. It's back now with the balance of the first season.
"Succession" (HBO, 10 p.m.) begins its second episode in chaos at the hospital.
Another season starts for "Food Network Star" (Food, 9 p.m.).
House building continues on "Pose" (FX, 9 p.m.).
Pick up on "The Wrong Man" (Starz, 9 p.m.) if you haven't; it's actually a very well done true crime series.
Fareed Zakaria looks at "The Two Faces of Kim Jong Un" on a "CNN Special Report" (CNN, 8 p.m.). Also on tonight are "North Korea: Dark Secrets" (History, 9 p.m.) and a Kim Jong Un themed "Headliners" (MSNBC, 9 p.m.) and "Inside North Korea: Race to Peace" (National Geographic, 10 p.m.).
Some of the best analysis may be on "Last Week Tonight with John Oliver" (HBO, 11 p.m.).
The third episode of "The Fourth Estate" (Showtime, 8 p.m.) covers the violence in Charlottesville.
Invitations to events are the key to trouble on shows like "The Real Housewives of Potomac" (Bravo, 8 p.m.).
San travels to South America for assistance on "Good Witch" (Hallmark, 9 p.m.).
The end of the band is chronicled in "Breaking the Band: The Beatles" (Reelz, 10 p.m.), which, like most low-budget documentaries about the band, probably won't be able to afford to license use of any of their music.
Morgan tries to do the right thing on "Fear the Walking Dead" (AMC, 9 p.m.).
"Westworld" (HBO, 9 p.m.) continues its inexplicable march.
The Widow faces mutiny on "Into the Badlands" (AMC, 10 p.m.).
The two night, four hour "Gotti: Godfather & Son" (A&E, 9 p.m.) concludes.
Eric Roberts returns as the creepy Dr. Beck in the TV thriller "Stalked by My Doctor: Patient's Revenge" (Lifetime, 8 p.m.), the third installment in the series.
On "I'm Dying Up Here" (Showtime, 10 p.m.), Adam and Ralph get some good news.
The twins make their WWE return on "Total Bellas" (E!, 9 p.m.).
A Christian couple vanishes on "A Wedding and a Murder" (Oxygen, 8 p.m.).
Laila Ali, Chris Cherico and the ladies of GLOW compete on "Drop the Mic" (TBS, 10:30 p.m.).
Adam DeVine is on "Snoop Dogg Presents the Joker's Wild" (TBS, 10 p.m.).
A couple of tales from the 1950s suburbs, "No Down Payment" (8 p.m.) and "All That Heaven Allows" (10 p.m.) begins the night on Turner Classic Movies, followed by a couple of Harold Lloyd comedies, "Why Worry" (midnight) and "Among Those Present" (1:15 a.m.). Then two from the French director Philippe de Broca, "Up to His Ears" (2 a.m.) and "That Man from Rio" (4 a.m.).
The French Open concludes with the women's doubles final (Tennis, 5:30 a.m.) and the men's singles final (NBC, 9 a.m.).
Prime time baseball has Yankees at Mets (ESPN, 8 p.m.). Earlier games include White Sox at Boston (MLB, 1 p.m.) and Pittsburgh at Cubs (ESPN, 8 pm.).
Soccer has Brazil at Austria (beIN Sports, 9:50 a.m.) in a men's friendly.
In the NCAA baseball super regionals, it's Auburn at Florida (ESPN, noon), South Carolina at Arkansas (ESPN, 3 p.m.), Tennessee Tech at Texas (ESPN2, 3 p.m.), Duke at Texas Tech (ESPNU, 6 p.m.), Washington at Cal State Fullerton (ESPNU, 9 p.m.) and, if necessary, Mississippi State at Vanderbilt (ESPN2, 6 p.m.) and Minnesota at Oregon State (ESPN2, 9 p.m.).
Auto racing includes the Canadian Grand Prix (ABC, 1:30 p.m.) and the FireKeepers Casino 400 (Fox, 2 p.m.).Golf has the final round of its St. Jude Classic (Golf, 1 p.m.; CBS, 3 p.m.).
Sunday Talk
ABC: Sens. Lindsey Graham and Robert Menendez. CBS: White House economic advisor Larry Kudlow, former national security advisor Susan Rice, Sen. Markey, former independent counsel Kenneth Starr. CNN: Sen. Dianne Feinstein. Fox News: Ambassador Robert Gallucci, former UN ambassador Bill Richardson.