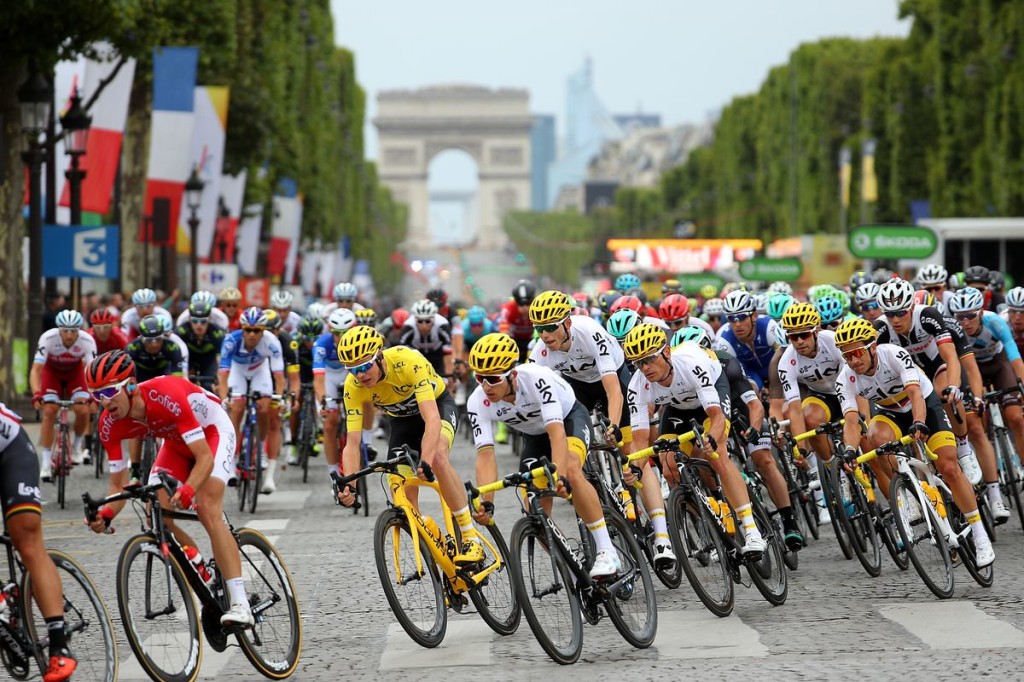 International sport provides refreshing change this summer. Here is more of it with the 105th Tour de France (NBC Sports Network, 5 a.m., 8 p.m.). Part travelogue, part intense competition, it starts with a flat run from Noirmoutier-en-l'ile to Fontebay-Le-Comte.
World Cup quarterfinals have  Sweden vs. England (Fox, 10 a.m.) and Russia vs. Croatia (Fox, 2 p.m.).
With his own show "Real Time" on summer hiatus, "Bill Maher: Live from Oklahoma" (HBO, 10 p.m.) is a topical monologue from a show in Tulsa.
The course of a single day on the planet is chronicled on "Planet Earth: One Amazing Day" (BBC America, 9 p.m.).
Last year's "Justice League" (HBO, 8 p.m.) makes its premium cable debut, as does "Jumanji: Welcome to the Jungle" (Starz, 8 p.m.) and "Marshall" (Showtime, 9 p.m.) about Thurgood Marshall.
These sitcoms about a man at three stages of his life and another living by the book didn't work out so well. So it's time to burn off unseen first seasons episodes of "Me, Myself & I" (czbS, 8 and 8:30 p.m.) as well as "Living Biblically" (CBS, 9 and 9:30 p.m.).
Capitalizing on the recent hit, the new "Lego Marvel Super Heroes Black Panther: Trouble in Wakanda" (Disney XD, 8:55 p.m.) packs in the branding opportunities in its cumbersome title.
On the made for TV movie "Room for Murder" (Lifetime, 8 p.m.), a woman finds out troubling secrets about her mother's new tenant.
Britt, a former "Bachelorette," heads for the aisle on "Say Yes to the Dress: Atlanta" (TLC, 8 p.m.), where a tall bride also needs help.
One wants black tie, the other a more casual feel on "I Want THAT Wedding" (TLC, 9 pm.)
"Ghost Adventures" (Travel, 9 p.m.) looks into a supposedly haunted school in Deming, N.M.
A couple of movies set in colonial India begin the night on Turner Classic Movies with "The Lives of a Bengal Lancer" (8 p.m.) and "The Drum" (10 p.m.). Then comes Nicholas Ray's 1958 noir "Party Girl" (midnight) and two Al Pacino vehicles, "…And Justice for All" (2 a.m.) and "Revolution" (4:15 a.m.).
World Cup quarterfinals have Sweden vs. England (Fox, 10 a.m.) and Russia vs. Croatia (Fox, 2 p.m.).
Baseball includes Cincinnati at Cubs (MLB, 2 p.m.), Atlanta at Milwaukee (Fox Sports 1, 4 p.m.), Miami at Washington (Fox, 7:15 p.m.) and San Diego at Arizona (MLB, 10 p.m.).
In auto racing, NASCAR's Coke Zero Sugar 400 (NBC, 7 p.m.) gets a prime time broadcast showcase.
There is third round play in golf's Greenbriar Classic (Golf, 1 p.m.; CBS, 3 p.m.).
The NBA summer league has Portland vs. Utah (NBA, 3 p.m.), San Antonio vs. Indiana (ESPN2, 3:30 p.m.), Miami vs. New Orleans (NBA, 5 p.m.), New York vs. Atlanta (ESPN, 5:30 p.m.), Oklahoma City vs. Brooklyn (NBA, 7 p.m.), Phoenix vs. Sacramento (ESPN, 7:30 p.m.), Detroit vs. Memphis (NBA, 9 p.m.), Chicago vs. Cleveland (ESPN2, 9:30 p.m.), Boston vs. Denver (NBA, 11 p.m.) and Philadelphia vs. Lakers (ESPN, 11:30 p.m.).
Third round play continues at Wimbledon (ESPN, 8 a.m.).
Father John Misty and the Black Angels are on an "Austin City Limits" (PBS, 11 p.m., check local listings)
The Sterling K. Brown-hosted "Saturday Night Live" (NBC, 11:30 p.m.) with James Bay is rerun.