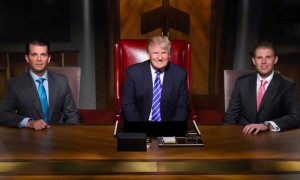 Just as he relished announcing the winner of "The Apprentice" in bloated three hour finales, Donald Trump will turn the Announcement for  Supreme Court Nominee (ABC, CBS, NBC, CNN, MSNBC, Fox News, CSPAN, 9 p.m.) into a prime time event, relishing the ratings as much as any Congressional approval.
The former reality show star interrupts three other reality shows in doing so, each of which reacts differently.
A new episode of "The Bachelorette" (ABC, 8 p.m.) will pause the action for 20 minutes for the announcement and then go back to distribute roses after Trump figuratively distributes his variation. "The Proposal" (ABC, 10 p.m.) follows with its own pick.
Should there be a physical challenge to prove youthful vigor of the long-serving nominee? The Minneapolis qualifiers on "America Ninja Warrior" (NBC, 8 p.m.) will pause for the announcement and continue its two hour episode followed by a shortened "Dateline" (NBC, 10:20 p.m.).
A one hour "So You Think You Can Dance" (Fox, 8 p.m.) in the first Academy Week, will be cut to an hour, with the announcement bumping the start of a "9-1-1" (Fox, 9:20 p.m.) rerun.
And a truncated rerun of "NCIS: New Orleans" (CBS, 9:20 p.m.), shifts the summer show about impending doom, "Salvation" (CBS, 10 p.m.) to an hour later, with "Elementary" pre-empted.
Elsewhere, on a day that the World Cup pauses, the documentary "The Workers Cup" looks at the grueling building of the stadiums for the 2022 world cup in Qatar, where the migrant workers from Africa and Asia are appeased by being allowed to play on the very fields they are building. It makes its premiere on "POV" (PBS, 10 p.m., check local listings).
Buzzfeed reporters talk about and illustrate their stories in bite-sized 15-minute episodes of a new weekly series "Follow This" (Netflix, streaming).
On the new true crime series "ATL Homicide" (TV One, 10 p.m.), detectives David Quinn and Vince Velazquez recall some of their toughest  cases.
Jennifer's movement faces a threat on "Dietland" (AMC, 9 p.m.).
CNBC can't decide whether to praise or deride the richest of the rich. On the new "Deadly Rich" (CNBC, 10 p.m.), it is the latter, as they tie the one percent to murders.
The goofballs on "Floribama Shore" (MTV, 10 p.m.) return for a new season.
Also back: "Ridiculous Cakes" (Food, 10 p.m.) for its third season and "Love it Or List It" (HGTV, 9 p.m.).
"Real Housewives of Orange County" (Bravo, 9 p.m.) have their reunion, as does "Love & Hip Hop Atlanta" (VH1, 8 p.m.).
Mattie wants out on "Escaping Polygamy" (Lifetime, 10 p.m.).
Jonathan Magnum guest stars on "Whose Line Is It Anyway?" (CW, 9 p.m.).
Wonder if "Cultureshock" (A&E, 9 p.m.) includes itself (and the former Arts & Entertainment network) in its episode "The Rise of Trash TV."
Appraisals from 1998 in Portland are revisited on "Antiques Roadshow" (PBS, 8 p.m., check local listings).
Tara Lapinski's dog gets involved with "Wedding Cake Championship" (Food, 9 p.m.).
Turner Classic Movies' 50 States in 50 Movies continues on the Atlantic seaboard going South, with "Shenandoah" (8 p.m.), representing Virginia (though shot in Oregon and California); "The Night of the Hunter" (10 p.m.) in West Virginia, "Bright Leaf" (midnight) from North Carolina tobacco country, "Conrack" (2 a.m.) about a South Carolina teacher, and "Mr. Smith Goes to Washington" (4 a.m.) from the district that ought to become a state.
Baseball includes Philadelphia at Mets (MLB, 4 p.m.), Washington at Pittsburgh (ESPN, 7 p.m.), Yankees at Baltimore (MLB, 7:30 p.m.) and Cubs at San Francisco (MLB, 10 p.m.).
In the NBA summer league, it's New Orleans vs. Detroit (ESPNU, 3 p.m.), Toronto vs. Oklahoma City (NBA, 3:30 p.m.), Indiana vs. Cleveland (ESPN2, 5 p.m.), Washington vs. Philadelphia (NBA, 5:30 p.m.), Charlotte vs. Boston (ESPN2, 7 p.m.), Golden State vs. Dallas (NBA, 7:30 p.m.), Milwaukee vs. Denver (ESPNU, 9 p.m.), Orlando vs. Phoenix (NBA,9:30 p.m.), Brooklyn vs. Minnesota (ESPNU, 11 p.m.) and Clippers vs. Houston (NBA, 11:30 p.m.).
Wimbledon (ESPN, ESPN2, 7 a.m.) moves to the round of 16.
Stage 3 of the Tour de France (NBC Sports, 9 a.m.) in and around the town of Cholet.
Daytime Talk
Kelly Ripa and Ryan Seacrest: Armie Hammer. The Talk: Kevin Hart, Josh McBride, Candace Cameron Bure. Harry Connick: Emily Wickersham (rerun). Steve Harvey: Patti Stanger, Carolina Guerra. Ellen DeGeneres: Tracee Ellis Ross, Jason Aldean (rerun). Wendy Williams: Elizabeth Wagmeister, Jackie Miranne. The Real: DeRay Davis, David Arquette, Camilla Luddington (rerun).
Late Talk
Stephen Colbert: Gordon Ramsay, Andrew Rannells, Junun with Shye Ben Tzur, Jonny Greenwood & the Rajasthan Express. Jimmy Kimmel: Terry Crews, Bobby Cannavale, Todd Rundgren's Utopia. Jimmy Fallon: Michael Strahan, Dave Matthews Band (rerun). Seth Meyers: Chris Hayes, Lil Rel Howery, Years & Years, Jennie Vee & Joe Russo (rerun). James Corden: Charlize Theron, David Oyelowo, Joel Egerton, Derren Brown (rerun). Carson Daly: Zach Braff, the Oh Hellos, Harris Dickinson (rerun). Conan O'Brien: Steven Yeun, Van Jones, Nick Hart.