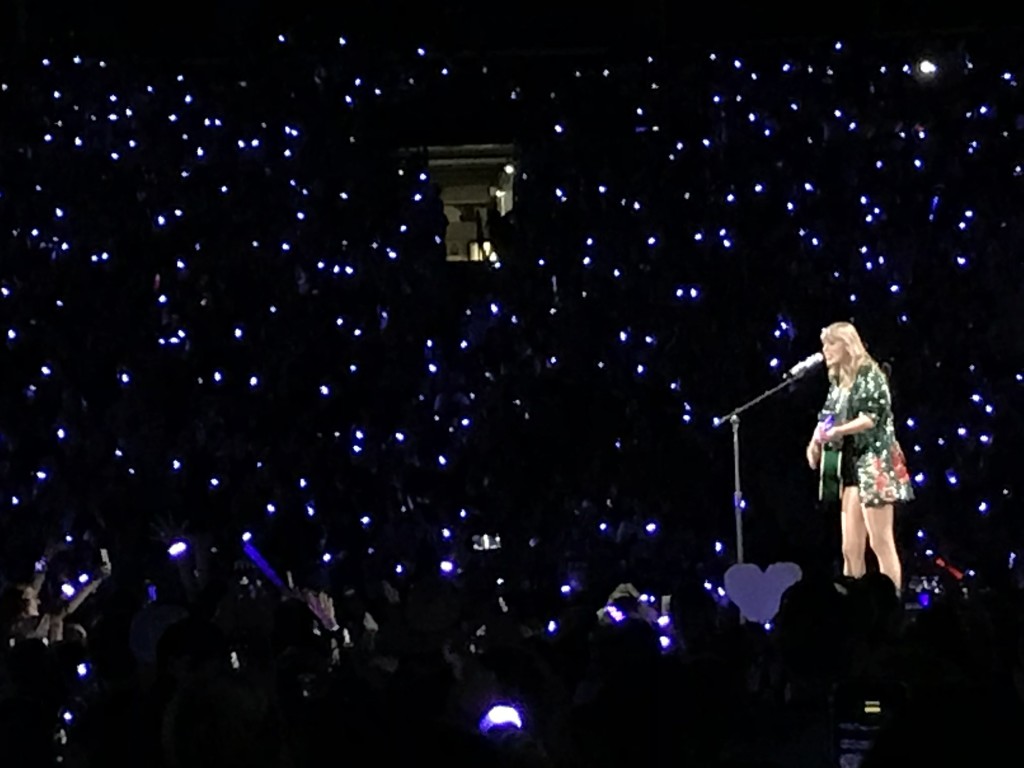 Despite the dizzying confluence of torches, fireworks, lights, immense video screens, dancing squads, light-up fan wristbands and three-story snakes — so many snakes — in Taylor Swift's big Reputation stadium tour, the best moment comes when she's finally alone with the guitar.
It happens just over halfway in her two hour extravaganza when she's on a B-stage, having been airlifted there by a light-up gondola while singing "Delicate." It's after the giddy heights of "Shake It Off" alongside tour openers Charli XCX and Camila Cabello (as well as another of those giant snakes) all while the fans' wristband lights involuntarily blink Christmas colors.
Only then is she able to talk more to her fans as if they were old college buddies ("I've been thinking of you guys"). At the first of two sold out shows at Maryland's FedEx Field for what she said was her 24th show in the area, she thanked fans for allowing her to go from teenage country sweetheart to high-volume pop music force. But she returned to her acoustic guitar roots all the same, with a spare version of "So It Goes…" from the new album and something from her "Red" album a half dozen years back that she hasn't played for a while, "State of Grace."
It was the rare moment of surprise and intimacy in a massive show whose every moment is plotted for maximum crowd convulsion.
It's audacious for a show this big to still largely be a vehicle to sell a new album, and playing 12 songs from Reputation (skipping only three of its tracks) meant squishing old favorites into medleys.
It was all fine with the audience of young girls, their indulgent parents, 20somethings and a few guys, all excited for the big show and some decked out in a kind of Taylor cosplay, which ran from the troubling sight of grade schoolers in fishnets and lipstick to someone in full witch costume to one old guy in what looked to be an exploded newspaper.
The newspaper part goes with the supposed theme of Taylor being a controversial figure, who is in tabloids all the time, and over whom gossips apparently have a field day. I'm not sure this is entirely true. I imagine Swift's rank on the list of troubling contemporary figures is in the high 20,000s.
Still, she's built this whole new work out of fighting back against imagined media jabs, just as she once fought against ex-boyfriends with revenge ditties. And this time she's talking like the 28 year old she is ("If a man talks shit, then I owe him nothing / I don't regret it one bit" ).
Once, she seemed to handle the Kanye West interruption at the MTV Awards with grace, but only now, nine years later, has she devised some snappy comebacks for the rapper — and odd ones to boot ("I don't like your tilted stage").
The whole snake thing is apparently about getting back at Kanye's wife for spamming her with online with snakes or some such. Well, take this:  Snake motifs everywhere, from the $45 T shirts to one of the gondolas that flew her over the crowd to giant ones on the giant video screens, and blow up ones that brought to mind the giant penis inflatible accompanying the Rolling Stones' 1975 tour.
All of this pop star bickering seems so inconsequential and irrelevant — something puffed up to inspire Swift to unleash a bunch of fierce dance anthems that never approach the Janet Jackson power to which they desperately aspire. (Face it, despite creating a few winning hooks in her decade or so career, the songwriting overall has not been top level).
But with her legion of fans and the nearly cult-like devotion she engenders in them (seen in pre-show videos of listening parties and video premieres in which fans bug out at the ecstasy), Swift could do more than gripe about boyfriend problems or celebrity slights. She could actually widen her gaze to address the actual world around her.
It's never convincing that Swift, who still moves like a dream-filled teen who sings with her hairbrush in the bedroom mirror, could ever be saddled with a bad reputation (and the Joan Jett song of that title which heralded the start of her set – a song she'd be lucky to emulate some day). She tries to come off as tough, though, in her boots and lipstick and bare-thigh hip swaying.
For a concert, the band was hardly seen; they came out from behind the gigantic video screens a couple of times like parakeets being allowed to circle the living room. It was one of those dancing and singing pop concerts heavy on background synths and unseen voices, where Taylor, like her dance act openers, would more often be heard singing along to their recorded voices (or somebody's recorded voices) than consistently leading with a live voice alone.
Nobody but the cranky critic cares that this may be occurring, of course; and he might be the only one who was also shocked and surprised at the plastic wristbands handed out (Free Fitbit? Thanks dude!), only to find that they light up en masse according to some unseen manipulator. God forbid Taylor fans be counted on to wave their phone lights their own selves. It was pretty dazzling at times and certainly something I hadn't seen before (though everybody else seemed pretty nonplussed about it). Still, it didn't feel cool being an unwitting part of the light show. What next? Affixing us with speakers that would go off themselves with cheers when we're told to "Make some noise!"
The prices of stadium concerts and the ante raised by every performer only makes each summer stadium tour more elaborate than the next. On the Reputation tour, they were firing up torches so large you could feel the heat on an already hot summer night, accompanied by fireworks on only the second song of the night, raising a crazy expectation where would they go from there.
But none of that excess is needed. Especially when the best part of the Taylor Swift concert is when she's playing alone on a stage by herself.
The setlist for Taylor Swift Tuesday was:
"…Ready for It?"
"I Did Something Bad"
"Gorgeous"
"Style" / "Love Story" / "You Belong With Me"
"Look What You Made Me Do"
"End Game"
"King of My Heart"
"Delicate"
"Shake It Off"
"So It Goes…"
"State of Grace"
"Blank Space"
"Dress"
"Bad Blood" / "Should've Said No"
"Don't Blame Me"
"Long Live" / "New Year's Day"
"Getaway Car"
"Call It What You Want"
"We Are Never Ever Getting Back Together" / "This is Why We Can't Have Nice Things"