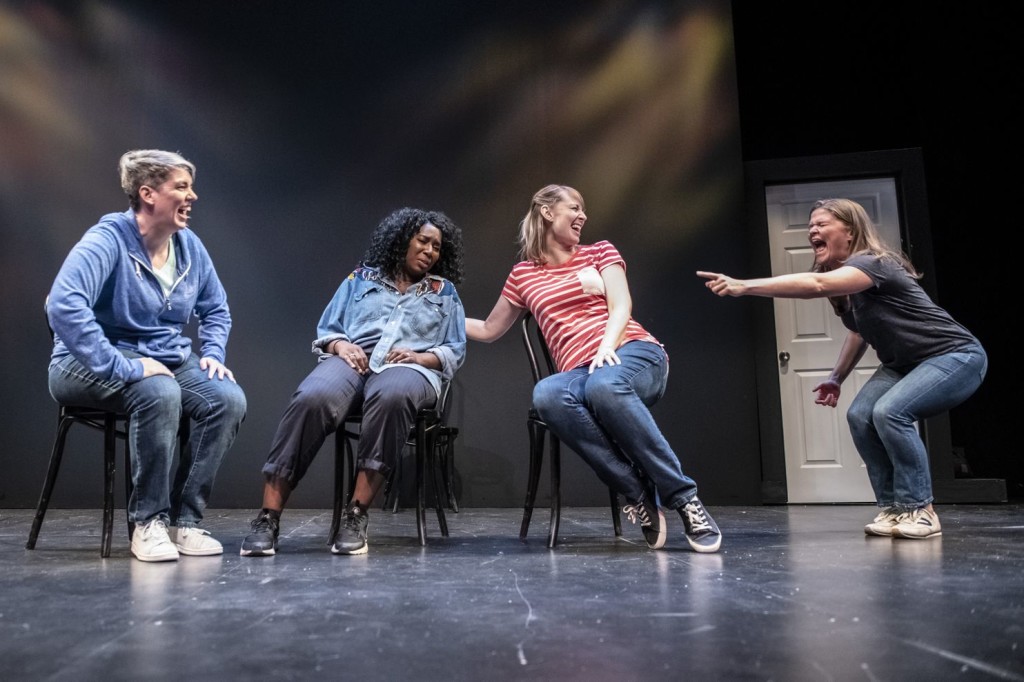 "Seinfeld" might have been a TV show about nothing, but shows by the Upright Citizens Brigade at Woolly Mammoth literally begin with nothing.
The "Four Gorgeous Women!" as they kept calling themselves, came out on stage (a fifth person, a guy, who was listed in the program, didn't materialize). And aside from a sci-fi themed opening warning ("Your future starts now!"), they began to collect information from the audience, from which they would create their show out of thin air.
It takes a barrel full of skill and confidence to believe you can pull this off night after night and the four vaguely familiar faces in "Damned if You Do" have it. The most familiar of the four is the ostensible leader, Shannon O'Neill, the sidekick on TV's "The Chris Gethard Show," who has an appealing deadpan demeanor, a good talk show host's way of bantering with interviewees and a genuine curiosity about people.
The idea was to create scenes based on the information culled from the interviews, so it's important that the rest of the cast – Molly Thomas, Monique Moses and Alex Dickson – listen closely for details they can spring later.
These things don't live or die on the people they pick, but it's pretty important they get someone with enough interesting life details to be able to improvise about them. So, like 2016′s UCB debut at Woolly Mammoth, "We Know How You Die!" they selected three volunteers first, did preliminary interviews and after a brief huddle, chose a woman who worked in a homeless shelter and a domestic violence intake center, who lived and played video games with her mom and whose only apparent negative trait was scaring her little sister with a monster voice when they were young.
More vices might have meant more comedy once the sketches reproducing her life began. And on opening night, despite the helpful lubrication of an open bar, it seemed like more of a struggle than usual. Eventually, they had to bring in the details of the two people they didn't pick to nail some of the biggest laughs.
Part of the premise is to allow a subject to see their own life, and then to show her a different path she could have gone. This one involved a nude beach.
It was satisfying enough an exercise that it was surprising there was going to be another bit after intermission – based on a bit of advice shared from someone in the balcony. This one went even better, though it eventually relied on the unchosen subjects from act one.
An all female improv troupe is still pretty rare, and more than one male improv actor has tried to take over shows in the past. So it was good to see these "Four Gorgeous Women" take control.
Will it change when Ben Ratiff, known for his work in TV's "Search Party," steps in to replace Dixon starting July 19? Will other subjects from the audience be more interesting? You never know, which is why the biannual Upright Citizens Brigade stint is always so fun to watch (and hard to review).
"Upright Citizens Brigade Theatre Performs Damned If You Do" continues at Woolly Mammoth Theatre Company in Washington, D.C., through July 29.