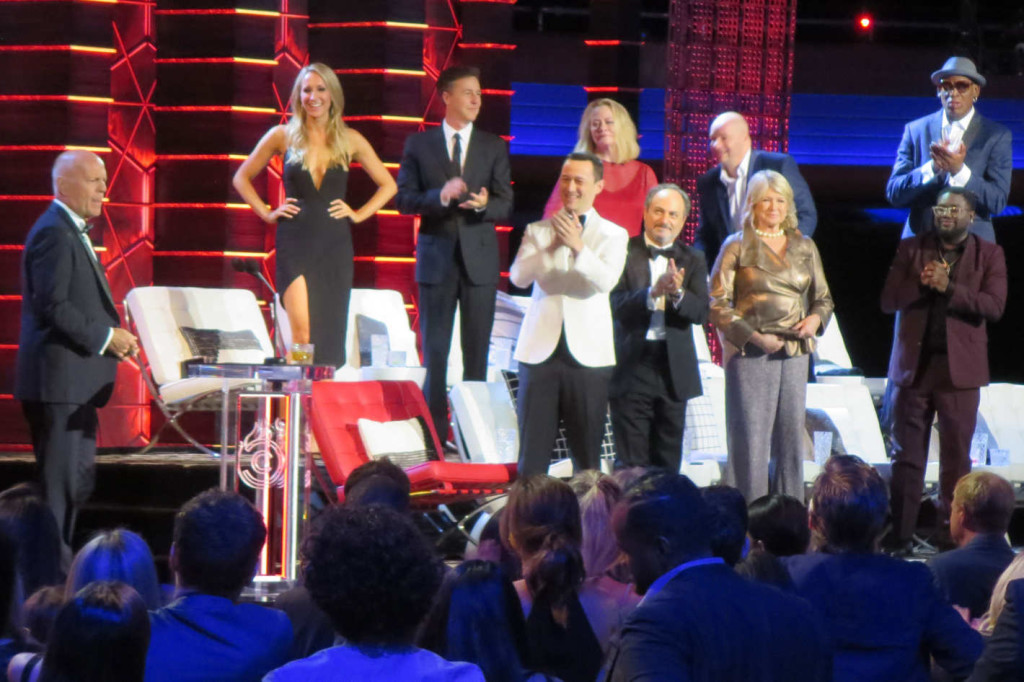 Demi Moore, Christopher Walken, Dennis Rodma, Martha Stewart and Edward Norton are among the celebrities who show up to the "Comedy Central Roast of Bruce Willis" (Comedy Central, 10 p.m.), a salute to the action star hosted by Joseph Gordon-Levitt.
Mozart's "Cosi Fan Tutte" is transformed to Coney Island in the Metropolitan Opera production starring Kelli O'Hara on "Great Performances at the Met" (PBS, noon, check local listings).
In the season five finale of "Endeavour" on "Masterpiece" (PBS, 9 p.m., check local listings), a teacher mysteriously disappears.
On "Sharp Objects" (HBO, 9 p.m.), Camille agrees to show Richard some of the crime scenes of Wind Gap.
Wedding preparations begin at Eastnor Castle in England for Shiv and Tom's wedding on "Succession" (HBO, 10 p.m.).
After Dick Cheney last week, looking forward to "Who is America?" (Showtime, 10 p.m.) today.
Kendrick Lamar makes his acting debut guest starring opposite 50 Cent on "Power" (Starz, 8 p.m.).
In sort of a crossover "Naked and Afraid of Sharks" (Discovery, 9 p.m.) helps close out Shark Week.
Leslie Jones, Taye Diggs, Sara Foster and Erin Foster play "The $100,000 Pyramid" (ABC, 9 p.m.).
On "The Affair" (Showtime,, 9 p.m.), Helen goes to Joshua Tree in search of meaning.
"Our Cartoon President" (Showtime, 10:30 p.m.) worries about the staff cooperating with Robert Mueller's probe.
Karl makes a breakthrough on "The Tunnel: Vengeance" (PBS, 10:30 p.m.).
The Queen of Hallmark Candace Cameron Bure returns to star as the crime solving librarian looking for her nephew in "An Aurora Teagarden Mystery: The Disappearing Game" (Hallmark Movie Channel, 9 p.m.).
On the made for TV "Cheerleader Nightmare" (Lifetime, 8 p.m.), a woman catches her boyfriend cheating with the head cheerleader, who is mysteriously murdered.
The new head of household makes nominations on "Big Brother" (CBS, 8 p.m.).
Desna is offered a deal with Ziata on "Claws" (TNT, 9 p.m.).
An ousted competitor returns to "Food Network Star" (Food, 9 p.m.).
A college student is tormented by her little sister's imaginary friend on "My Haunted House" (Travel, 8 p.m.).
"Total Bellas" (E!, 9 p.m.) ends its third season en route to WrestleMania.
Cassidy explores a new friendship on "Preacher" (AMC, 10 p.m.).
Harlee fights a frame job on "Shades of Blue" (NBC, 10 p.m.).
Joel McHale, Sasheer Zamata, Constance Zimmer and Paul Reubens play "To Tell the Truth" (ABC, 10 p.m.).
Turner Classic Movies has a couple from director Jean Negulesco: "Phone Call From a Stranger" (8 p.m.) and "Three Coins in the Fountain" (10 p.m.), followed by Lillian Gish in D.W. Griffith's "Way Down East" (midnight) and Kurosawa's "The Idiot" (3 a.m.).
The Tour de France (NBC Sports, 10 p.m.) concludes with Stage 21 from
Baseball includes Dodgers at Atlanta (TBS, 1:30 .m.), Cubs at St. Louis (ESPN, 8 p.m.) and the Hall of Fame induction ceremony (MLB, 1:30 p.m.).
Golf has the final rounds of the Senior British Open (Golf, 9:30 a.m.; NBC, noon) and the Canadian Open (Golf, 1 p.m.; CBS, 3 p.m.).
Auto racing has the Hungarian Grand Prix (ESPN2, 9 a.m.) the Gander Outdoors 400 (NBC Sports, 2:30 p.m.), the Honda Indy 200 (CNBC, 3:30 p.m.) and finals in the Sonoma Nationals (Fox, 4 p.m.).
In gymnastics, it's the U.S. Classic (NBC, 2 p.m.).
Soccer includes the U.S. vs. Australia (Fox Sports 1, 7 p.m.) in the Women's Tournament of Nations and the North Carolina Courage vs. Olympique Lyonnais (ESPN2, 9 p.m.) in the Women's International Champions Cup final.
Swimming has its U.S. championships (NBC, 3 p.m.).
Sunday Talk
ABC: Sen. James Lankford, Reps. Ben Ray Lujan and Steve Stivers. CBS: Sens. Ron Johnson and Jeanne Shaheen, Rudy Giuliani. NBC: Sen. Rob Portman, former Trump campaign official Sam Nurnberg. CNN: White House economic adviser Larry Kudlow, former New Orleans mayor Mitch Landrieu, Rep. Eric Swalwell. Fox News: Giuliani, Treasury Secretary Steven Mnuchin.