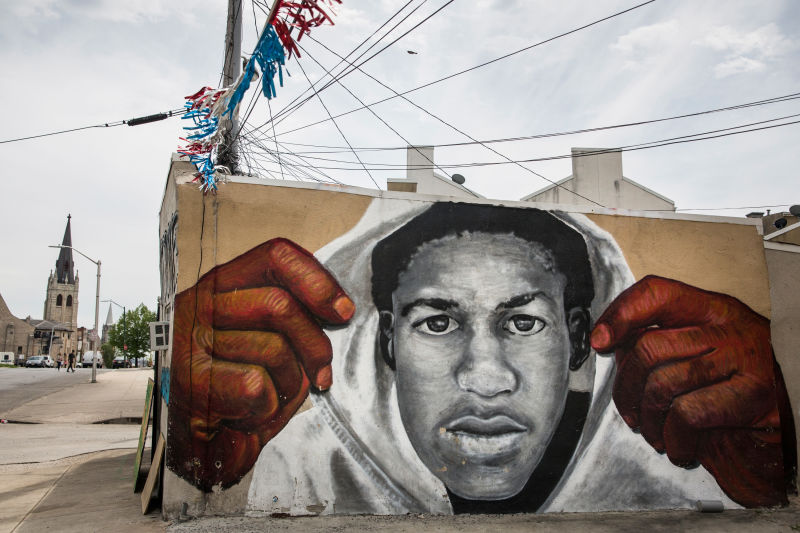 Produced in part by Jay-Z and the parents of the victim, the new six-part docs-series "Rest in Power: The Trayvon Martin Story" (Paramount, 10 p.m.) relives the 2012 shooting of the 17-year-old Floridian by a neighborhood watch member with a gun. The debut starts with the shooting and the immediate aftermath.
Despite a title right out of true crime, the new "Blood Money" (History, 10 p.m.) has a family estate planner helping business owners planning to pass their companies to offsprings.
Before Becca picks from Blake and Garrett, the men tell all on "The Bachelorette" (ABC, 8 p.m.).
Plum's mission is threatened on the first season finale of "Dietland" (AMC, 9 p.m.). It's all discussed on "Unapologetic with Aisha Tyler" (AMC, 10 p.m.) who hosts Diane Guerrero, Tess Holliday and Tamara Tunie.
The Top 10 men take the stage with past all-stars on "So You Think You Can Dance" (Fox, 8 p.m.).
"Diesel Brothers" (Discovery, 10 p.m.) barrel in for season four.
The poisoning of a relocation expert is investigated on "Elementary" (CBS, 10 p.m.).
Darius and Grace's relationship is tested on "Salvation" (CBS, 9 p.m.).
"American Ninja Warrior" (NBC, 8 p.m.) has the Miami City Finals.
Evelyn's trip to Puerto Rico on "Basketball Wives" (VH1, 9 p.m.) becomes emotional.
"Counting On" (TLC, 9 p.m.) returns for an eighth episode with Josiah and Lauren's wedding.
Rudy Giuliani should be booked on "Penn & Teller: Fool Us" (CW, 8 p.m.).
Three of "The Real Housewives of Orange County" (Bravo, 9 p.m.) visit Mexico.
The most gullible women in America agree to be partnered with a supposed millionaire they've never seen on "The Proposal" (ABC, 10 p.m.).
The new "Coastal Railways with Julie Walters" (Acorn, streaming) takes scenic trips down the British coast.
"Southern and Hungry" (Cooking, 9 p.m.) begins its second season in Charlotte, N.C.
Briana heals from surgery on "Teen Mom 2" (MTV, 9 p.m.).
Gary Anthony Williams is guest on "Whose Line is It Anyway?" (CW, 9 p.m.).
Cops come to arrest Kirk on "Floribama Shore" (MTV, 10 p.m.).
Turner Classic Movies' 50 States in 50 Movies turns to the desert West with "Them!" (8 p.m.) in New Mexico, "Alice Doesn't Live Here Anymore" (10 p.m.) in Arizona, "Wagon Train" (midnight) in Utah, "Duchess of Idaho" (1:15 a.m.) and "Ocean's Eleven" (3:15 a.m.) in Nevada.
Baseball has Philadelphia at Boston (ESPN, 7 p.m.) and Milwaukee at Dodgers (ESPN, 10 p.m.).
Daytime Talk
Kelly Ripa and Ryan Seacrest: Patricia Clarkson, Sam Heughan, Jenna Dewan. The View: Leslie Jones. Harry Connick: Sebastian Maniscalco (rerun). Steve Harvey: Shiri Appleby, Alesha Renee, Dr. V (rerun). Ellen DeGeneres: Mark Wahlberg, Ashton Kutcher, Guy Oseary, So You Think You Can Dance all-stars. Wendy Williams: Matthew Knowles (rerun). The Real: Jon Kelley (rerun).
Late Talk
Stephen Colbert: Judd Apatow, Jace Norman, OneRepublic. Jimmy Kimmel: Kim Kardashian West, Hayley Atwell, Train. Jimmy Fallon: Mila Kunis, Zachary Quinto, Taylor Bennett. Seth Meyers: Armie Hammer, Brandon Flowers, Taylor Gordon. James Corden: Mandy Moore, Jenna Dewan, Lisa Best. Carson Daly: Tom Arnold, Absofacto, Ella Purnell (rerun). Trevor Noah: Andrea Mitchell. Conan O'Brien: Jeff Garlin, Hayley Atwell, Declan McKenna (rerun).