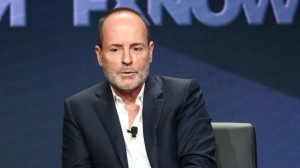 BEVERLY HILLS, Calif. — Easily the most welcome news at press tour has been the announcement of the fourth season plans for "Fargo," Noah Hawley's striking FX series inspired by the Coen Brothers film. Each season is in a different place and time and the details of what may well be the final season next year are tantalizing.
For one thing, Chris Rock will star, FX chief John Landgraf announced to the TV Critics Association. Normally, that would be enough exciting information. But he also added these details:
Set in 1950, it looks at the end of "two great American migrations," he said. One was the last of the Southern European countries like Italy who came to the U.S. cities like New York and Chicago in high numbers at the turn of the last century. The other was the end of the Northern Migration of African Americans who were escaping Jim Crow South.
These communities met, too, in Kansas City, where the limited series will focus on two criminal syndicates — one Italian, one African-American striking an uneasy peace as they work graft, drugs and exploitation.
"To cement their peace, the heads of both families have traded their eldest sons," Landgraf says. "Chris Rock plays the head of one family, a man who, in order to prosper, has surrendered his oldest boy to his enemy and who must, in turn, raise his enemy's son as his own. It's an uneasy peace, but profitable.
But when the head of the Kansas City mafia goes into the hospital for routine surgery and unexpectedly dies, everything changes, he said. "This is a story of immigration, assimilation, and the things we do for money, and as always, it's a story of basically decent people who are probably in over their heads — you know, 'Fargo.'"
Landgraf said the casting came about because "Noah really wanted to work with Chris" and when they met and he told him the idea for the season, "Chris got really excited and signed."
He referred to a fictional tome that appeared in season three, "The History of True Crime in the Midwest."
"This could be a show that is basing a cycle on each of the chapters of that book, and Missouri is Midwestern," he said. "Before Las Vegas became an important hub, a lot of the capital for the creating of Las Vegas actually came from Kansas City. So the tentacles of these organizations in Kansas City stretch out into the upper Midwest. We've already seen the effects of some of these organizations, and now I think he's going a little bit more to the source, right?"
xx
Less well received, of course, was Landgraf's semi-annual reading of just how many shows there are on TV each year. The final list comes each January, but he had some sobering mid-year stats:
So far this year, 319 scripted programs have been released, up 5 percent from the 305 that had come out the same time last year.
There were fewer on basic cable — 114 compared to 102, down 11 percent. Broadcast is down a tad, too, from 120 to 114.
But the slack is taken up by streaming TV, with the number of scripted shows released this year up a whopping 46 percent from last year, zipping from 52 to 76. Premium cable isn't far behind, up 42 percent, from 19 to 27.
FX's own share in all this was about 25 active series or pilots in deelopment, though only about 15 have been released each calendar.
Landgraf, the man who coined the phrase "peak TV," now says "I think my earlier estimates that peak TV would have peaked are wrong now. I think it's a ways away."
Channels will scale back investment in scripted programming, he says, in favor of live events.
He says, "you're going to see a lot of continued profusion in content," but adds, "in many ways, that's too narrow" a prognosis.
Rather, he says, "I think there's too much story. There's too much narrative."
He cites an article in the Guardian by filmmaker Paul Schrader on what he calls narrative exhaustion.
"It's just really about the absolute virtual impossibility of surprising the audience or providing something that feels truly novel or truly new, because we've all seen so many stories from every conceivable medium."
Nevertheless, he announced some development plans. FX placed an eight-episode order for the limited series "Devs" a sci-fi tech story from Alex Garland that is along the lines of his film "Ex Machina," with a cast that includes Sonoya Mizuno, Nick Offerman, Jin Ha, Zach Grenier and Alison Pill.
Also, "Shōgun," based by the best selling novel by James Clavell set in feudal Japan will be come a 10-episode limited series from a production team that includes Clavell's daughter Michaela Clavell, from Ronan Bennett ("Top Boy") and director Tim Van Patten ("The Sopranos," "Boardwalk Empire" and "Game of Thrones").
There's a new comedy "What We Do in the Shadows" coming in the spring from New Zealanders Jemaine Clement (Flight of the Conchords) and Taika Waititi.
Other new shows next year include "The Weekly," a half hour documentary series from the New York Times, and Y, an adaptation of the DC comic Y: The Last Man with Diane Lane and Amber Tamblyn.
And there's a still untitled series about Bob Fosse and Gwen Verdon starring Sam Rockwell and Michelle Williams, co-produced by Lin-Manuel Miranda.
FX had panels on Kurt Sutter's impending series "Mayans M.C.," a kind of "Sons of Anarchy" spin-off with accents that starts Sept. 4, and "Mr. In Between," an Australian import about a hitman with a daughter that premieres Sept. 25.
And there was one of those panels for "American Horror Story: Apocalypse" premiering Sept. 12 where little to no information could be given from a cast that includes Sarah Paulson, Kathy Bates and Emma Roberts.