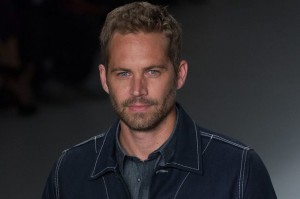 The actor best known for his role as Brian O'Conner in "The Fast and the Furious" series, and died at 40 in 2013 while shooting the seventh version is subject of a a documentary about his life, with commentary with many of his costars. "I Am Paul Walker" (Paramount, 9 p.m.) accompanied by the 2011 installation, "Fast Five" (Paramount, 6 and 10:30 p.m.).
The updated "Murder on the Orient Express" (HBO, 8 p.m.) with Kenneth Branagh and a star-packed cast that includes Johnny Depp, Michelle Pfeiffer, Judi Dench, Penelope Cruz and Willem Dafoe, makes its premium cable debut, as does "All I See is You" (Showtime, 8 p.m.) with Blake Lively, Jason Clarke and Yvonne Strahovski, and the action film "Proud Mary" (Starz, 8 p.m.) with Taraji P. Henson.
Like "The Bachelor" franchise, romance movies on Hallmark are increasingly offsetting the schmaltz with exotic travelogue locales. Real life married couple Alexa and Carlos PenaVega star in "Love at Sea" (Hallmark, 8 p.m.).
The strange array of wildlife found on isolated islands are examined on "Planet Earth: South Pacific" (BBC America, 9 p.m.).
Time to face the fact that home renovation TV host has been a longer lasting career than rapper for the man behind "The Vanilla Ice Project" (DIY, 10 p.m.), starting its eighth season.
On the new "Mind Your Business with Mahisha" (OWN, 10 p.m.), Mahisha Dillinger, the CEO of the natural hair care brand Curls, helps other companies very different from her own, starting with a family barbecue restaurant.
A quartet of Kentucky brides compete on "Four Weddings" (TLC, 9 p.m.).
There are back to back episodes of "Pink Collar Crimes" (CBS, 8 and 9 p.m.), the first about a psychic crime fighter, the other about "the she-wolf of Wall Street."
In an hour-long "I Am Frankie" (Nickelodeon, 8 p.m.), Frankie faces her prototype.
It's another Saturday night newsmagazine showdown with "20/20" (ABC, 9 p.m.) opposite "Dateline" (NBC, 9 p.m.) and "48 Hours" (CBS, 10 p.m.).
A lottery winner meets the wrong woman on "Sex, Lies & Murder" (Reelz, 10 p.m.).
"Dr. Jeff: Rocky Mountain Vet" (Animal Planet, 8 p.m.) travels to Houston to rescue dogs after devastating floods there.
Neffe and Shelby, a reality TV couple, try to mend their marriage on "Iyanla: Fix My Life" (OWN, 9 p.m.).
"The Disappearance of Crystal Rogers" (Oxygen, 7 p.m.) uncovers a small-town series of murders and secrets in Kentucky.
Lisa Nowak, who you will remember as "diaper astronaut," is profiled on "Scandal Made Me Famous" (Reelz, 9 p.m.).
"Fatal Vows" (Investigation Discovery, 10 p.m.) returns for a sixth season.
The country singer Hilary Scott helps a leukemia survivor find a wedding dress on "Say Yes to the Dress: Atlanta" (TLC, 8 p.m.).
It's a Disney showcase with "Cinderella" (Freeform, 8:10 p.m.) and "Mulan" (10:45 p.m.).
Latest scores: "Pitch Perfect 2" (FX, 9 p.m.) and "Kung Fu Panda 3" (FXM, 8:55 p.m.).
It's all Gary Cooper on Turner Classic Movies with the documentary "Gary Cooper: American Life, American Legend" (8:30 a.m.) and 10 movies: "Saratoga Trunk" (6 a.m.), "The Lives of a Bengal Lancer" (9:30 a.m.), "The Westerner" (11:30 a.m.), "Mr. Deeds Goes to Town" (1:30 p.m.), "Love in the Afternoon" (3:30 p.m.), "The Fountainhead" (6 p.m.), "The Pride of the Yankees" (8 p.m.), "Sergeant York" (10:30 p.m.), "The Story of Dr. Wassell" (1 a.m.) and "Friendly Persuasion" (3:30 a.m.).
Baseball includes Texas at Yankees (MLB, 1 p.m.), Washington at Cubs (Fox Sports 1, 4 p.m.), Milwaukee at Atlanta (Fox Sports 1, 7 p.m.) and Philadelphia at San Diego (MLB, 10 p.m.).
Preseason football has Minnesota at Denver (NFL, 9 p.m.).
Second and third rounds are played in the PGA Championship (TNT, 8 a.m.; CBS, 2 p.m.) and there are semifinal matches in the U.S. Women's Amateur (Fox Sports 2, 10 a.m.).
NASCAR has its Corrigan Oil 200 (Fox Sports 1, 1 p.m.) and the Mid-Ohio Challenge (NBC Sports, 3 p.m.).
In motocross, it's the Unadilla National (NBC, 3 p.m.).
The Jr. NBA World Championship (Fox, 8 p.m.) pays live in prime time
Regional finals play all day in Little League (ESPN, 11 a.m.), starting this morning.
In WNBA action, it's Dallas at Atlanta (NBA, 2 p.m.).
And the Tour of Utah (Fox Sports 2, 4 p.m.) reaches its fifth stage.
Angelique Kidjo plays a 2016 edition of "Austin City Limits" (PBS, 11 p.m., check local listings).
The Gal Godot-hosted "Saturday Night Live" (NBC, 11:30 p.m.) with Sam Smith gets a rerun.