BEVERLY HILLS, Calif. — You'd hardly know today that the the TV Critics Association and its press tours were built around what was once known as the Big Three networks. Several days were dedicated to the programming fare of ABC, NBC and CBS.
Among the many changes at press tour, including the switch of the membership from largely newspaper to internet-based, is the influx of cable to such a degree that it dominated the tour, especially when combined with the aggressive streaming services, which this year included not just Netflix and Amazon, but also BritBox, YouTube Premium, Sony Crackle, Facebook Watch and something called Rooster Teeth. (I kept spreading the rumor that there was going to be a session for Fitbit Originals, but nobody blinked).
This time, to the worst extent anyone could recall the Big Three couldn't fill three days, indicating either that they didn't think enough of all of their new shows to launch them in front of the press, or didn't think enough of the press to bother.
Of the other broadcasters, Fox had a full day with the most extensive party of the tour, and CW held its own with a half day, with more new shows because they are expanding. Both of those had executive sessions as well.
Of the original big three, CBS was the only one to hold an executive session, and they did so despite having the toughest questions to face about recently breaking stories about Viacom chief Les Moonves and sexual harassment.
"Obviously, this has been a tough week at CBS," the network entertainment Kelly Kahl said at the outset. "I know there was some speculation we might cancel today."
But he added, " We wanted to be here. There are literally thousands of talented producers, writers, actors, and crews, not to mention all the people at CBS who have been preparing for months to launch the fall season. They've worked incredibly hard, and we think they deserve our best efforts to share all the new shows with all of you."
As for Moonves, who made the executive sessions a heady mélange of bravado, goading, news and jokes when he was head of the network, an investigation is ongoing. At the network, Kahl said, "we are committed to a collaborative, inclusive, and safe workplace."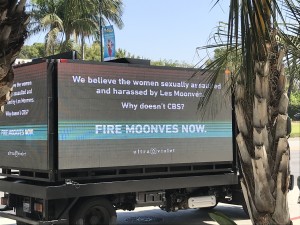 Meanwhile, a truck parked outside of the Beverly Hilton where press tour took place flashed its own video message all day: "We believe the women sexually assaulted and harassed by Les Moonves. Why doesn't CBS? FIRE MOONVES NOW."
Reporters largely centered on that question, leaving little time for the usual inquiries about keeping around shows like "Code Black" ("We would like to figure out a way to maybe make it work") and "The Big Bang Theory" ("We don't believe it's the final year" though it was announced as such).
The network had some throwbacks amid its panel, including a reconstituted "Murphy Brown," whose cast flew in after taping its first show in New York. Dick Wolf presented a rare CBS project, "FBI," after virtually colonizing NBC.
Its comedies, "Happy Together" and "The Neighborhood" seemed wrong-headed taken as a pair; the "Magnum, P.I." reboot left the mustache off Jay Hernandez, but, worse, seemed to leave off traits of his cultural identity as well.
Reporters thanked Kahl for showing up, though, and presenting a day full of panels especially as his counterparts did not.
ABC was essentially a half day, with the first session starting at 2 p.m. And with all that time, still no executive session from Channing Dungey who could have least done a victory lap for her widely praised quick action in giving the axe to its most popular show, "Roseanne," after its star posted a racist tweet.
But, network spokeswoman Jori Arancio said, because "The Walt Disney Company is reporting earnings today, and we thought it best not to have an executive session compete with that."
Hm. Really?
Even so, there was no ABC session for its most interesting new show of the season — "The Carters," the one that will fill the slot of Roseanne by concentrating on everybody else in the reunited cast.
Instead, there were panels for the comedies "Single Parents" with Taran Killam, Leighton Meester and Brad Garrett; and the 1970s Irish family comedy "The Kids are Alright" with Mary McCormack; the Nathan Fillion cop show "The Rookie" and the "Big Chill"-like "A Million Little Things" about friends who cope with another's suicide.
NBC just had even fewer; in fact, just one for a new show, the Amy Poehler-produced "Single Kids." The other comedy was for one they following its cancellation by Fox after five years, "Brooklyn Nine-Nine."
There was no press conference for NBC's two new fall dramas – the medical drama "New Amsterdam," and the "Lost"-like "Manifest" about a flight that disappears for five years — though producers for both appeared on a panel for showrunners.
And with no party planned, it seemed an opportunity for writers who may have already been there for two weeks, to skip altogether.