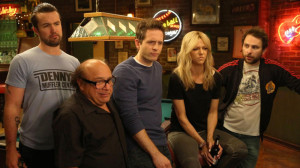 It's remarkable that the raucous "It's Always Sunny in Philadelphia" (FXX, 10 p.m.) has reached its 13th season. Next year it will tie "Ozzie & Harriet" as TV's longest running live action sitcom. But it doesn't come without change. Mindy Kaling guest stars as a new member of the gang, who wants to organize projects to make the bar more successful, but it's hard working with the famously dim gang, now down a member now that Dennis is gone – Glenn Howerton is working on his network sitcom "A.P. Bio" and will only occasionally appear this season. Tonight, he is replaced by a sex doll.
There have been some other changes. Rob McElhenny's character, who famously spent season seven fat, is now overly buff and has fully come out of the closet last season. But the show still is full of surprise, as in the upcoming episode when Mac comes out to his dad. Also upcoming, an all female reboot of one of the most beloved episodes, trying to break Wade Boggs' record of beer drinking on a coast to coast flight, en route to a women's march.
Comedians riff on their early education on "Back to School Just for Laughs" (CW, 9 p.m.), culled from the Montreal Just for Laughs festival.
Tragedies compound on the concluding half of "The Bobby Brown Story" (BET, 9 p.m.).
Head of Household Tyler put Hayleigh and Scottie up for eviction on "Big Brother" (CBS, 8 p.m.), now it's time to play the power of veto.
"Tattoo Age" (Viceland, 10:30 p.m.) ends its second season with a look at the work of Ed Hardy.
More eliminations come on "America's Got Talent" (NBC, 8 p.m.).
Divisional finals come to "World of Dance" (NBC, 9 p.m.).
The top six face the restaurant takeover challenge on "MasterChef" (Fox, 8 p.m.).
Egypt's ancient treasures are explored on "Ancient Invisible Cities" (PBS, 9 p.m., check local listings).
On "Burden of Truth" (CW, 8 p.m.), threats against Joanna and Billy escalate.
Christina and Angel's wedding looms on a two hour "Born This Way" (A&E, 8 p.m.). Part one reruns at 6:30.
Let's hope the reunion winds up on "The Real Housewives of New York City" (Bravo, 8 p.m.).
"The Real Housewives of Dallas" (Bravo, 9 p.m.) are still at Beaver Creek.
An L.A.-based model moves to New York to boost her career on "Model Squad" (E!, 8 p.m.).
Kailyn reviews her craziest meltdowns on "Teen Mom 2" (MTV, 9 p.m.).
Legal pot affects illegal dealers on "Drugs, Inc.: The Fix" (National Geographic, 9 p.m.).
On "Suits" (USA, 9 p.m.), Harvey helps Samantha settle a score.
Exes invade on "Are You the One?" (MTV, 10 p.m.).
A drug kingpin is studied on "Narco Bling: Getting Chapo Guzman" (National Geographic, 10 p.m.).
The Bishop surprises Lady Mae with divorce papers on "Greenleaf" (OWN, 10 p.m.).
More fake sightings are taken seriously on "Bigfoot in America" (Travel, 10 p.m.).
"The Sinner" (USA, 10 p.m.), Vera uncovers Mosswood's past to Ambrose.
T-Pain and Karrueche Tran visit "Martha & Snoop's Dinner Party" (VH1, 9 p.m.), and then at 9:30, Don Cheadle, Sherri Shepherd and Chilli of TLC stop by.
Dean Martin is star of the month on Turner Classic Movies, with a 22 movie showcase Wednesdays that begins with "Living It Up" (8 p.m.), "Hollywood or Bust" (9:45 p.m.), "At War with the Army" (11:30 p.m.), "Ten Thousand Bedrooms" (1:15 a.m.), "Who Was That Lady?" (3:30 a.m.) and "Bells Are Ringing" (5:30 a.m.).
Baseball includes Boston at Atlanta (MLB, noon), Mets at Dodgers (MLB, 7:30 p.m.) and Yankees at Oakland (MLB, 10:30 p.m.).
The U.S. Open (ESPN, noon and 7 p.m.) reaches semifinals.
Daytime Talk
Kelly Ripa and Ryan Seacrest: Trevor Noah, Shay Mitchell, Troye Sivan, Alisha Marie. The View: John Kerry. The Talk: Ricky Martin, Janee Bolden, Dianna De La Garza (rerun). Harry Connick: Charlamagne Tha God, Tom Payne (rerun). Steve Harvey: The Kingdom Choir. Ellen DeGeneres: Mark Wahlberg, Rep. Beto O'Rourke, Fleetwood Mac. Wendy Williams: Jussie Smollett (rerun). The Real: Jada Pinkett Smith (rerun).
Late Talk
Stephen Colbert: Rob Lowe, John Kerry, Kathleen Madigan. Jimmy Kimmel: Sarah Silverman, Dave Matthews. Jimmy Fallon: Jennifer Garner, Jeff Foxworthy, Sheryl Crow. Seth Meyers: Cynthia Nixon, Maggie Gyllenhaal, Ingrid Rojas Contreras, Allison Miller, Pearl Adam. James Corden: Rob Corddry, Paula Abdul. Carson Daly: Charlie Hunnam, Rami Malek, Amen Dunes, Lana Condor. Trevor Noah: April Ryan. Conan O'Brien: Samuel L. Jackson, James McAvoy, Bruce Willis, Sarah Paulson, Anya Taylor-Joy, M. Night Shyamalan (rerun).