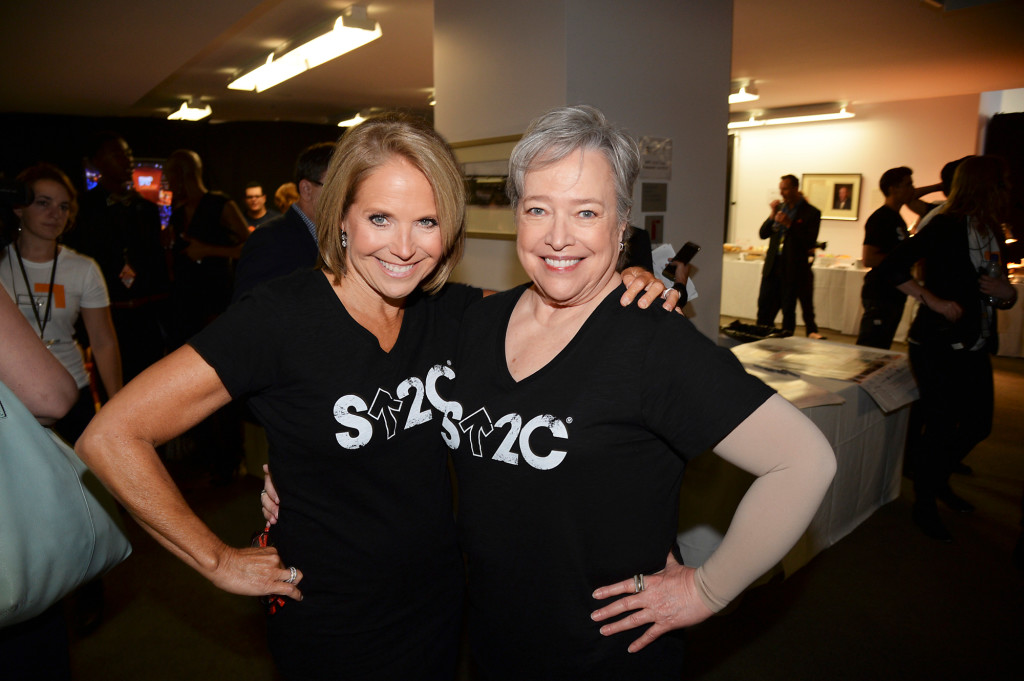 The sixth annual "Stand Up 2 Cancer" (ABC, CBS, NBC, Fox, Bravo, HBO, Showtime, TNT, WGN America, Smithsonian Channel, Discovery Life, E!, Reelz,  8 p.m.) brings out stars in order to raise a lot of money. The succinct telethon, which probably led to the demise of the MDA Labor Day event, this year features Jason Bateman, Jennifer Garner, Bradley Cooper, Matthew McConaughey, Jon Hamm, Katie Couric, Kathy Bates, Keanu Reeves and more. Stevie Wonder, Little Big Town and Charlie Wilson will perform.
The slate of high school rom coms on Netflix grows with the addition of the "Cyrano" adaptation "Sierra Burgess is a Loser" (Netflix, streaming) starring Shannon Purser (Barb from "Stranger Things") with RJ Cyler and Kristine Froseth.
In the film "The Most Assassinated Woman in the World" (Netflix, streaming) a 1930s actress is stalked.
In the animated feature "Next Gen" (Netflix, streaming) a lonely girl aligns with a top- secret robot, one who is not featured on "BattleBots" (Discovery, 8 p.m.).
A new documentary series, "City of Joy" (Netflix, streaming) looks at a healing center for woman sexually brutalized in war-torn Congo.
How does jail time change an inmate? The documentary series "First and Last" (Netflix, streaming) endeavors to find out by filming the incarcerated at Gwinnett County Jail on their first day and on their last.
Amazon's first Spanish original series, "Six Dreams" (Amazon, streaming) follows three players, two coaches and one president in Spain's top soccer league.
Second seasons drop for both "Marvel's Iron Fist" (Netflix, streaming), "Stretch Armstrong & the Flex Fighters" (Netflix, streaming) and "Atypical" (Netflix, streaming); "Cable Girls" (Netflix, streaming) is back for its third.
The artist Elizabeth Murray is profiled on "American Masters" (PBS, 9 p.m.), narrated by Meryl Streep. And then there is a film on the painter Andrew Wyeth at 9. Both are part of a four-artist "Artist Flight" series on "American Masters" that concludes next week.
The big stars in the 11th season of "Marriage Boot Camp Reality Stars" (WeTV, 9 p.m.) may be Pauly D of "Jersey Shore" and Aubrey O'Day, the Danity Kane member who was on "Making the Band" and "The Apprentice," who have apparently been dating. Also aboard to fix their relationships (and add to their air time) are Desiree Heartsick and Chris Siegfried of "The Bachelor," Kim Richards and Wynn Katz of "The Real Housewives of Beverly Hills," Puma and Quani of "Black Ink Crew" and "Momma Dee and Ernest from "Love & Hip Hop: Atlanta").
Jim Carrey, Jack Bryan, David Axelrod, Michelle Goldberg and Charlie Dent are guests on a new "Real Time with Bill Maher" (HBO, 10 p.m.).
The designer Christian Siriano is profiled on "Breaking Big" (PBS, 8:30 p.m., check local listings).
On the made-for-TV thriller "House of Darkness: New Blood" (Lifetime Movie Network, 8 p.m.) a single mother believes a family tragedy was caused by dark forces. Kate Stone and Liam McNeill star.
A thriller making its premium cable debut is last year's "Sweet Virginia" (Showtime, 9 p.m.), about a triple murder in remote Alaska with Jon Bernthal and Christopher Abbott.
A ferret tries to lead an interspecies group called GrabBags on a new "Animals" (HBO, 11:30 p.m.).
"TKO: Total Knock Out" (CBS, 9 p.m.) trudges on.
The creative "Random Acts of Flyness" (HBO, midnight) ends its short first season.
Aretha Franklin's favorite TV show, we learned last week, was "The Haves and the Have Nots" (OWN, 8 p.m.).
A homecoming takes a deadly turn on "Killjoys" (Syfy, 10 p.m.).
A high school girl is hypnotized to help find an attacker on "Dateline" (NBC, 9 p.m.).
The team on "Scaled" (Animal Planet, 9 p.m.) create an enclosure for two boa constrictors.
In South Dakota, there is "A Mystery in Black Hills" (Investigation Discovery, 9 p.m.).
Wendy Raquel Robinson of "The Game" plans a gala for her high school of the performing arts on "David Tutera's CELEBrations" (WeTV, 10 p.m.).
Tensions rise between Darcey and Jesse on "90 Day Fiancé: Before the 90 Days" (TLC, 8 p.m.).
Trevor Jackson and Deon Cole are on "Nick Cannon Presents: Wild 'N Out" (MTV, 10 p.m.).
Karious Miller performs on "That's Funny" (Starz, 10 p.m.).
"The Dead Files" (Travel, 10 p.m.) goes to Winchester, Kentucky.
Judy Gold joins Rachel Dratch on "Late Night Snack" (truTV, 11:30 p.m.).
Films made from stories originally published as serials in the Saturday Evening Post get a showcase on Turner Classic Movies with "The Big Heat" (8 p.m.) and "Too Late for Tears" (10 p.m.) and "Dark Passage" (midnight). Then comes the horror of "Motel Hell" (2 a.m.) and "Scarecrows" (4 a.m.).
Baseball includes Houston at Boston (MLB, 7 p.m.).
College football has TCU at SMU (ESPN2, 8 p.m.).
The WNBA Finals begin with Washington at Seattle (ESPNews, 9 p.m.) in Game 1.
The NBA also has its Hall of Fame enshrinement ceremony (NBA, 7 p.m.).
In soccer's UEFA Nations League, it's Poland at Italy (ESPN2, 2:30 p.m.). and there's a men's international friendly with Brazil at U.S. (Fox Sports 1, 8 p.m.).
And in the U.S. Open (ESPN2, noon) it's the men's doubles championship followed by the men's singles semifinals (ESPN, 4 p.m.).
Daytime Talk
Kelly Ripa and Ryan Seacrest: Jennifer Garner, David Muir, Collins Key. The View: Wendy Williams. The Talk: Barry Manilow, Joe Isidori (rerun). Harry Connick: Dylan McDermott (rerun). Steve Harvey: Daymond John, Tamar Braxton, Kim Gravel, Kimberly Caldwell-Harvey. Ellen DeGeneres: Cher. Wendy Williams: Chaka Khan, Taylor Dayne (rerun). The Real: O'Shea Jackson Jr. (rerun).
Late Talk
Stephen Colbert: Sharon Osbourne, Jay Rock. Jimmy Kimmel: Terry Bradshaw, Shannon Purser, Dreamers. Jimmy Fallon: Nick Jonas, Elizabeth Olsen. Seth Meyers: Jessica Biel, Awkwafina, Matt Groening (rerun). James Corden: Cher, William H. Macy. Carson Daly: Chuck Liddell, Flora Cast, Y'lan Noel.