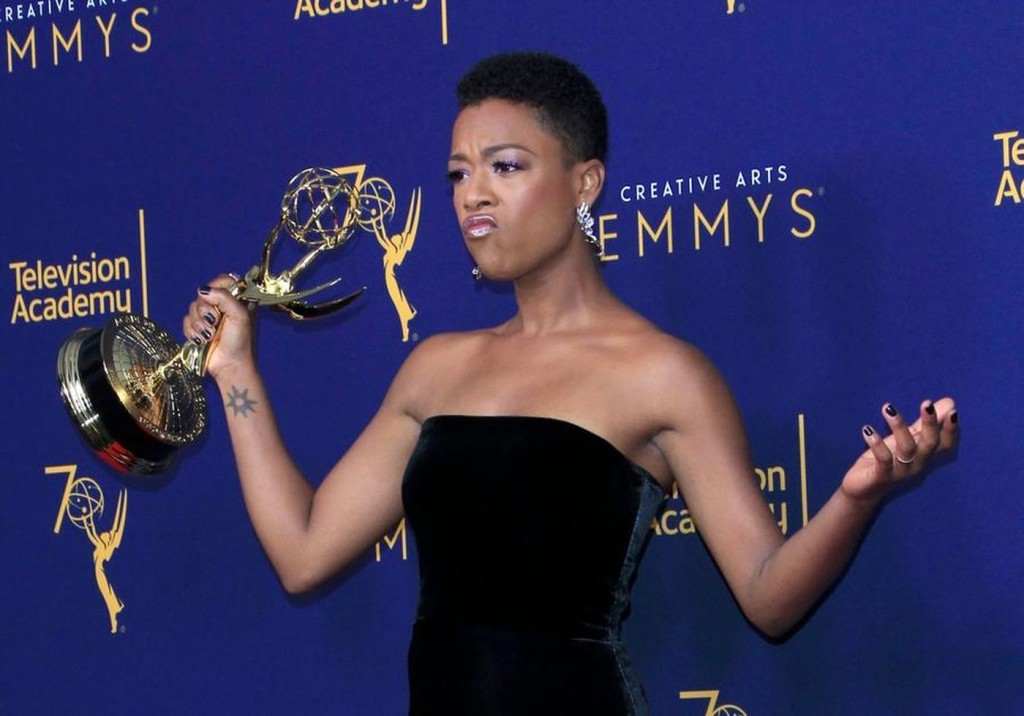 The Emmys have been pushed from Sunday night to Monday for the first time, lest football be disturbed, but last week's Creative Arts Emmy Awards (FXX, 8 p.m.) will still run tonight, now two days before the main event.
A lot of the technical awards will be given in the edited event from the Microsoft Theater in Los Angeles, but also things like best variety show, animated show and guest star in a comedy and drama, including Samira Wiley, above, in "The Handmaid's Tale."
Prime time is once again dominated by college football with Ohio State vs. TCU (ABC, 8 p.m.) and Southern California at Texas (Fox, 8 p.m.), capping a long day of games (listed below).
"Planet Earth: Yellowstone" (BBC America, 8 p.m.) looks at the winter season at the famed national park.
In the made for TV romance "Love in Design" (Hallmark, 9 p.m.), Danica McKellar plays a TV star returning home to renovate a home also meets an old flame (Andrew Walker). Not sure how they can do the same plot over and over. Then there's a half hour preview of upcoming autumnal romance films on the "Fall Harvest Preview Special" (Hallmark, 11 p.m.).
"Unspeakable Crime: The Killing of Jessica Chambers" (Oxygen 7 and 10 p.m.) covers the murder of a teen burned to death in her car in Mississippi.
The story of a Brooklyn woman who skimmed nearly $100,000 while being PTA treasurer is told on "Pink Collar Crimes" (CBS, 8 p.m.).
A cat named Lucifer seems fitting on a show called "My Cat from Hell" (Animal Planet, 8 p.m.).
"Pitch Perfect 3" (HBO, 8 p.m.) makes its premium cable premiere, as does the Getty saga "All the Money in the World" (Starz, 8 p.m.).
Prison daughters and biological daughters compare notes on "Iyanla: Fix my Life" (OWN, 9 p.m.).
A wolfdog needs to be removed from the suburbs on "Wolves and Warriors" (Animal Planet, 10 p.m.).
"The Vanilla Ice Project" (DIY, 10 p.m.) works on the landscaping.
Married bail bondsmen have a problem on "Fatal Vows" (Investigation Discovery, 10 p.m.).
A Melrose Avenue boutique gets a hand from "Mind Your Business with Mahisha" (OWN, 10 p.m.).
Smallpox, syphillis and the plague are some of the communicable diseases spread in the movies on Turner Classic Movies tonight with "Panic in the Streets" (8 p.m.), "The Killer That Stalked New York" (10 p.m.) and "Summer of '63" (11:30 p.m.). The midnight noir has "Angel Face" (midnight), followed by "Summer of '42" (2 a.m.) and its nearly forgotten sequel, "Class of '44" (4 a.m.).
Football begins at noon with games that include Oklahoma at Iowa State (ABC), Florida State at Syracuse (ESPN), Miami at Toledo (ESPN2), Middle Tennessee at Georgia (ESPNews), Kent State at Penn State (Fox Sports 1) and Hawaii at Army (CBS Sports).
Then it's Vanderbilt at Notre Dame (NBC, 2:30 p.m.).
Games at 3:30 p.m. include BYU at Wisconsin (ABC), LSU at Auburn (CBS), Boise State at Oklahoma State (ESPN), Duke at Baylor (Fox Sports 1) and Lehigh at Navy (CBS Sports).
They are followed by Houston at Texas Tech (Fox, 4:15 p.m.), Ohio vs. Virginia (ESPN2, 4:30 p.m.), Alabama at Mississippi (ESPN, 7 p.m.), Arkansas State at Tulsa (CBS Sports), Louisiana-Lafayette at Mississippi State (ESPN2, 7:30 p.m.), Washington at Utah (ESPN, 10 p.m.), CBS Sports10:30 p.m.) and Fresno State at UCLA (Fox Sports 1, 10:30 p.m.).
Baseball includes Washington at Atlanta (Fox, 1 p.m.), Mets at Boston (MLB, 4 p.m.) and Colorado at San Francisco (MLB, 10 p.m.).
NASCAR runs its DC Solar 300 (NBC Sports, 5 p.m.).
The semifinals in tennis' Davis Cup (Tennis, 8 a.m.) has U.S. at Croatia and Spain at France.
Paul Simon performs on a 2016 "Austin City Limits" (PBS, 11 p.m., check local listings).
The Donald Glover-hosted "Saturday Night Live" (NBC, 11:30 p.m.) with performances from his alter ego Childish Gambino is an awfully good one.