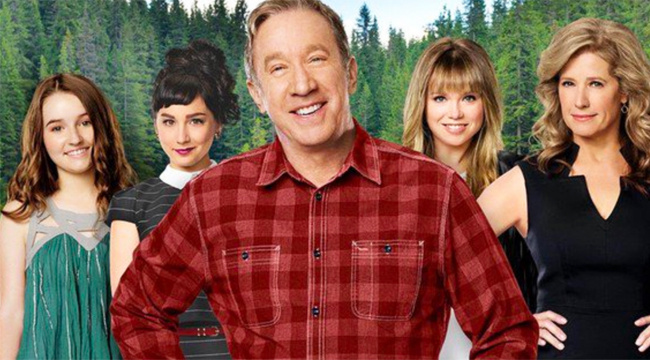 After a year's absence, "Last Man Standing" (Fox, 8 p.m.) reappears for its sixth season on a different network, who picked it up hoping to have some of the success of another conservative-leaning resuscitated comedy, "Roseanne." Tim Allen and most of the cast return in the effort.
Vicki Lawrence's character is looked upon as suspect on the premiere of the comedy "The Cool Kids" (Fox, 8:30 p.m.). What, they never watched "Mama's Place"?
Among the many returning shows tonight, the most anticipated may be online, where "Chef's Table" (Netflix, streaming) begins its fifth season highlighting the best chefs on the planet.
"Tracey Ullman's Show" (HBO, midnight) returns for a third season of laughs and
Elsewhere, in the third season premiere, "MacGyver" (CBS, 8 p.m.) has moved to Nigeria.
McGarrett allows himself to be captured by the group he thinks killed Steve's CIA buddy on the ninth season premiere of "Hawaii Five-0" (CBS, 9 p.m.).
Anthony Hopkins stars in a new adaptation of "King Lear" (Amazon Prime, streaming) with Emma Thompson, Emily Watkins, Florence Pugh and Andrew Scott.
"Hell's Kitchen" (Fox, 9 p.m.) reaches its 18th season with eight past contestants also invited to compete again.
Danny takes on a personal case involving a cartel member on the ninth season premiere of "Blue Bloods" (CBS, 10 p.m.).
Steve Bannon and Neil deGrasse Tyson are interview guests and April Ryan, Evelyn Farkas and Max Brooks are on the panel on a new "Real Time with Bill Maher" (HBO, 10 p.m.).
An episode of "Vice" (HBO, 7:30 p.m.) looks into the issues of sexual consent.
"The Hispanic Heritage Awards" (PBS, 10 p.m., check local listings) honors Latinos including Daniel Lubetzky, Karol G, MJ Rodrigues, Sister Norma Pimentel and Richard "Crazy Legs" Colon.
The impending 40th anniversary of the largest murder-suicide in American history is retold on the two hour documentary "Truth & Lies: Jonestown, Paradise Lost" (ABC, 8 p.m.).
The premieres of "Manifest" (NBC, 8 p.m.) and "New Amsterdam" (NBC, 9 p.m.) are rerun if you want to catch them.
The documentary "Two Catalonias" (Netflix, streaming) looks at the struggles for independence in Spain.
"Lessons from a School Shooting: Notes from Dunblane" (Netflix, streaming) has two priests discuss the cases in each of their communities – one at Sandy Hook, the other in Scotland.
The new movie "Hold the Dark" (Netflix, streaming) about the investigation of wolf attacks in a remote Alaskan village, stars Alexander Skarsgard, Riley Keough and Jeffrey Wright.
Megan manages to escape on the second season finale of "Outcast" (Cinemax, 10 p.m.).
"Jack Whitehall: Travels with My Father" (Netflix, streaming) returns for a second season.
"Art in the Twenty-First Century" (PBS, 9, check local listings) looks at artists working in San Francisco.
"Wynonna Earp" (Syfy, 9 p.m.) has an unexpected revelation about the curse on the first of two episodes.
The team tries blasting on "Treasure Quest: Snake Island" (Discovery, 9 p.m.).
"The Dead Files" (Travel, 9 p.m.) travels to Wichita, Kan. "Haunted Live" (Travel, 10 p.m.) goes to Castilian Springs, Tenn.
The actor Arthur Kennedy is featured on Turner Classic Movies in "Bright Victory" (8 p.m.), "The Naked Dawn" (10 p.m.) and "Trial" (11:45 p.m.). Later comes a couple of horror films with Donald Pleasence,  "Alone in the Dark" (2 a.m.) and "Eye of the Devil" (3:45 a.m.).
Baseball includes St. Louis at Cubs (ESPN, 2 p.m.), Yankees at Boston (ESPN, 7 p.m.) and Dodgers at San Francisco (MLB, 10:15 p.m.).
College football has Princeton at Columbia (ESPNU, 6 p.m.), Memphis at Tulane (ESPN2, 8 p.m.) and UCLA at Colorado (Fox Sports 1, 9 p.m.).
Preseason hockey has Carolina at Washington (NBC Sports, 7 p.m.), Detroit at Toronto (NHL, 7:30 p.m.) and Los Angeles at Vegas (NHL, 10 p.m.).
Preseason basketball begins with Boston vs. Charlotte (NBA, 7:30 p.m.).
Women's college volleyball includes Oklahoma at Baylor (ESPNU, 9 p.m.) and Southern California at Stanford (ESPN2, 11 p.m.).
Daytime Talk
Kelly Ripa and Ryan Seacrest: Randall Park, Brynn Elliott. The View: Ricky Gervais. The Talk: Damon Wayans Jr., Carrie Ann Inaba. Steve Harvey: Kevin Hart. Ellen DeGeneres: Kobe Bryant, Logic, Ryan Tedder, "So You Think You Can Dance" Top 10, Lauren Foreman, Cyrus "Glitch" Spencer. Wendy Williams: Remy Ma, Papoose. The Real: Israel Houghton.
Late Talk
Stephen Colbert: Kristen Bell, Nik Dodani. Jimmy Kimmel: Annette Bening, John Mayer (rerun). Jimmy Fallon: Paul Giamatti, Common, Shin Lim. Seth Meyers: Matthew McConaughey, Taran Killam, Lady Antebellum (rerun). James Corden: Allison Janney, Judd Apatow, Death Cab for Cutie (rerun). Carson Daly: Laura Harrier, Sofi Tukker, Michael Mando (rerun).