We close out our week-long look at broadcast TV's new fall season on a night traditionally dominated by big time football and the best of what cable has to offer. (We skipped Saturday altogether because the networks have completely abandoned what was once their prestige night). So there's a Sunday school-type new show, along with yet another reboot in a season full of them, as well as a spin-off of something we know very well. Too soon to look toward the midseason plans?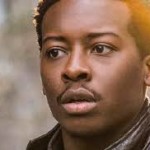 "God Friended Me" (CBS, 8:30 p.m., today). Brandon Michael Hall stars as an atheist podcaster who finds a celestial presence on his Facebook account in a feel good series that seems quite similar to the now-canceled "Kevin (Probably) Saves the World."
"Dancing with the Stars: Juniors" (ABC, 8 p.m., Oct. 7). An all small-fry edition is hosted by Frankie Muniz and Jordan Fisher. Adam Rippon, choreographer Mandy Moore and Val Chmerkovskiy judge. Pro dancers from the main show will mentor. Among the dancing kids will be Sottie Pippen's daughter Sophia, Bristol Palin's son Tripp Palin, actress Ariana Greenblatt from "Stuck in the Middle" and Alana Thompson, better known as Honey Boo Boo.
"Charmed" (CW, 9 p.m., Oct. 14). A reboot of the 1998-2006 series has three young women (Madeleine Mantock, Sarah Jeffrey and Melonie Diaz) discovering that they are in fact witches with particular powers, who form together to find the cause of their mother's mysterious death.
"The Alec Baldwin Show" (ABC, 10 p.m., Oct. 14). He doffs the Trump makeup to have a relaxing conversation with guests in the rare Sunday night talk show.
RETURNING SHOWS
"60 Minutes" (CBS, 7 p.m., returns today), "America's Funniest Home Videos" (ABC, 7 p.m., today), "The Simpsons" (Fox, 8 p.m., today), "Supergirl" (CW, 8 p.m., Oct. 14), "Bob's Burgers" (Fox, 8:30 p.m., today), "Family Guy" (Fox, 9 p.m., today), "Poldark" (PBS, 9 p.m., today), "NCIS: Los Angeles" (CBS, 9:30 p.m., today). "Madam Secretary" (CBS, 10 p.m., Oct. 7), "Shark Tank" (ABC, 10 p.m., Oct. 7).
NEW OF NOTE ELSEWHERE
"Camping" (HBO, 10 p.m., Oct. 14). Jennifer Garner, David Tennant, Brett Gelman and Juliette Lewis star in a comedy about a failed couples camping trip, from Lena Dunham and Jenni Konner ("Girls").
"AMC Visionaries: Eli Roth's History of Horror" (AMC, midnight) looks into the history and significance of horror films, with interviews with some of its most significant figures.
"Patriot Act with Hasan Minhaj" (Netflix, streaming, Oct. 28). The latest "Daily Show" ex to score a topical comedy series.
"Escape at Dannemora" (Showtime, 10 p.m., Nov. 18). Benicio Del Toro, Paul Dano and Patricia Arquette star in Ben Stiller's limited series about the audacious 2015 New York prison break.
RETURNING SHOWS OF NOTE ON CABLE
"The Walking Dead" (AMC, 9 p.m., returns Oct. 7), "Ray Donovan" (Showtime, 9 p.m., Oct. 28), "Outlander" (Starz, 8 p.m., Nov. 4).