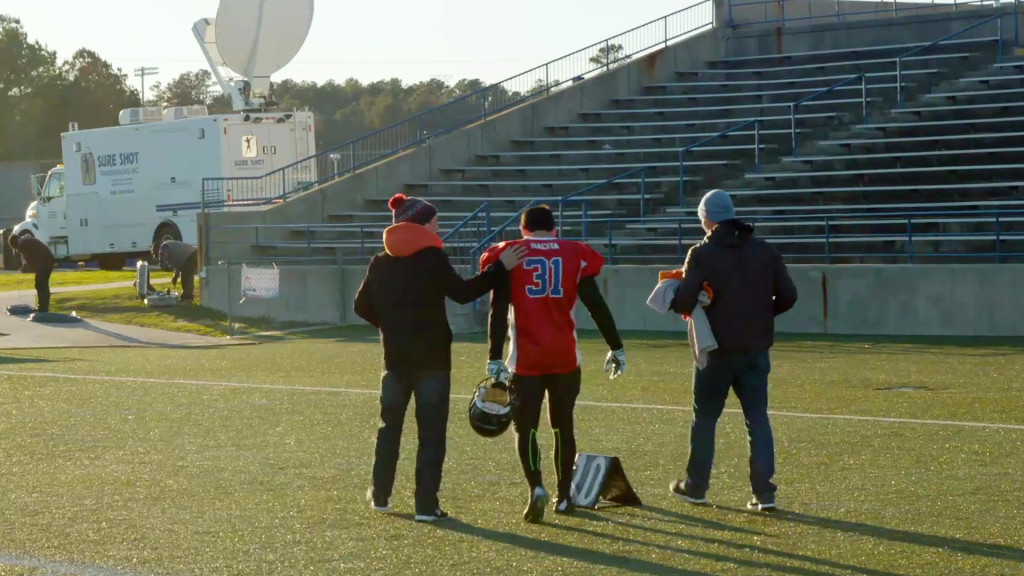 LeBron James and Maverick Carter's production company are behind "Student Athlete" (HBO, 10 p.m.), a documentary that emphasizes the unfairness of NCAA rules regarding the billion dollar industries of college sports, where coaches are the highest paid people on many state's public payroll and players often struggle below the poverty line or are cut for arcane rules. It makes its point with statistics and the stories of four players at different levels of their careers — or out of it altogether.
Also tonight is a two hour "Frontline" (PBS, 9 p.m., check local listings) is a good summary of the Russian involvement in the 2016 election and "Trump's Showdown." It comes at a time when most attention is on his Supreme Court choice. But it's something to see all the details of the ongoing investigation. They interview an awful lot of people about what happened, but not some who were prominent in it, including James Comey.
Blue Man Group and Boyz II Men perform on elimination night on "Dancing with the Stars" (ABC, 8 p.m.).
There are more blind auditions on "The Voice" (NBC, 8 p.m.).
On "This is Us" (NBC, 9 p.m.), the Pearsons gather to support Kevin at his movie premiere.
A new deal requires a dangerous favor on "Mayans M.C." (FX, 10 p.m.).
The team on "NCIS: New Orleans" (CBS, 10 p.m.) searches for a former IRA bomb-maker and welcome a new special agent.
"New Amsterdam" (NBC, 10 p.m.) did OK in its premiere last week, The hospital drama continues this week.
A Navy lieutenant is found murdered in his hot tub on "NCIS" (CBS, 8 p.m.).
"The Great American Read" (PBS, 8 p.m., check local listings) concentrates on the nominated books' monsters and villains.
On "The Gifted" (Fox, 8 p.m.), Thunderbird finds a mutant lawyer to help him find the Inner Circle.
It's pretty soon for a new season of "Below Deck" (Bravo, 9 p.m.), but here they are, with seven new crew members en route to Tahiti.
The "FBI" (CBS, 9 p.m.) on the new Dick Wolf series isn't investigating Brett Kavanaugh; instead, seven people poisoned at a New York deli.
The new partners are still trying to get along on "Lethal Weapon" (Fox, 9 p.m.).
"The Outpost" (CW, 9 p.m.) reaches its first season finale.
Jeff's project managers clash on "Flipping Out" (Bravo, 10 p.m.).
It's Mother's Day on "Sweet Home Sextuplets" (TLC, 10 p.m.).
On "The Purge" (USA, 10 p.m.), Catalina warns Jenna.
A new gear head series is centered around a muscle car "Trans Am" (Discovery, 10 p.m.).
Survivors try to lure the rich into a trap on "Wrecked" (TBS, 10 p.m.).
They cook up Halloween fare on "Chopped" (Food, 9 p.m.).
Turner Classic Movies marks the 100th anniversary the birth of Rita Hayworth with a 21-film salute Tuesdays all month. It begins with "You'll Never Get Rich" (8 p.m.), "You Were Never Lovelier" (9:45 p.m.), "My Gal Sal" (11:30 p.m.), "Only Angels Have Wings" (1:30 a.m.) and "Blood and Sand" (3:45 a.m.).
Here's the National League wild card game, with Colorado at Chicago Cubs (ESPN, 8 p.m.).
Preseason basketball includes Cleveland at Boston (TNT, 8 p.m.) and Denver at Lakers (TNT, 10:30 p.m.).
Daytime Talk
Kelly Ripa and Ryan Seacrest: Claire Foy, Jonathan & Drew Scott. The View: Ileana Douglas, Terri, Bindi & Robert Irwin. The Talk: Anna Faris, Nancy O'Dell, Carrie Ann Inaba. Steve Harvey: Goinesa "GG" Gharachedaghi, Brooke Burke, Dr. Wendy Osefo, Snoop Dogg, Tamar Braxton. Ellen DeGeneres: Lady Gaga, Justin Hartley. Wendy Williams: Jeff Lewis. The Real: Tanika Ray.
Late Talk
Stephen Colbert: Eva Longoria, Damon Wayans Jr., Steve Kornacki. Jimmy Kimmel: Sarah Paulson, Kacey Musgraves. Jimmy Fallon: Claire Foy, Chelsea Clinton, Lil Wayne. Seth Meyers: Eric McCormack, Sean Casey, Kevin Millar, Amanda Litman, Daxx Nielsen. James Corden: Mary Elizabeth Winstead, Aquillo, Sam Morril. Trevor Noah: Lester Holt. Conan O'Brien: Pete Holmes.