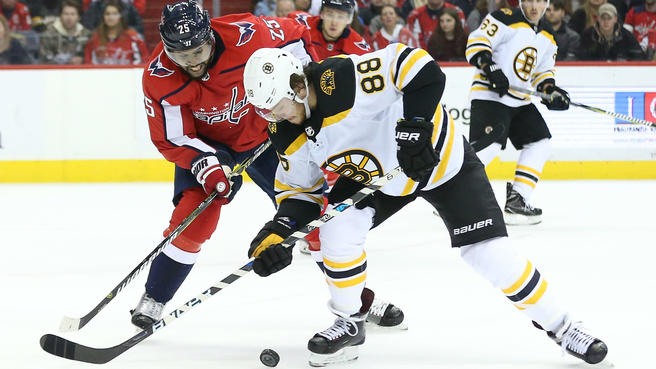 The hockey season begins in earnest with Boston at Washington (NBC Sports, 7:30 p.m.), which will likely include some more Stanley Cup celebrations from last season's winning Capitals, followed by Anaheim at San Jose (NBC Sports, 10:30 p.m.). Earlier in the day, there's an exhibition game of Edmondton at Koln, Germany (NHL, 10 a.m.).
The biggest news about "Criminal Minds" (CBS, 10 p.m.) this week is that ABC studios has decided to keep Greg St. Johns on as director of photography despite many complaints of harassment and abuse, according to Variety. But they return for season 14 tonight with episode 300, and two of the team still missing. A number of past team members will be referenced if only in flashback. Here's a little thing I wrote about the milestone for TV Guide magazine.
"SEAL Team" (CBS, 9 p.m.) returns for its second season with a mission to the Gulf of Guinea.
It didn't take long to set up a three-part crossover on consecutive episodes of "Chicago Fire" (CBS, 8 p.m.), "Chicago Med" (CBS, 9 p.m.) and "Chicago P.D." (CBS, 10 p.m.).
"The Woman in the Iron Coffin" sheds a light on early free black communities in the U.S on "Secrets of the Dead" (PBS, 10 p.m., check local listings).
They have yet to have the first tribal council meeting on "Survivor" (CBS, 8 p.m.), after one guy had to be removed last week for medical reasons.
Haley has boy problems on "Modern Family" (ABC, 9 p.m.).
Charlie and Mac deal with bicycle bullies on "It's Always Sunny in Philadelphia" (FXX, 10 p.m.).
Friends stand in for the father-daughter dance on "A Million Little Things" (ABC, 10 p.m.).
Lucious and Cookie try to launch a new artist without the resources of "Empire" (Fox, 8 p.m.).
On "The Goldbergs" (ABC, 8 p.m.), college seems to have changed Adam's girlfriend.
Douglas is stuck hosting the kids sleepover on "Single Parents" (ABC, 9:30 p.m.).
"NOVA" (PBS, 9 p.m., check local listings) covers the rebuilding of a covered bridge in upstate New York destroyed by Tropical Storm Irene.
Mateo pulls a stunt to reveal the pregnancy of  "Star" (Fox, 9 p.m.).
Joanna plays her trump card on the season finale of "Burden of Truth" (CW, 9 p.m.).
On "American Housewife" (ABC, 8:30 p.m.), Katie tries to split parenting duties after taking her new job.
Satan rears his head on "American Horror Story" (FX, 10 p.m.).
They're hunting the nonexistent bigfoot on "Expedition Unknown" (Discovery, 9 p.m.).
On "Total Divas" (E!, 9 p.m.), Nicole goes to Palm Springs.
"Big Food Truck Tip" (Food, 10 and 10:30 p.m.) travels to Salt Lake City and Charleston, S.C.
The stars of horror are featured on Wednesdays all month on Turner classic Movies, beginning with the Man of a Thousand Faces. Lon Cheney stars in  a half dozen silent classics, "The Unknown" (8 p.m.), "The Phantom of the Opera" (9 p.m.), "The Monster" (10:45 p.m.), "The Penalty" (12:30 a.m.), "The Unholy Three" (2:15 a.m.) and "He Who Gets Slapped" (4 a.m.).
The American League wild card game isn't as long as last night's National League one: It's Oakland at Yankees (TBS, 8 p.m.).
Preseason basketball has Chicago at Milwaukee (NB, 8 p.m.) and Minnesota at Clippers (NBA, 10:30 p.m.).
Women's college volleyball includes Georgia at Auburn (ESPNU, 7 p.m.) and Texas at TCU (ESPNU, 9 p.m.).
Daytime Talk
Kelly Ripa and Ryan Seacrest: David Boreanaz, Ron Livingston, Monica Mangin. The View: Constance Wu, Neil deGrasse Tyson. The Talk: Paget Brewster, A.J. Cook, Matthew Gray Guller, Daniel Henney, Joe Mantegna, Kirsten Vangsness, Aisha Tyler. Steve Harvey: Iain Armitage, Montana Jordan, Raegan Revord. Ellen DeGeneres: Jamie Dornan, Busy Philipps. Wendy Williams: Danielle Staub. The Real: Ron Cephas Jones.
Late Talk
Stephen Colbert: Nick Kroll, Jodie Whittaker, Cat Power. Jimmy Kimmel: Ryan Gosling, Dana White, Devin Field. Jimmy Fallon: Bradley Cooper, Kathryn Hahn, Jim James. Seth Meyers: Molly Shannon,  Constance Wu, Nathaniel Rateliff & the Night Sweats, Daxx Nielsen. James Corden: Jeff Bridges, Jenny Slate, Arctic Monkeys. Carson Daly: Finn Jones, Flora Cash, Madison Iseman. Trevor Noah: Neil deGrasse Tyson. Conan O'Brien: Conor McGregor, Brian Posehn, the Kills.