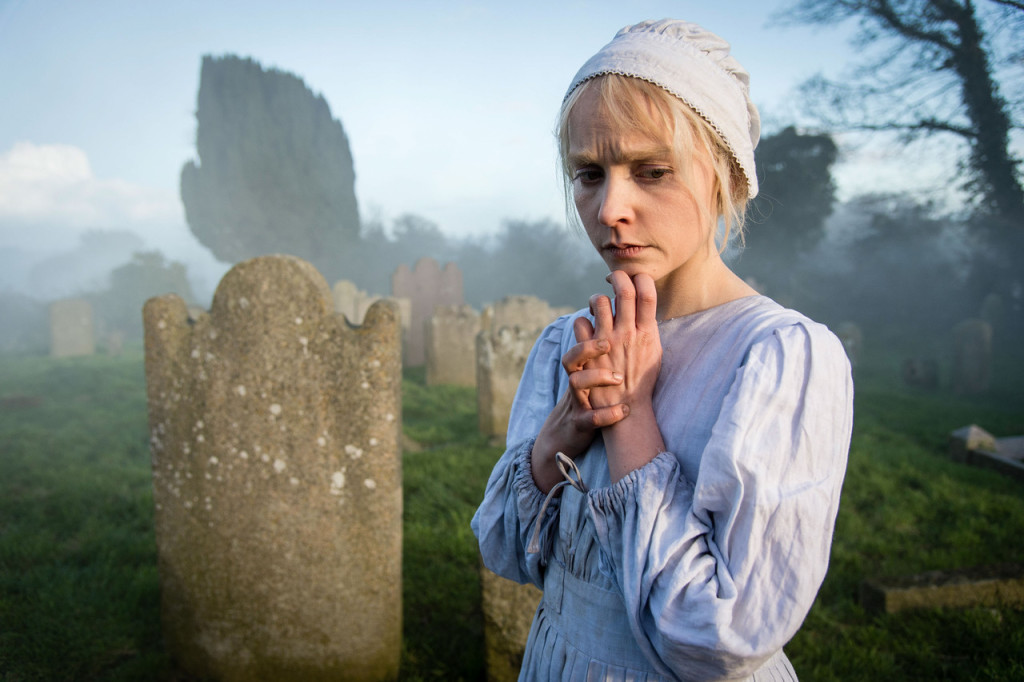 Public TV looked at its Sunday night schedule and said: More British drama! So here's a new five-part adaptation of Wilkie Collins's 19th century mystery that "Masterpiece Theatre" has tackled before. This time, the handsomely-photographed  "The Woman in White" (PBS, 10 p.m., check local listings) with Ben Hardy and Olivia Vinall, gets a distinctly feminist retelling.
It's up to "Treehouse of Horror XXIX" on "The Simpsons" (Fox, 8 p.m.), the longest running series of Halloween episodes on TV. Among the parodies are "Invasion of the Body Snatchers" and a "Jurassic Park" update for seniors.
It's more straightforward Halloween on "Bob's Burgers" (Fox, 8:30 p.m.), except that candy bags are disappearing.
Sunday Night Football has Cincinnati at Kansas City (NBC, 8:20 p.m.). Earlier games include the morning game of Chargers vs. Tennessee (CBS, 9:30 a.m.) from Wembley Stadium, New England at Chicago (CBS, 1 p.m.), Carolina at Philadelphia (Fox, 1 p.m.), New Orleans at Baltimore (Fox, 4 p.m.) and Dallas at Washington (CBS, 4:25 p.m.).
The new "Doctor Who" (BBC America, 8 p.m.) travels to the Deep South of America and meets Rosa Parks.
Debbie helps Fiona pick up the pieces on "Shameless" (Showtime, 9 p.m.).
"Madam Secretary" (CBS, 10:30 p.m.) confronts the Chinese Foreign Minister at Milan Fashion Week over sweatshop issues.
Kathryn freaks out after Orvis knocked down during flag football on "Camping" (HBO, 10 p.m.), and everybody else goes to a bar.
Honey Boo Boo has the lowest scores on "Dancing with the Stars: Juniors" (ABC, 8 p.m.) but hasn't been voted out yet. Tonight is Disney theme night: Who will be Goofy?
George plots his return to Westminster on "Poldark" (PBS, 9 p.m., check local listings), while Ross reunites with his family at home, before tragedy strikes in Cornwall.
"The Circus: Inside the Wildest Political Show on Earth" (Showtime, 8 p.m.) looks at midterm Senate races in Arizona, Nevada and North Dakota.
Jeff starts speaking his mind to kids on "Kidding" (Showtime, 10 pm.).
On "The Deuce" (HBO, 9 p.m.), Candy is tempted to tell her son about her job.
Beck finally suspects she's being followed on "You" (Lifetime, 10 p.m.).
There's no getting away from Kim Kardashian, a guest on "The Alec Baldwin Show" (ABC, 10 p.m.) as well as her own "Keeping Up with the Kardashians" (E!, 9 p.m.).
Larry's friend Gigi comes to visit "The Durrells in Corfu" (PBS, 8 p.m., check local listings).
The made-for-TV movie "The Lover in the Attic: A True Story" (Lifetime, 8 pm.) Molly Burnett plays a 1930s housewife who encourages her repairman (Kevin Fonteyne) to take a room upstairs where he can be her sex slave Eventually, he goes downstairs and kills her husband (David Fierro).
Miles and Cara go to the planetarium on "God Friended Me" (CBS, 8:30 p.m.).
The sisters are taking suggestions from the spirit board on the new "Charmed" (CW, 9 p.m.).
On "The Rel" (Fox, 9:30 p.m.), they watch a horror film called "Frederick Douglass: Zombie Slayer."
Brian and Stewie shrink on "Family Guy" (Fox, 9 p.m.).
Healthy vegan soups are touted on "Shark Tank" (ABC, 9 p.m.).
On "Supergirl" (CW, 8 p.m.), it's chaos in National City.
The horror series "Wolf Creek" (Pop, 10 p.m.) returns for a second season, showing the Australian outback to be a terrible place to vacation.
Mariah gets bad news from her husband on "Married to Medicine" (Bravo, 8 p.m.).
"The Last Ship" (TNT, 9 p.m.) is pinned down after days of fighting.
All of the various series that portray house-hunting in tropical locales return for new seasons. It's the 14th for "Caribbean Life" (HGTV, 10 p.m.), the 13th for "Hawaii Life" (HGTV, 8 p.m.) and just the second for "Bahamas Life" (HGTV, 9 p.m.).
There's a mysterious disappearance on "The Walking Dead" (AMC, 9 p.m.) — and it's not Rick yet.
A cartel targets "NCIS: Los Angeles" (CBS, 9:30 p.m.).
On "Halloween Wars" (Food, 9 p.m.), the remaining three teams imagine holiday time travel.
Holidays clash on "Haunted Gingerbread Showdown" (Food, 10 p.m.).
Turner Classic Movies' Mummy Month continues with "The Mummy" (8 p.m.), "The Curse of the Mummy's Tomb" (9:45 p.m.) and "Pharoah's Curse" (11:15 p.m.). Then comes the silent "The Phantom Carriage" (12:30 a.m.), followed by two dramas about facial transplant and plastic surgery, "Eyes Without a Face" (2:30 a.m.) and "A Woman's Face" (4:15 a.m.).
NBA action has Houston at Clippers (NBA, 9 p.m.).
Hockey has Tampa Bay at Chicago (NHL, 7 p.m.).
Auto racing has its U.S. Grand Prix (ABC, 1:30 p.m.) and the Hollywood Casino 400 (NBC, 2:30 p.m.).
Beach volleyball has its Las Vegas Open (ESPN2, 4 p.m.).
Women's college soccer includes Boston College at Duke (ESPNU, 1 p.m.), Kansas at Baylor (ESPNU, 3 p.m.) and Mississippi State at Mississippi (ESPNU, 5 p.m.).
Women's college volleyball includes Stanford at Oregon (ESPN2, 2 p.m.).
Sunday Talk
ABC: Sen. Ted Cruz, Reps. Beto O'Rourke, Peter King and Adam Schiff. NBC: Sens. Thom Tillis and Dick Durbin. CNN: Sen. Ben Sasse, Los Angeles Mayor Eric Garcetti. Fox News: Sen. Rand, Rep. Martha McSally.