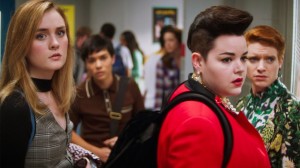 Meant to be a sassy series based on the 80s cult movie, "Heathers" (Paramount, 10 p.m.) was all set to go last spring until Parkland shootings made a jokey series about school violence suddenly seem inappropriate. It's no more appropriate now, but the network hopes to burn off its episodes in the name of Halloween or something. So it airs nightly for five days until its own death.
A sequel to the first German import to U.S. TV, "Deutschland 83," which ran in 2015, updates the Cold War adventure to three years later, hence the slightly retooled title "Deutschland 86" (Sundance, midnight) in which Jonas Nay plays a spy going on another international mission along with his aunt, portrayed by Maria Schrader.
The last vestige of "The Vampire Diaries," which ended nearly two years ago, the new "Legacies" (CW, 9 p.m.) sets the action two years after events in the initial spinoff "The Originals," which expired in August. Danielle Rose Russell stars as the latest descendent with some vampire, witch and bloodlines, enrolling in the Salvatore School for the Young and Gifted. Julie Plec is still the writer and Matt Davis reprises the "Vampire Diaries" role of Alaric Salesman.
"Murphy Brown" (CBS, 9:30 p.m.) has a big scoop she fears of losing as it's being vetted by the legal department.
Jason visits with people from his past on "The Good Place" (NBC, 8:30 p.m.).
Meredith talks it out with Teddy on "Grey's Anatomy" (ABC, 8 p.m.).
On "Supernatural" (CW, 8 p.m.), Sam is still trying to find Dean.
There's a costume competition on "Superstore" (NBC, 9 p.m.).
It's also Halloween on "Young Sheldon" (CBS, 8:30 p.m.), but also on "The Big Bang Theory" (TBS, 8 p.m.), whose leads are played by actors aged 43 and 45.
Marjorie's husband dies on "Mom" (CBS, 9 p.m.).
There are more fires to put out on "Station 19" (ABC, 9 p.m.).
On "I Feel Bad" (NBC, 9:30 p.m.), Emet worries that her daughter is becoming a snob.
Annalise chooses Gabriel as her second chair on "How to Get Away With Murder" (ABC, 10 p.m.).
Bad weather hits "Mountain Men" (History, 9 p.m.).
Apprentices help with the roof on "The This Old House Hour" (PBS, 8 p.m., check local listings).
They're really holding off on the wedding on "Shahs of Sunset" (Bravo, 9 p.m.).
On "Law & Order: SVU" (NBC, 10 p.m.) a young woman has no memory of her assault.
"S.W.A.T." (CBS, 10 p.m.) members go undercover on a cruise ship to catch drug smugglers.
The weeklong "Welcome to Waverly" (Bravo, 10 p.m.) is coming to an end.
"Nightwatch Nation" (A&E, 10 p.m.) reaches its season finale.
Turner Classic Movies' Thursday night Funny Ladies series winds up with Madeline Kahn in "High Anxiety" (8 p.m.), Lily Tomlin in "The Late Show" (10 p.m.), Goldie Hawn in "Protocol" (12:15 a.m.), Barbra Streisand in "What's Up Doc?" (2 a.m.), and Gilda Radner in "Gilda Live" (4:15 a.m.).
Earlier, it's mostly light ghost stories with "Man Alive" (6:30 a.m.), "Angel on My Shoulder" (8 a.m.), "The Centerville Ghost" (9:45 a.m.), "The Ghost Goes West" (11:30 a.m.), "The Cockeyed Miracle" (1 p.m.), "Topper" (2:30 p.m.), "Blithe Spirit" (4:15 p.m.) and "The Woman in White" (6 p.m.).
Thursday Night Football has Miami at Houston (Fox, 8:20 p.m.).
College football includes Ball State at Ohio (CBS Sports, 7 p.m.), Toledo at Western Michigan (ESPN2, 7 p.m.), Baylor at West Virginia (Fox Sports 1, 7 p.m.), Georgia Tech at Virginia Tech (ESPN, 7:30 p.m.) and Appalachian State at Georgia Southern (ESPNU, 7:30 p.m.).
Basketball includes Boston at Oklahoma City (TNT, 8 p.m.) and Denver at Lakers (TNT, 10:30 p.m.).
Daytime Talk
Kelly Ripa and Ryan Seacrest: Gerard Butler, Kim Cattrall, Andrea Bocelli, Matteo Bocelli. The View: Dr. Phil McGraw. The Talk: Rupert Everett, Meredith Vieira. Ellen DeGeneres: Sean "Diddy" Combs. Wendy Williams: Tamela & David Mann, Carla Hall. The Real: Remy Ma & Papoose with Angelica Villa.
Late Talk
Stephen Colbert: Gayle King, Kayli Carter, Andrea Bocelli. Jimmy Kimmel: Martin Lawrence Daniel Kaluuya, Big Boi. Jimmy Fallon: Tiffany Haddish, Steve Kornacki, Buddy. Seth Meyers: Gerard Butler, Nicolle Wallace, Louie Anderson. James Corden: Amber Stevens West, Randall Park, Lenny Kravitz. Carson Daly: Jameela Jamil, T-Pain, Lily Allen, Brooks Wheelan.