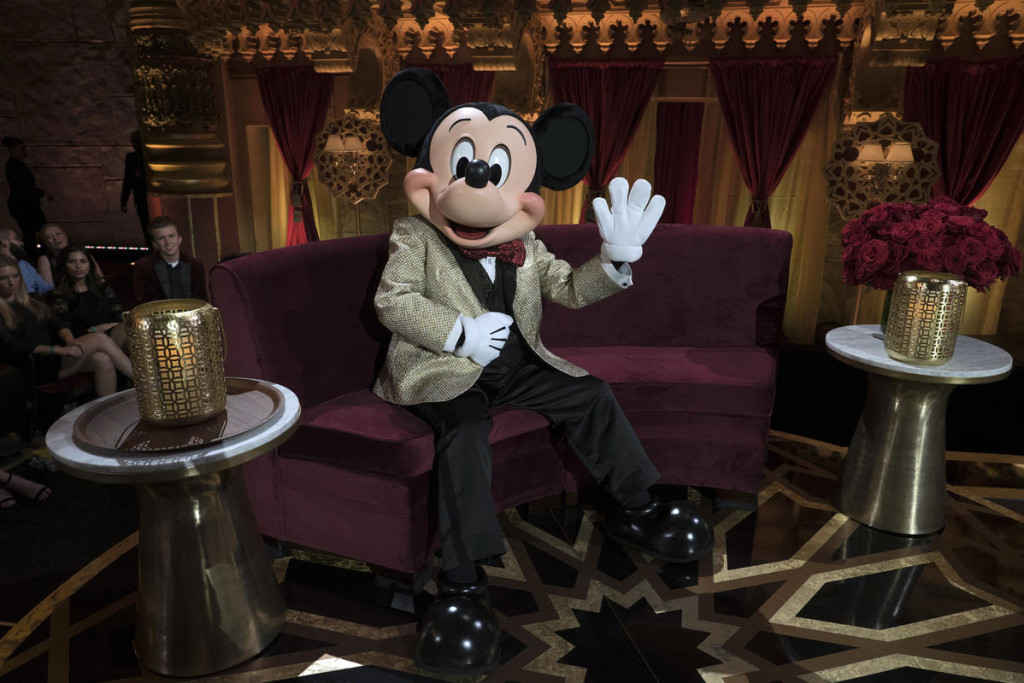 I'm quite sure they're going to mess up "Mickey's 90th Spectacular" (ABC, 8 p.m.), bringing in a bunch of no-name current celebs from Meghan Trainor and Zac Brown and Tori Kelly to send their wishes from various red carpets, and an indistinct theme park puppet waving back, removing the image of the spirited rodent of yore, when he was a carefree rogue and not a staid corporate figurehead.
Speaking of which "Our Cartoon President" (Showtime, 10:30 p.m.) has an election eve special.
"Outlander" (Starz, 8 p.m.) returns for its fourth season, with Claire and Jamie finding a home in Colonial America.
A solid season of "The Deuce" (HBO, 9 p.m.) comes to an end with the premiere of Candy's "Red Hot."
With reports that its nightly newscast from Vice may be on the outs, here's another venture with an online news organization, "Axios" (HBO, 6:30 p.m.), a limited four-episode series meant to make sense of individual stories. It begins with an interview with President in which he floats the idea of undoing birthright citizenship. At least there is some push back from the interviewers.
Andrew Lincoln's Rick walks away from "The Walking Dead" (AMC, 9 p.m.), a moment canonized on "Talking Dead" (AMC, 10 p.m.).
Hailee Stanfeld hosts the 2018 MTV European Music Awards (MTV, 7 p.m.) from Bilbao, Spain. Janet Jackson gets its Global Icon Award. Also set to appear: Nicki Minaj, Halsey and Rosalia.
The 2019 Breakthrough Prize (National Geographic, 10 p.m.) is awarded to scientists in the fields of physics, math and life sciences. Looks like a Kanye-free zone.
The Halloween cooking competition shows are over; time to start the "Ultimate Thanksgiving Challenge" (Food, 9 p.m.).
The Saturday Night Massacre signals the beginning of the end of Nixon and the three-part "Watergate" (History, 9 p.m.), which reaches its conclusion.
Another team of salvagers are let loose on "Heritage Hunters" (DIY, 10 p.m.).
Jeff is either having a breakdown or a breakthrough on "Kidding" (Showtime, 10 p.m.).
Miles goes to marketing class on "God Friended Me" (CBS, 8 p.m.).
"Madam Secretary" (CBS, 10 p.m.) deals with an incident in Thailand.
Sir Percival tries to get his hands on Laura's fortune on "The Woman in White" (PBS, 10 p.m., check local listings).
Lena and Brainiac lend a hand on "Supergirl" (CW, 8 p.m.).
Pills don't help things on "Camping" (HBO, 10:11 p.m.).
Elizabeth has news for George on "Poldark" (PBS, 9 p.m., check local listings).
On "Ray Donovan" (Showtime, 9 p.m.), there are questions to be answered about Ray's jump.
Campaign stops by Trump, Obama and Oprah highlight the frenzied final days covered by "The Circus: Inside the Wildest Political Show on Earth" (Showtime, 8 p.m.).
A lot of things seem to be happening on "You" (Lifetime, 10 p.m.).
It's Gerry's birthday on "The Durrells in Corfu" (PBS, 8 p.m., check local listings.
"The Real Housewives of Atlanta" (Bravo, 8 p.m.) are back for its 11th season, with a couple of new men in the picture.
A self driving car company comes to Springfield on "The Simpsons" (Fox, 8 p.m.).
Kids on "Bob's Burgers" (Fox, 8:30 p.m.) try to get back at their school counselor.
One of the universe's most deadly and unusual creatures comes after "Doctor Who" (BBC America, 8 p.m.).
On "Charmed" (CW, 9 p.m.), Charity arrives and starts giving orders.
"Married to Medicine" (Bravo, 9 p.m.) travels to Antiqua for the annual couples trip.
Mosley murders a cartel hitman on "NCIS: Los Angeles" (CBS, 9 p.m.).
Nat lands a job on "Rel" (Fox, 9:30 p.m.).
"LadyGang" (E!, 10:30 p.m.) is a pretty terrible show.
Julia Roberts joins Busy Philipps on "Busy Tonight" (E!, 10 p.m.).
"The Alec Baldwin Show" (ABC, 10 p.m.) hosts Mike Myers and Cecile Richards.
A pair of similar films start the night on Turner Classic Movies. "Tales of Manhattan" (8 p.m.) tracks a tailcoat through various users; "The Yellow Rolls-Royce" (10:15 p.m.), the owners of the cars. Ernst Lubisch's silent "The Wildcat" (12:30 a.m.), Then, two Russian war films, Sergei Eisenstein's "Alexander Nevsky" (2 a.m.) and "October" (4 a.m.).
Sunday Night Football has Green Bay at New England (NBC, 8:20 p.m.). Earlier NFL action has Atlanta at Washington (Fox, 1 p.m.), Pittsburgh at Baltimore (CBS, 1 p.m.) and Rams at New Orleans (Fox, 4:25 p.m.).
Hockey has Tampa Bay at Ottawa (NHL, 7 p.m.).
NASCAR runs its Texas 500 (NBC Sports, 3 p.m.).
In soccer, the MLS playoffs have Red Bulls at Columbus (ESPN, 3 p.m.), Seattle at Portland (ESPN, 5:30 p.m.), Atlanta United at NYC FC (Fox Sports 1, 7:30 p.m.) and Sporting Kansas City at Real Salt Lake (Fox Sports 1, 10 p.m.).
This morning is the running of the New York City Marathon (ESPN2, 9 a.m.).
Women's college soccer includes Georgetown vs. Butler (Fox Sports 1, 1 p.m.) and West Virginian vs. Baylor (Fox Sports 1, 3:30 p.m.).
Women's college volleyball has Texas A&M at Tennessee (ESPNU, 5 p.m.).
Sunday Talk
ABC: Sen. Chris Van Hollen, Republican National Chair Ronna McDaniel. CBS: Secretary of State Mike Pompeo, Sen. Mark Warner, McDaniel. NBC: Van Hollen, Tennessee Gov. Bill Haslam, Senate candidate Josh Hawley, Georgia gubernatorial candidate Stacey Abrams. CNN: McDaniel, Democratic National chair Tom Perez, Abrams. Fox News: Pompeo, Sens. Thom Tillis and Van Hollen.