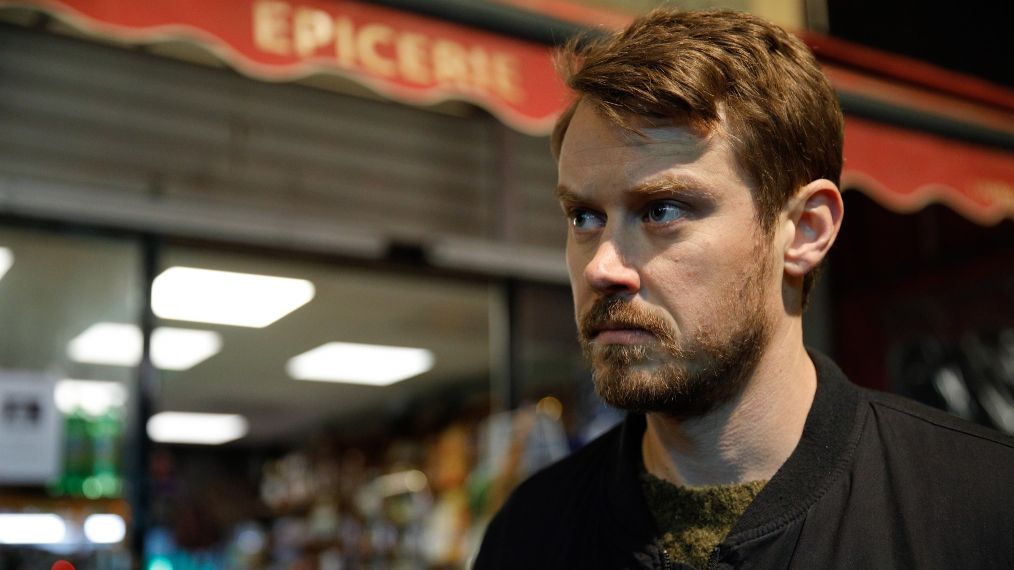 Some TV series come with enough reset in new seasons to allow new viewers. That is not the case with "Patriot" (Amazon, streaming), the sly and engaging spy series set in Milwaukee, Luxembourg and now, Paris, with enough quirky characters to populate a Wes Anderson film.
It's was one of my favorite unsung series of the past couple of years for its single season in 2016, but it returns for season two today precisely where it left off, on the same unfinished caper, which involves a missing bag of 11 million Euros in the possession most recently of a wayward police detective (Alienate Opheim) en route to France.
It's up to the reluctant agent and terrible pipe representative John Lakeman to get it back, egged on by his CIA dad, played by Terry O'Quinn, the most familiar face in the caper (at least until Debra Winger shows up). But Lakeman, dubbed the Sad Man by the little girl mixed up in all of this, would rather be a folk singer (and one of his flaws is that he spills details of his cases in such songs). Music for the show this season is again highlighted by gems from the Kinks and Françios Hardy — and the theme song is the Beastie Boys' "Sure Shot." But, sorry to say, in order to get on this very entertaining train, you'll have to start with season one.
It accompanies another series of intrigue set in Europe, the German import "Beat" (Amazon, streaming), a techno-infused crime drama about the Berlin club scene, from filmmaker Marco Kreuzpainter.
Chris Pine plays 14th Century Scottish king Robert the Bruce in "Outlaw King" (Netflix, streaming), a new film recounting the First War of Scottish Independence also features Florence Pugh. David Mackenzie directs.
Just in time for Veteran's Day, the new eight-episode documentary series "Medal of Honor" (Netflix, streaming) profiles past recipients from a variety of past wars.
Another documentary series "Westside" (Netflix, streaming) follows struggling musicians in Hollywood.
Immense edible decorations are the result of a pair of Salt Lake City bakers on "Holiday Cookie Builds" (Cooking, 10 p.m.).
And the sixth season begins for "The Great British Baking Show" (Netflix, streaming).
A second season of the Duplass Brothers' "Room 104" (HBO, 11:30 p.m.), which varies from comedy to tension depending on who checks in. Among the guest this season are Michael Shannon, Mahershala Ali and tonight, Charlene Yi as part of a 30th birthday party with an uninvited guest.
A U.K. production of "The Sound of Music" is presented on "Great Performances" (PBS, 9 p.m., check local listings).
The animated "Mike Judge Presents: Tales from the Tour Bus" (Cinemax, 10 p.m.) is concentrating on funk in its second season. Tonight, it's part one of the Rick James story.
The latest installment of "The Romanoffs" (Amazon, streaming) is set in Mexico City where Juan Pablo Castañeda plays a reporter who falls for his interview subject, Radha Mitchell. Griffin Dunne also stars.
Bob Woodward, Sarah Silverman, Katty Kay, Bret Stephens and Cornell Blecher are on "Real Time with Bill Maher" (HBO. 10 p.m.).
On "Blindspot" (NBC, 8 p.m.) the FBI goes after a terrorist plot.
The connection between Fallon and Culhane is threatened on "Dynasty" (CW, 8 p.m.).
On "Fresh Off the Boat" (ABC, 8 p.m.), the family is encouraged when a second Chinese family moves into the neighborhood.
Vanessa's mother comes to visit on "Last Man Standing" (Fox, 8 p.m.).
"MacGyver" (CBS, 8 p.m.) has to recover a hard drive from a landfill.
JJ gets a job on "Speechless" (ABC, 8:30 p.m.).
"The Cool Kids" (Fox, 8:30 p.m.) compete in a cornhole competition where a flat-screen TV as a prize.
Paula gets good and bad news from her eldest son on "Crazy Ex-Girlfriend" (CW, 9 p.m.).
On "Hawaii Five-0" (CBS, 9 p.m.), McGarrett investigates a cold case from the 1940s.
Mr. Potato Head makes his appearance on "Hell's Kitchen" (Fox, 9 p.m.).
Joe embraces his new night job on "Midnight, Texas" (NBC, 9 p.m.).
Warren and others are reunited in an underground casino on "Z Nation" (Syfy, 9 p.m.).
"Haunted Live" (Travel, 10 p.m.) goes to a plantation in Gallatin, Tenn.
The hitman who torched Danny's house resurfaces on "Blue Bloods" (CBS. 10 p.m.).
Vanessa has a final showdown with the Second Elder on "Van Helsing" (Syfy, 10 p.m.).
Things are wild on Turner Classic Movies with "Theodora Goes Wild" (8 p.m.), "Having a Wild Weekend" (9:45 p.m.), "The Wild Affair" (11:30 p.m.) and "Wild Boys of the Road" (1:15 a.m.). Then come the battlin' women of "Lady Street Fighter" (2:30 a.m.) and "Sister Street Fighter" (4 a.m.). During the day, it's all about World War I, marking the 100th anniversary of its end, with "The Shopworn Angel" (6 a.m.), "Ace of Aces" (7:30 a.m.), "Waterloo Bridge" (9 a.m.), "Army Surgeon" (11 a.m.), "The Spy is Black" (12:15 p.m.), "Hell Below" (1:45 p.m.), "The Fighting 69th" (3:30 p.m.) and "Sergeant York" (5:30 p.m.).
Basketball includes Charlotte at Philadelphia (NBA, 7 p.m.) and Boston at Utah (ESPN, 9:30 p.m.).
Hockey has Columbus at Washington (NHL, 7 p.m.).
You'll have to stay up very late to see the MLB All-Stars vs. Japanese national team (MLB, 4:30 a.m.) in the Japan All-Star Series.
College football includes Louisville at Syracuse (ESPN2, 7 p.m.) and Fresno State at Boise State (ESPN2, 10:15 p.m.).
Men's college basketball has Providence vs. Wichita State (CBS Sports, 6 p.m.), Bowling Green at St. John's (Fox Sports 2, 6:30 p.m.), Arkansas vs. Texas (ESPN, 7 p.m.), North Carolina at Elon (ESPNU, 7 p.m.), Maryland at Navy (CBS Sports, 8:30 p.m.), Buffalo at West Virginia (ESPNU, 9 p.m.) and Yale vs. California (ESPNU, 11 p.m.).
NASCAR runs its Lucas Oil 150 (Fox Sports 1, 8:30 p.m.).
Daytime Talk
Kelly Ripa and Ryan Seacrest: Benedict Cumberbatch, Josh Dallas, Sabrina Carpenter. The View: Capt. Florent Groberg, Ana Navarro. The Talk: Cynthia Bailey, Shannon Beador, Kelly Dodd, Dorit Kemsley, NeNe Leakes, Carrie Ann Inaba. Steve Harvey: Shane Ray, Carson Kressley, Thom Filiicia, Tregaye Fraser. Ellen DeGeneres: Judge Judy Sheindlin, Pharrell Williams. Wendy Williams: Clifton Powell, Kate the Chemist. The Real: Michelle Williams, Chad Johnson.
Late Talk
Stephen Colbert: Alexander Skarsgard. Jimmy Kimmel: Julia Roberts, Science Bob Pflugfelder, Tenacious D (rerun). Jimmy Fallon: Mark Wahlberg, Chip & Joanna Gaines, Zac Brown Band. Seth Meyers: Gerard Butler, Nicolle Wallace, Louie Anderson, Thaddeus Dixon (rerun). James Corden: Damon Wayans Jr., Gina Rodriguez, Mark Normand. Carson Daly: Reid Scott, Mt. Joy, Linus Roache (rerun).