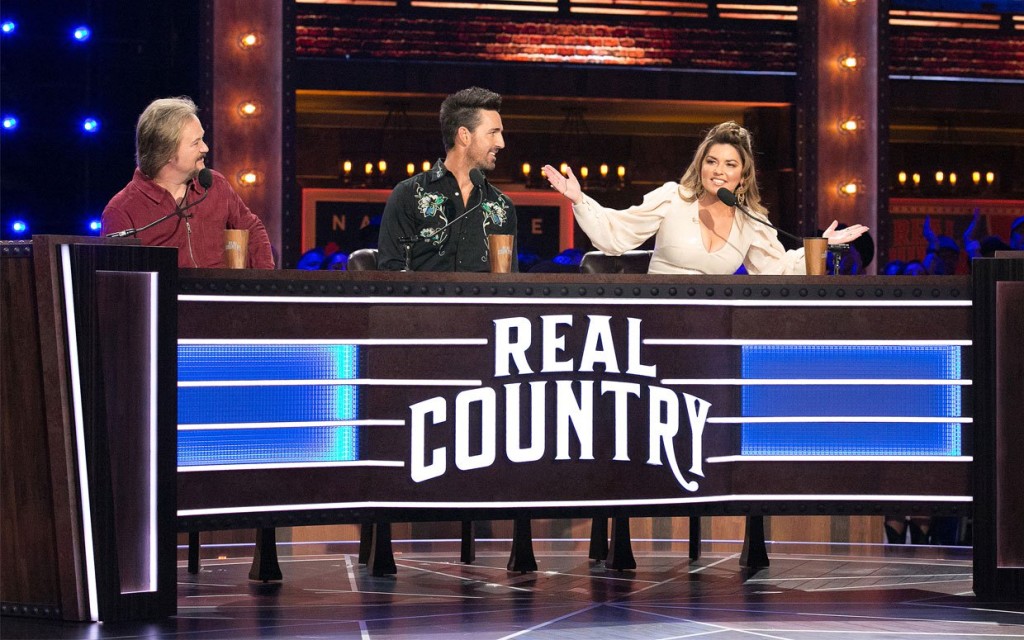 As with the pop music singing competitions these days, the real star power on "Real Country" (USA, 10 p.m.) can be found at the judges' table, where Shania Twain, Travis Tritt and Jake Owen will hold court, listening to Nashville hopefuls. There have been other country-only singing competitions in the past decade, but none with this much platinum deciding who will win $100,000 and a spot at the Grand Ole Opry.
A second season starts for the emotional reunion series "We'll Meet Again" (PBS, 8 p.m.), hosted by Ann Curry. First up are two Vietnam veterans looking for heroes who saved them during the war.
Ernie Hudson stars in the new series "Carl Weber's The Family Business" (BET, 9 p.m.) based on Weber's crime drama book series about a family car deanship in Queens.
By the power of Greyskull — and the money of streaming services — thee's a new, updated "She-Ra and the Princess of Power" (Netflix, streaming) full of girl power as well as the enemy Hordak. Among its new, more naturalistic voices is Sandra Oh as a more deadpan Castaspella. First advertised to premiere this Friday, it's available today on a site where you can still see the clunkier 1985 Filmation version as well.
Also streaming today, "Loudon Wainwright III: Surviving Twin" (Netflix, streaming), the singer/songwriter's one-man show about his relationship with his father, the Life magazine columnist who died 30 years ago. It includes songs he's sung about their testy competitive nature, back to the title song from 2001, as well as his readings of his father's old Life columns.
In a special Prince-themed episode of "Blackish" (ABC, 9 p.m.) tries to explain his genius.
Looking back at cosmological secrets of America's cities on the first of two consecutive episode of "Native America" (PBS, 9 p.m.), a lost city of monumental mounds is found on the Mississippi River.
The sixth season of "The Curse of Oak Island" (History, 9 p.m.) begins with a search for its supposed money pit.
On the imported South Korean series "Oh My Ghost!" (Netflix, streaming), a timid assistant chef becomes possessed by a more lusty soul.
A third season starts for "Leah Remini: Scientology and the Aftermath" (A&E, 9 p.m.).
In the imported Danish series "Warrior" (Netflix, streaming) a war veteran teams up with his best friend's widow to infiltrate a dangerous Copenhagen biker gang.
Allison Tolman, Pradesh Cheena and Steve Zissis check in on "The Guest Book" (TBS, 10:30 p.m.).
It was just a week ago that saw record midterm turnout. But with ongoing counts and recounts, there is the cable news special "Election Night in America Continued" (CNN, 8 p.m.).
On "Lethal Weapon" (Fox, 9 p.m.), Murtaugh turns to an old mentor to help on a cartel case.
"NCIS" (CBS, 8 p.m.) looks into a stolen mural.
On "The Conners" (ABC, 8 p.m.) there are arguments about getting the family to church.
There's a new foe on "The Flash" (CW, 8 p.m.) called Rag Doll.
On "The Gifted" (Fox, 8 p.m.), the Mutant Underground contends with Reed's unstable powers.
The first eliminations following a live performance come on "The Voice" (NBC, 8 p.m.).
"Below Deck" (Bravo, 9 p.m.) gets its largest charter group yet.
Syonide's absence creates a void on "Black Lightning" (CW, 9 p.m.).
The "FBI" (CBS, 9 p.m.) goes after thieves posing as police officers.
Kevin and Zoe land in Vietnam on "This is Us" (NBC, 9 p.m.).
Newcomers are paired with new training officers on "The Rookie" (ABC, 10 p.m.).
There's a new domino transplant procedure on "New Amsterdam" (NBC, 10 p.m.).
On "Lethal Weapon" (Fox, 9 p.m.), Murtaugh turns to an old mentor to help on a cartel case.
Milo wants to go to a school for the gifted on "Splitting Up Together" (ABC, 9:30 p.m.).
"Married at First Sight: Honeymoon Island" (Lifetime, 9 p.m.) reaches the halfway point.
There's a car explosion in the French Quarter on "NCIS: New Orleans" (CBS, 10 p.m.).
Eddie's girlfriend tries to distract his mom on "The Kids Are Alright" (ABC, 8:30 p.m.).
Tara Killam visits "Busy Tonight" (E!, 10 p.m.).
The Tuesday night spotlight on casting on Turner Classic Movies with casting directors David Rubin and Juliet Taylor continues with "A Streetcar Named Desire" (8 p.m.), "Marty" (10:30 p.m.), "The Loved One" (12:30 a.m.) and "The Bridge on the River Kwai" (3 a.m.). Earlier, it's stories of nursing all day with "Registered Nurse" (6 a.m.), "The Nurse's Secret" (7:15 a.m.), "Vigil in the Night" (8:30 p.m.), "Night Nurse" (10:30 a.m.), "Possessed" (noon), "I Walked with a Zombie" (2 p.m.), "The Honeymoon Killers" (3:15 p.m.) and "The Nun's Story" (5:15 p.m.).
NHL action includes Tampa Bay at Buffalo (NBC Sports, 7:30 p.m.).
Basketball has Charlotte at Cleveland (NBA, 7 p.m.) and Atlanta at Golden State (NBA, 10:30 p.m.).
In college football, it's Western Michigan at Ball State (ESPN2, 6 p.m.).
Men's college basketball includes Wisconsin at Xavier (Fox Sports 1, 6:30 p.m.), Stephen F. Austin at Miami (ESPNU, 7 p.m.), Holy Cross at Providence (Fox Sports 2, 7 p.m.), Georgetown at Illinois (Fox Sports 1, 8:30 p.m.) and Georgia Tech at Tennessee (ESPN2, 9 p.m.).
Soccer includes U.S. at Scotland (Fox Sports 1, 2 p.m.) in an international friendly.
Daytime Talk
Kelly Ripa and Ryan Seacrest: Jamie Foxx. The View: Hugh Jackman, Jason Reitman, Valerie Simpson, Paul Shaffer. The Talk: Michael Fishman, John Goodman, Lecy Goranson, Laurie Metcalf, Maya Lynne Robinson, Sara Evans, Dania Ramirez. Ellen DeGeneres: Mark Wahlberg, Tig Notaro. Wendy Williams: Toni Braxton. The Real: April Ryan.
Late Talk
Stephen Colbert: Rachel Weisz, Jason Mantzoukas, Demetri Martin, Dolph Lundgren. Jimmy Kimmel: Kurt Rusell, Tessa Thompson, Jake Owen. Jimmy Fallon: Viola Davis, Wyatt Russell, Muse. Seth Meyers: Jeff Goldblum, Dick Cavet, Mark Iacono, Caitlin Kalafus. James Corden: Dominic West, Justin Hartley, Elle King. Carson Daly: Charlie Cox, the Wombats, Claudia Kim. Trevor Noah: Jenifer Lewis.