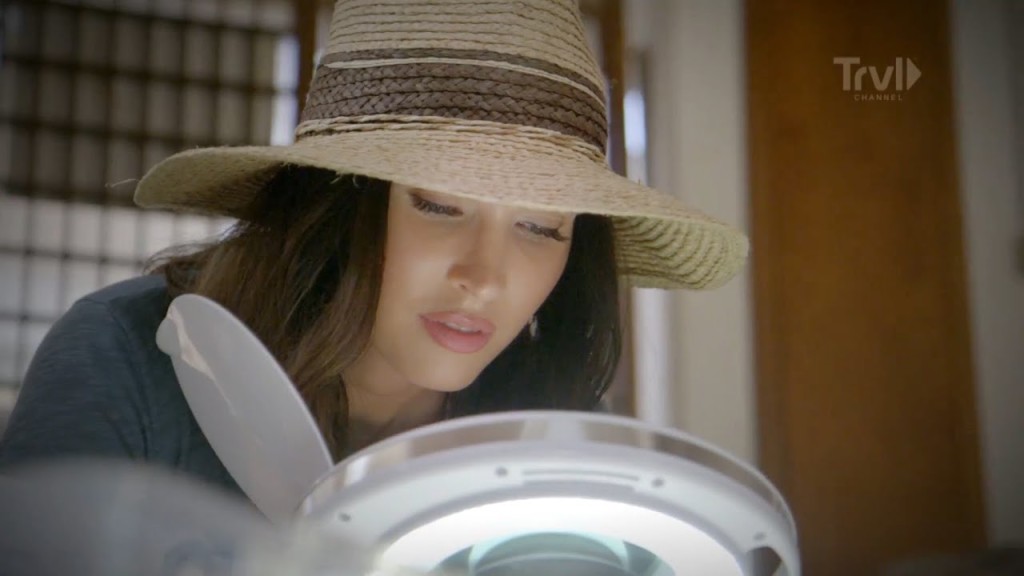 Not since Melania Trump rocked the Indiana Jones look at the pyramids has there been such a glamorous person adopting the archeologist's pose. But on the new four-part "Legends of the Lost with Megan Fox" (Travel, 8 p.m.) the actress from the early "Transformers" movies travels to places like Turkey and Stonehenge to try and uncover ancient secrets. She begins by traveling to Scandinavia to look into the idea that the Viking armies were actually comprised of women.
More specifically copying Indiana Jones in seeking the holy grail is Josh Gates, tonight on "Expedition Unknown" (Travel, 9 p.m.).
Just as you have memorized all the Christmas specials, you've probably already memorized the recurring holiday sketches on "A Saturday Night Live Christmas Special" (NBC, 9 p.m.), from a time when, before Alec Baldwin impersonated Trump and was baker Pete Schweddy.
Marcus Lemons returns for the sixth season of "The Profit" (CNBC, 10 p.m.), helping small businesses, such as a Chicago deli tonight.
On "The Conners" (ABC, 8 p.m.), Jackie's Christmas present for her new beau is a little pricey.
The world's worst customer assistance representative in India puts Logan on hold through most of "The Guest Book" (TBS, 10:30 p.m.).
We're already up to the third episode of "Nightflyers" (Syfy, 10 p.m.), with a look into the source of the malfunctions.
Construction is almost complete on "Splitting Up Together" (ABC, 9:30 p.m.).
Witness protection doesn't work out on the "FBI" (CBS, 9 p.m.).
A Navy contractor with a double life is murdered on "NCIS: New Orleans" (CBS, 10 p.m.).
John Mellencamp is subject of "Docs That Rock" (AXS, 10 p.m.). It follows a chapter of "The Day the Rock Star Died" (AXS, 8:30 p.m.) focusing on Hank Williams Jr. and his final ride in his Cadillac.
"Russell Brand: Re: Birth" (Netflix, streaming) is a new standup special from the brash, bearded Brit.
A lead suspect on a robbery is released from prison on "NCIS" (CBS, 8 p.m.).
Barry and Nora have to go back in time on "The Flash" (CW, 8 p.m.) to stop Cicada.
On "The Gifted" (Fox, 8 p.m.) tensions are high in the Inner Circle.
"Unanchored" (Bravo, 10 p.m.) is apparently on nightly; now they're celebrating New Year's eve.
The Top 10 becomes single digits on 'The Voice" (NBC, 8 p.m.).
A movie director rides along on "The Rookie" (ABC, 10 p.m.).
Cole prepares for his first Christmas with Maya on "Lethal Weapon" (Fox, 9 p.m.).
A grandson wants answers on "The Family Business" (BET, 9 p.m.).
On "The Kids are Alright" (ABC, 8:30 p.m.), either Peggy is pregnant again or she has a cyst.
The search is on for Jennifer on "Black Lightning" (CW, 9 p.m.).
Bow makes a new friend at work on "Blackish" (ABC, 9 p.m.).
On "The Curse of Oak Island" (History, 9 p.m.), Rick is faced with a loss.
The spying operations of the church are discussed on "Leah Remini: Scientology and the Aftermath" (A&E, 9 p.m.).
Four grandmas compete on "Chopped" (Food, 9 p.m.).
"Real Country" (USA, 11 p.m.) has Kane Brown as special guest.
Alicia decides to represent Azia on "Hustle in Brooklyn" (BET, 10 p.m.).
It's part two of the reunion on "The Challenge" (MTV, 9 p.m.).
Max Greenfield visits "Busy Tonight" (E!, 10 p.m.).
Turner Classic Movies spotlights everyday heroes in "Norma Rae" (8 p.m.), "Boys Town" (10:15 p.m.), "Sister Kenny" (midnight), "Blossoms in the Dust" (2:15 a.m.) and "Her Twelve Men" (4:15 p.m.). Earlier it's Doris Day Day with the star in a bunch of musicals: "My Dream is Yours" (6 a.m.), "Lullaby of Broadway" (7:45 a.m.), "Starlight" (9:30 a.m.), "April in Paris" (11:30 a.m.), "Lucky Me" (1:15 p.m.), "Love Me or Leave Me" (3 p.m.) and "Billy Rose's Jumbo" (5:15 p.m.).
Hockey includes Toronto at Buffalo (NBC Sports, 7:30 p.m.).
Basketball has San Antonio at Utah (NBA, 9 p.m.).
Men's college basketball includes New Hampshire at Seton Hall (Fox Sports 1, 6:30 p.m.), Oklahoma vs. Notre Dame (ESPN, 7 p.m.), Providence at Boston College (ESPN2, 7 p.m.), UTEP at Marquette (Fox Sports 1, 8:30 p.m.) and West Virginia vs. Florida (ESPN2, 9 p.m.).
In women's games, it's Connecticut at Saint Louis (CBS Sports, 7 p.m.).
Daytime Talk
Kelly Ripa and Ryan Seacrest: Colin Jost, Emma Bunton. The View: Zachary Levi, Josh McBride, Carrie Ann Inaba. Ellen DeGeneres: Ryan Reynolds, Gwen Stefani. Wendy Williams: Chris Witherspoon. The Real: Tisha Campbell.
Late Talk
Stephen Colbert: Julia Roberts, Patrick Wilson. Jimmy Kimmel: Justin Theroux, Karen Gillan, Gucci Mane. Jimmy Fallon: Saoirse Ronan, Russell Westbrook, Alessia Cara. Seth Meyers: Jake Tapper, Bill Burr, Nikki Glaspie. James Corden: Zachary Levi, Jake Johnson. Carson Daly: Jameela Jamil, Jackie Tohn, Drama, Joel Boyd. Trevor Noah: Anderson Paak.