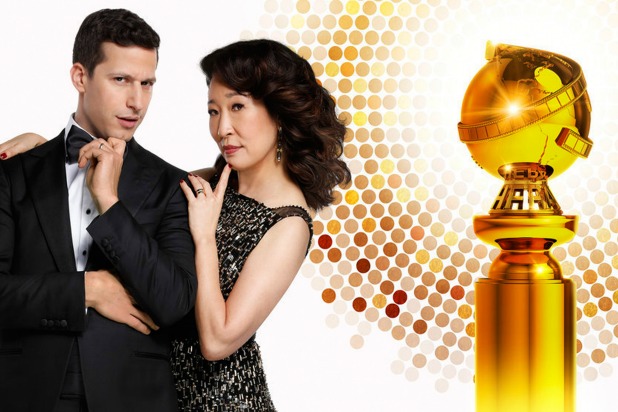 Who cares what a few dozen random no name (and unnamed) entertainment writers think?
They're the ones who pick the often weird choices you'll see on the 76th Annual Golden Globes Awards (NBC, 8 p.m.), hosted by Sandra Oh, who stands to win for her nominated work on "Killing Eve," and Andy Samberg, who has actually won a Golden Globe for his work on "Brooklyn Nine Nine" (to mention one of their weird choices).
But it draws both TV and movie people, and they all dress up and drink, so, of course people pay more attention to it than they actually should.
Among TV categories HBO's "Sharp Objects" and FX's "The Assassination of Gianni Versace: American Crime Story" share some of the most nominations.
But it draws both TV and movie people, and they all dress up and drink, so, of course people pay more attention to it than they actually should.
But its start time is iffy due to the NFC playoff game of  Philadelphia at Chicago (NBC, 4:30 p.m.). The other NFL playoff game has Chargers at Baltimore (CBS, 1 p.m.) in and AFC.
There's a look at how "Dirty John" (Bravo, 10 p.m.) operates in its seventh episode.
On "Ray Donovan" (Showtime, 9 p.m.), the family bands together to save one of their own.
The immigration problem gets a quicker resolution on "Madam Secretary" (CBS, 10 p.m.).
A teenager has a home cold brew ida on "Shark Tank" (ABC, 9 p.m.).
Fifteen more people who are terrible in the kitchen begin to compete on the 15th season of "Worst Cooks in America" (Food, 9 p.m.).
New episodes also come for "Outlander" (Starz, 8 p.m.) and "Counterpart" (Starz, 9 p.m.).
Magic shouldn't really be on the Science channel, but here's "Houdini's Last Secrets" (Science, 10 p.m.).
"Rel" (Fox, 9:30 p.m.) goes to a therapist to deal with his mother's death. It's a comedy!
When the chief of logistics for a weapons stations collapses on the job and the team on "NCIS: Los Angeles" (CBS, 9 p.m.) looks into it.
"Fear the Woods" (Travel, 9 p.m.) looks for the Motorman.
Grampa has his PTSD triggered on "The Simpsons" (Fox. 8 p.m.).
Linda learns about essential oils "Bob's Burgers" (Fox, 8:30 p.m.).
Porsha is kicked out of the clique on "The Real Housewives of Atlanta" (Bravo, 8 p.m.).
Miles turns to his dad for help on "God Friended Me" (CBS, 8 p.m.).
"Married to Medicine" (Bravo, 9 p.m.)continues its reunion.
Turner Classic Movies has couple of movies about mail, "A Letter to Three Wives" (8 p.m.) and "The Letter" (10 p.m.) before the early noir, "Dr. Mabuse the Gambler" (midnight) and "Colossal Youth" (2 a.m.).
NBA action has Indiana at Toronto (NBA, 7:30 p.m.).
Men's college basketball includes Xavier at Marquette (Fox, noon), Richmond at Dayton (NBC Sports, noon), Seton Hall at DePaul (Fox Sports 1, 1 p.m.), George Washington at Saint Joseph's (NBC Sports, 2 p.m.), Rhode Island at Saint Louis (ESPNU, 4 p.m.), St. Bonaventure at George Mason (NBC Sports, 4 p.m.), Temple at Wichita State (ESPNews, 4 p.m.), Indiana at Michigan (CBS, 4:30 p.m.), Memphis at Houston (ESPNews, 6 p.m.), Miami at Louisville (ESPNU, 6 p.m.) and Stanford at Southern California (ESPNU, 8 p.m.).
Women's college basketball includes Connecticut at Houston (CBS Sports, noon), Alabama at South Carolina (ESPNU, noon), SMU at Cincinnati (ESPN2, noon), St. John's at Butler (Fox Sports 2, 1 p.m.), Missouri at Tennessee (ESPN2, 2 p.m.), TCU at Oklahoma State (ESPNU, 2 p.m.), Georgetown at Creighton (CBS Sports, 3 p.m.) and Texas at West Virginia (ESPN2, 4 p.m.).
Bowling has its PBA Hall of Fame Classic (Fox Sports 1, 11 a.m.).
College wrestling includes N.C. State at Ohio State (ESPN2, 6 p.m.).
Sunday Talk
ABC: Reps. Adam Smith and Liz Cheney, Julian Castro. CBS: Sens. Lindsey Graham and Dick Durbin, Reps. Colin Allred, Jahana Hayes, Max Rose and Mikie Sherrill. NBC: Sen. Susan Collins, Rep. Steny Hoyer. CNN: Acting White House chief of staff Mick Mulvaney, Sen. Doug Jones, Reps. Adam Schiff and Karen Bass. Fox News: White House press secretary Sarah Huckabee Sanders, Rep. David Cicilline.