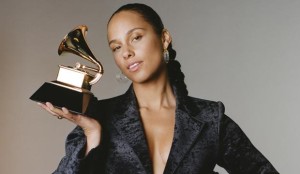 The 61st Annual Grammy Awards (CBS, 8 p.m.) salutes some legacy artists with a salute to Aretha Franklin and performances by Dolly Parton and Dolly Ross. But mostly, the show will be dominated by younger stars, with performances by Cardi B, Post Malone, Janelle Monáe, J Balvin, Camila Cabello, Chloe x Halle, Dan + Shay, H.E.R., Dua Lipa and St. Vincent, Little Big Town, Ricky Martin, Shawn Mendes, Maren Morris, Katy Perry, Mark Ronson, the Red Hot Chili Peppers, Lady Gaga and Kacey Musgraves. Ariana Grande publicly pulled out from the show, citing differences with the producers. Three other high profile nominees, Drake, Childish Gambino and Kendrick Lamar also declined to perform, though Lamar goes into the night with the most nominations, eight, and Drake has seven. Brandi Carlile has six nominations.
Alicia Keys hosts the event from Los Angeles' Staples Center. Red carpet coverage ramps up on E! at 6 p.m.; CBS throws its own show at 7 p.m.
For those who prefer movie awards, The BAFTA Film Awards (BBC America, 9 p.m.) honors the year's best work, with "The Favourite" up for a dozen awards.
The royal love affair of public television continues with a two-part series about a princess who made the headlines, "Margaret: The Rebel Princess" (PBS, 10 p.m., check local listings).
The six-part "America's Lost Vikings" (Science, 10 p.m.) posits that Vikings might have reached North America centuries before other Europeans.
Pete runs into his ex at a corporate comedy club in Jersey on "Crashing" (HBO, 10 p.m.).
A new series from Alicia Keys and Marcus Samuelsson, "Hustle" (Viceland 9 p.m.) looks at modern entrepreneurs.
The social media giant is examined in the news special "Facebook at 15: It's Complicated" (CNN, 9 p.m.).
"Deadly Cults" (Oxygen, 8 p.m.) examines those that involve murder.
Management makes a historic decision on "Counterpart" (Starz, 8 p.m.).
"True Detective" (HBO, 9 p.m.) has Amelia's book release party.
A film crew needs supplies on a new "High Maintenance" (HBO, 10:35 p.m.).
The royal household visit Ireland after an assassination attempt on "Victoria" (PBS, 9 p.m., check local listings).
"The Walking Dead" (AMC, 9 p.m.) resumes its season unmasking the Whisperers, while one of its stars hops back on its motorcycle with the third season of "Ride with Normal Reedus" (AMC, midnight), but not before another edition of "Talking Dead" (AMC, 10:14 p.m.).
Mo tries to forge a father-son bond with Blair on "Black Monday" (Showtime, 10 p.m.).
"The Zoo" (Animal Planet, 8 p.m.) returns for its third season, as does "Private Eyes" (ION, 9 p.m.).
Trump considers a state of emergency on "The Circus: Inside the Wildest Political Show on Earth" (Showtime, 8 p.m.).
On "The Simpsons" (Fox, 8 p.m.), Homer binges a TV show without Marge.
Bob and Linda have a Valentine's Day fight on "Bob's Burgers" (Fox, 8:30 p.m.).
On "Shameless" (Showtime, 9 p.m.), Fiona has a dark encounter.
It's Ally's birthday on "SMILF" (Showtime, 10:30 p.m.).
A bachelorette party has an unexpected visitor on "The Real Housewives of Atlanta" (Bravo, 8 p.m.).
Turner Classic Movies' 31 Days of Oscar pits Lassie vs. another famous movie dog, Asta with "Lassie Come Home" (8 p.m.) vs. "The Thin Man" (9:45 p.m.) followed by two William Wyler best picture winners, "Mrs. Miniver" (11:30 p.m.) and "The Best Years of Our Lives" (2 a.m.). Earlier, it's Oscar movies shot round the world, "Romance on the High Seas" (4:15 a.m.), "The Roman Spring of Mrs. Stone" (6 a.m.), "Travels with My Aunt" (8 a.m.), "A Little Romance" (10 a.m.), "A Passage to India" (noon), "Royal Wedding" (3 p.m.) and "Around the World in 80 Days" (4:45 p.m.).
NBA action has Lakers at Philadelphia (ABC, 3:30 p.m.) and Miami at Golden State (NBA, 8:30 p.m.).
Hockey has St. Louis at Nashville (NBC, 12:30 p.m.) and Toronto at Rangers (NBC Sports, 7 p.m.).
The new Alliance of American Football league continues its rollout with Memphis at Birmingham (CBS Sports, 4 p.m.) and Salt Lake at Arizona (NFL, 8 p.m.).
Men's college basketball includes Holy Cross at Lafayette (CBS Sports, noon), Ohio State at Indiana (CBS, 1 p.m.), Connecticut at Memphis (CBS Sports, 2 p.m.), Central Florida at SMU (ESPNews, 2 p.m.), Cincinnati at Houston (ESPN, 4 p.m.), Loyola Chicago at Valparaiso (ESPNU, 4 p.m.), Georgia Tech at Notre Dame (ESPNU, 6 p.m.) and Stanford at Oregon (ESPN2, 8 p.m.).
Women's college basketball has Florida State at Notre Dame (ESPN, noon), Florida at Georgia (ESPNU, noon), Tennessee at Mississippi State (ESPN, 2 p.m.), Houston at South Florida (ESPN2, 2 p.m.), Wichita State at Cincinnati (ESPNU, 2 p.m.), Seton Hall at Creighton (Fox Sports 2, 2 p.m.) and Oregon at Stanford (ESPN2, 4 p.m.).
Final rounds are played in the Pebble Beach Pro-Am (Golf, 1 p.m.; CBS, 3 p.m.).
Auto racing has Clash at Daytona (Fox Sports 1, 3 p.m.) and the Pomona Winternationals (Fox Sports 1, 5 p.m.).
It's the women's downhill in the World Alpine Championships (NBC Sports, 6:30 a.m.).
College gymnastics has UCLA at Washington (ESPN2, 6 p.m.).
Sunday Talk
ABC: AMI attorney Elkan Abramowitz, Reps. John Yarmuth and Tom Graves, Chris Christie, Andrew Gillum. CBS: Reps. Mark Meadows, Don Beyer and Jennifer Wexton, Saudi Arabia minister of state for foreign affairs, Adel Al-Jubeir. NBC: Acting White House chief of staff Mick Mulvaney, Sen. Michael Bennet, Rep. Adam Schiff. CNN: Rep. Liz Cheney, South Bend Mayor Pete Buttigieg. Fox News: Mulvaney, Sens. Richard Shelby and Jon Tester.