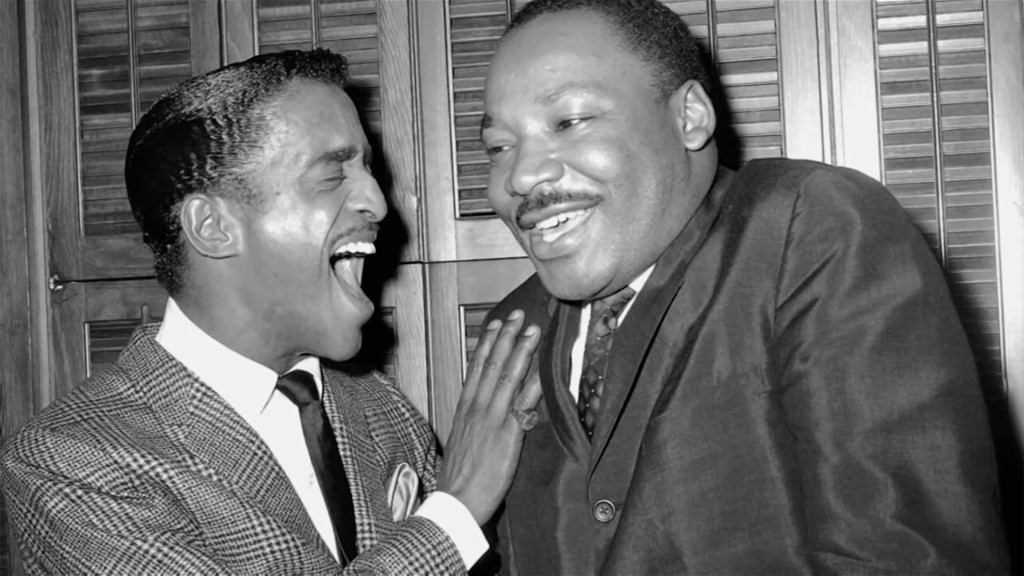 The all around entertainer Sammy Davis Jr. had an all-around complicated life as well, gaining acceptance in a world and the elite realm of the Rat Pack, even as he was a butt of jokes and embraced the worst of the culture (literally, Richard Nixon). The portrait on "American Masters" (PBS, 9 p.m.), "Sammy Davis Jr.: I Gotta Be Me" is a complete look at his many sides, from the pint-sized tap whiz to adult crooner and foundry-breaker, with commentary from Billy Crystal and Jerry Lewis, but also a lot of Davis telling his story from numerous interview appearances.
The delightful, underrated craft show spoof "At Home with Amy Sedaris" (truTV, 10 p.m.) returns for a new season, with Sedaris in her playhouse as a handful of characters, with a new line of guest stars that includes, in the first episode, Matthew Broderick, as a tweedy author on a new study of teenagers, who seems to have picked up a few of their traits along the way.
A stand-alone episode about Beth's relationship with her strict and stubborn mother, a high school principal in D.C., is the focus of a stronger than usual episode of "This is Us" (NBC, 9 p.m.).
It's all about drugs on "Drunk History" (Comedy Central, 10 p.m.).
One thing about "My Great Big Live Wedding with David Tutera" (Lifetime, 10 p.m.) is that he's apparently talked couples into Tuesday night ceremonies.
Reeva shares her plan for the Inner Circle on "The Gifted" (Fox, 9 p.m).
Trish prepares to announce her campaign for District Attorney on "Lethal Weapon" (Fox, 8 p.m.).
"Chopped" (Food, 9 p.m.) goes after chicken.
Lena joins Camille and Maya on a girls' road trip on "Splitting Up Together" (ABC, 9:30 p.m.).
The subject of a conspiracy theorist is murdered on "NCIS: New Orleans" (CBS, 10 p.m.).
On "Blackish" (ABC, 9 p.m.), Kyra isn't sure whether to transfer to a magnet school.
Four set up online dates on "Good Trouble" (Freeform, 8 p.m.).
Oliver rebels on "American Housewife" (ABC, 8 p.m.).
There are church problems on "The Kids are Alright" (ABC, 8:30 p.m.).
On "American Soul" (BET, 9 p.m.), Don finds creative ways to book talent for his show.
A journalist is murdered on "FBI" (CBS, 9 p.m.).
Jazz goes missing on "I Am Jazz" (TLC, 9 p.m.).
"Expedition Unknown" (Travel, 9 p.m.) has somehow turned into a quiz show.
God wants Sanjay to smite a non believer on "Miracle Workers" (TBS, 10:30 p.m.).
Madisson stars in Brandon's music video on "Siesta Key" (MTV, 9 p.m.).
On "New Amsterdam" (NBC, 10 p.m.), Sharpe struggles with a case that hits too close to home.
Mr. Snap helps Ms. Watson find her inner slut on "Teachers" (TV Land, 10 p.m.).
Regret pays a visit to "Temptation Island" (USA, 10 p.m.).
"The Rookie" (ABC, 10 p.m.) becomes a suspect when money for a drug bust goes missing.
A new personality is introduced on "The Many Sides of Jane" (A&E, 10 p.m.).
A scoutmaster vanishes after seeing a craft on "Project Blue Book" (History, 10 p.m).
Turner Classic Movies has a pair of Spencer Tracy best actor Oscar wins with "Captains Courageous" (8 p.m.) and "Boys Town" (10:15 p.m.). Then two Oscar films about voyeurism: "Blow-Up" (midnight) and "Three Colors: Red" (2 a.m.). During the day, it's nominated family films, with "Edward, My Son" (6:30 a.m.), "You Can't Take It With You" (8:45 a.m.), "The Little Foxes" (11 a.m.), "What Ever Happened to Baby Jane?" (1 p.m.), "Life with Father" (3:30 p.m.) and "A River Runs Through It" (5:45 p.m.).
Hockey has Toronto at St. Louis (NBC Sports, 8 p.m.).
Men's college basketball has Dayton at Davidson (CBS Sports, 6 p.m.), Vanderbilt at Tennessee (ESPN, 7 p.m.), Purdue at Indiana (ESPN2, 7 p.m.), Nebraska at Penn State (Fox Sports 1, 7 p.m.), Wake Forest at Notre Dame (ESPNU, 7 p.m.), Rhode Island at VCU (CBS Sports, 8 p.m.), Kentucky at Missouri (ESPN, 9 p.m.), Florida State at Clemson (ESPNU, 9 p.m.), Baylor at Iowa State (ESPN2, 9 p.m.) and UNLV at Wyoming (CBS Sports, 10 p.m.).
Daytime Talk
Kelly Ripa and Ryan Seacrest: America Ferrera, Denny Hamlin, Lukas Graham. The View: Andrew McCabe. The Talk: Seann William Scott. Ellen DeGeneres: Diane Keaton, Wolfgang Puck, John Legend. Wendy Williams: Taylor Dayne, Carla Hall, Michael Yo, Jenny Mollen Biggs, Bevy Smith. The Real: Eva Marcille.
Late Talk
Stephen Colbert: Andrew McCabe, Dan Levy, Sigrid. Jimmy Kimmel: Regina King, Jon Bernthal, Juanes (rerun). Jimmy Fallon: Jake Gyllenhaal, Jennifer Carpenter, Walk the Moon. Seth Meyers: America Ferrera, Desus & Mero, Lauren Alaina, Jeff Friedl. James Corden: Sen. Elizabeth Warren, 50 Cent, TNT Boys. Carson Daly: Daniel Radcliffe, Snail Mail, Michael Zegen. Trevor Noah: Enes Kanter. Conan O'Brien: Bill Hader (rerun).