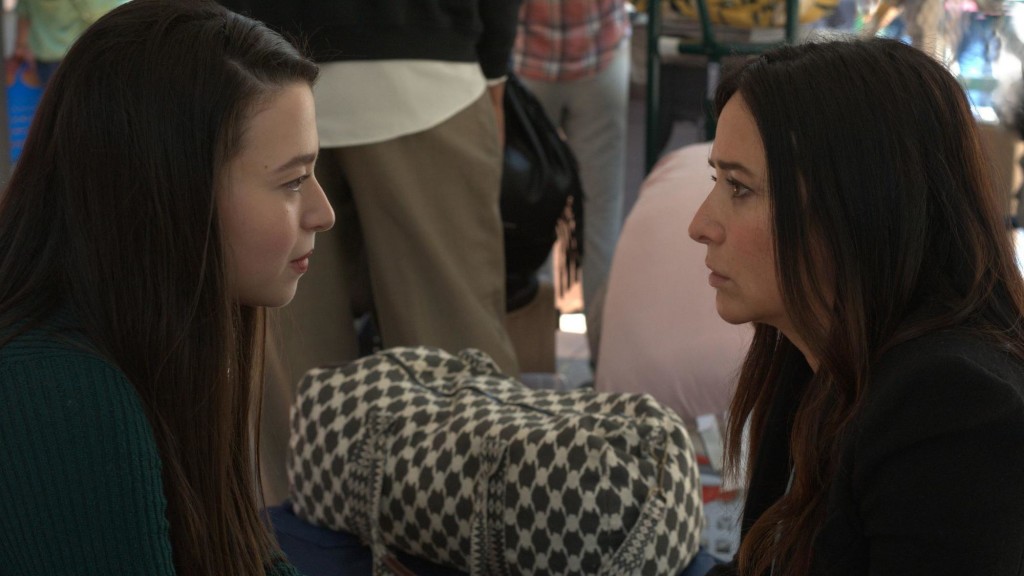 Once seen as under the thumb of her longtime comedy partner and mentor, the discredited Louis C.K., Pamela Adlon's "Better Things" (FX, 10 p.m.) blossoms on its own in the third season premiere of the strong family comedy about a struggling actress and single mom with three quite precocious daughters, superbly played by Mikey Madison, Hannah Alligood and Olivia Edward. Tonight Adlon's Sam goes to Chicago to help her eldest, Max, move to college.
With tonight's 332nd episode, "Grey's Anatomy" (ABC, 8 p.m.) becomes the longest running primetime medical drama on TV. But Jackson's part on tonight's episode is to celebrate Catherine's surgery.
"Wife Swap" (CMT, 9 p.m.), formerly a broadcast mainstay, gets a new life on the twangy cable network.
Miley Cyrus goes undercover on the 11th season premiere of "RuPaul's Drag Race" (VH1, 9 p.m.
On "Broad City" (Comedy Central, 10 p.m.), the two meet Ilana's 16th cousin, a Holocaust survivor.
"How to Get Away With Murder" (ABC, 10 p.m.) has its fifth season finale.
Chase shoots a new music video on "The Other Two" (Comedy Central, 10:30 p.m.).
The final five chefs go to Macau on "Top Chef" (Bravo, 8 p.m.).
Bullock's past haunts him on "Gotham" (Fox, 8 p.m.).
"Brooklyn Nine-Nine" (NBC, 9 p.m.) has just been renewed for a seventh season on its new network.
The urn goes missing on "Legacies" (CW, 9 p.m.).
Ed and the crew travels to Isaac's home planet on the conclusion of a two-part "The Orville" (Fox, 9 p.m.)
Nicole's goes crazy jealous on the season finale of "Ex on the Beach" (MTV, 8 p.m.).
On "Siren" (Freeform, 8 p.m.), Katrina tries to get the mermaids on her side.
The final eight athletes compete on "The Titan Games" (NBC, 8 p.m.).
"A Million Little Things" (ABC, 9 p.m.) has its first season finale.
DJ Pauly D chooses his clone on "Game of Clones" (MTV, 9 p.m.).
On "FAM" (CB, 9:30 p.m.), Shannon's ex, MC DJ JoJo, comes back into her life.
Will gives his newsman a second chance on "Will & Grace" (NBC, 9:30 p.m.).
Terra Jole, Lizzo and Howie Mandel are fooled by "Hollywood Medium with Tyler Henry" (E!, 8 p.m.).
It's Marcus Scribner vs. Brandon Michael Hall on "Lip Sync Battle" (Paramount, 9 p.m.).
Turner Classic Movies starts with a couple of boing biopics, "The Great White Hope" (8 p.m.) and "Somebody Up There Likes Me" (10 pm.), following a couple of films that featured Oscar nominated scores by David Raskin, "Forever Amber" (12:15 a.m.) and "Separate Tables" (2:45 a.m.). Earlier, are an array of dramas that include "The Magnificent Ambersons" (8:15 a.m.), "Jezebel" (10 a.m.), "Kings Row" (11:45 a.m.), "A Patch of Blue" (2 p.m.), "Cat on a Hot Tin Roof" (4 p.m.) and "Rebel Without a Cause" (6 p.m.).
NBA action tonight includes Philadelphia at Oklahoma City (TNT, 8 p.m.) and Utah at Denver (TNT, 10:30 p.m.).
Hockey has Tampa Bay at Boston (NBC Sports, 7:30 p.m.).
In spring baseball it's Baltimore vs. Philadelphia (MLB, 1 p.m.).
Men's college basketball includes Robert Morris at Sacred Heart (CBS Sports, 6 p.m.), Xavier at St. John's (Fox Sports 1, 6:30 p.m.), Nebraska at Michigan (ESPN, 7 p.m.), Connecticut at Wichita State (ESPN2, 7 p.m.), Winthrop at Hampton (ESPNews, 7 p.m.), Old Dominion at Texas San Antonio (CBS Sports, 8 p.m.), Jacksonville at Eastern Illinois (ESPNews, 9 p.m.), Tulane at Tulsa (ESPNU, 9 p.m.), Arizona at Oregon State (Fox Sports 1, 9 p.m.), Southern California at UCLA (ESPN, 9 p.m.), Gonzaga at Pacific (ESPN, 11 p.m.), Washington at California (Fox Sports 1, 11 p.m.) and UC Irvine at UC Davis (ESPNU, 11 p.m.).
Women's games include Georgia Tech at Miami (NBC Sports, 7 p.m.).
Daytime Talk
Kelly Ripa and Ryan Seacrest: Annette Bening, Nina Dobrev, Flora Cash. The View: Bari Weiss, Natasha Lyonne. The Talk: Donny Osmond. Ellen DeGeneres: Patricia Arquette, Jon Dorenbos, Sharon Van Etten. Wendy Williams: Ashlee Glazer, Sherri Shepherd (rerun). The Real: Remy Ma, Papoose & The Golden Child.
Late Talk
Stephen Colbert: Matthew McConaughey, Better Oblivion Community Center (rerun). Jimmy Kimmel: Ellen Pompeo, Zlatan Ibrahimovic, half-alive. Jimmy Fallon: John Mulaney, Kevin Nealon, 2 Chainz with Marsha Ambrosius. Seth Meyers: Amy Sedaris, J.K. Simmons, Jon Epcar. James Corden: Kevin Hart, Stephen James, Phosphorescent (rerun). Carson Daly: Ben Barnes, Badflower, Rory Culkin. Trevor Noah: Gary Clark Jr. Conan O'Brien: Maya Erskine, Anna Konkle.