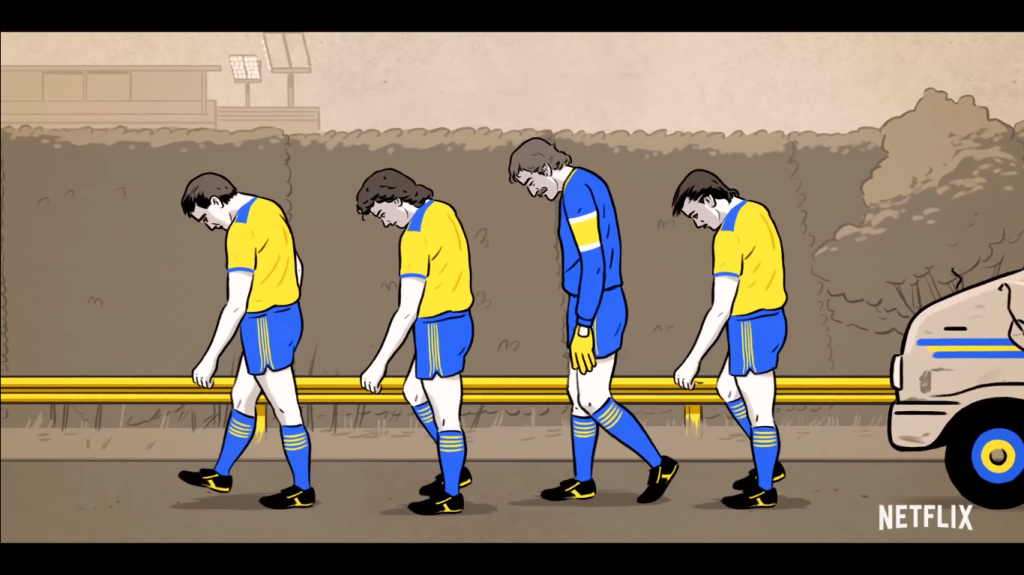 Funny that few have concentrated on the teams and sports stars who failed to win the big game. But now there's "Losers" (Netflix, streaming), a new documentary series that chronicles those who went down but might have learned a lesson from not winning. (Yes, some of it is animated).
Losing is not an issue in the eight-part documentary "Cricket Fever: Mumbai Indians" (Netflix, streaming) following the three-time championship winners.
The new film "The Boy Who Harnessed the Wind" (Netflix, streaming) is based on a true story about a 13 year old boy in Malawi who saves his family and village from famine. Maxwell Simba plays the young man who builds his village a windmill after reading about it in a library in the directorial debut of the actor Chiwetel Ejiofor.
Hey, it's Women's History Month, which "American Masters" (PBS, 9 p.m., check local listings) helps kick off with a portrait of the long-running feminist and activist singer "Holly Near: Singing for Our Lives," which features interviews with Jane Fonda, Gloria Steinem, Kevin Bacon, the late Ronnie Gilbert of The Weavers
In the new British series  "The Widow" (Amazon Prime, streaming), Kate Beckinsale portrays a woman who rethinks whether her husband is really dead.
Meek Mill, Jamie Foxx, Jerrod Carmichael, Antonio Brown and 2 Chainz join Anthony Davis, LeBron James and Maverick Carter in the second season premiere of "The Shop" (HBO, 10:30 p.m.) taped during NBA All-Star Weekend.
The live action version of the 90s Japan teen graphic novel, "River's Edge" (Netflix, streaming) goes online.
The French import "Budapest" (Netflix, streaming) is a new film about guys who try to organize bachelor parties for Hungarians.
In the Spanish film "Your Son" (Netflix, streaming)  a father seeks revenge after his son is attacked and beaten outside a nightclub.
Keegan Michael Key joins "2 Dope Queens" (HBO, 11 p.m.) in the final chapter of the current batch shows.
"Northern Rescue" (Netflix, streaming) is about a rescue worker who moves his family after his wife dies.
"Animal Cribs" (Animal Planet, 9 p.m.) returns for a second episode.
Eddie dates Trent's sister on "Fresh Off the Boat" (ABC, 8 p.m.).
JJ Shoots a film for his college application on "Speechless" (ABC, 8:30 p.m.).
Margaret's pal comes to visit on "The Cool Kids" (Fox, 8:30 p.m.).
Kim has separation anxiety on "Don't Be Tardy…" (Bravo, 9 p.m.).
"Sydney to the Max" (Disney, 8:30 p.m.) is all about shaving.
On "Proven Innocent" (Fox, 9 p.m.), the team looks into the case of a man convicted of murder at 14 after a coerced confession.
Ryan isn't a great landlord on "Last Man Standing" (Fox, 8 p.m.).
Turner Classic Movies has a couple of lesser known Martin Scorsese films, "Hugo" (8 p.m.) and "The Age of Innocence" (10:15 p.m.), followed by a couple of futuristic flicks, "Logan's Run" (12:45 a.m.) and "2001: A Space Odyssey" (3 a.m.). Earlier, it's transportation is the theme with "Only Angels Have Wings" (6:45 a.m.), "The Harvey Girls" (9 a.m.), "Grand Prix" (11 a.m.), "The Narrow Margin" (2 a.m.), "The Spirit of St. Louis" (3:30 p.m.) and "Bullitt" (6 p.m.).
NBA action includes Portland at Toronto (ESPN, 8 p.m.) and Milwaukee at Lakers (ESPN, 10:30 p.m.).
Spring baseball has Boston vs. Minnesota (MLB,1 p.m.) and Cincinnati vs. San Francisco (MLB, 9 p.m.).
Men's college basketball includes Columbia at Brown (ESPNU, 5 p.m.), Kent State at Bowling Green (CBS Sports, 6 p.m.), Rhode Island at Dayton (ESPN2, 7 p.m.), Pennsylvania at Harvard (ESPNU, 7 p.m.), Buffalo at Miami Ohio (CBS Sports, 8 p.m.) and Siena at Canisus (ESPNU, 9 p.m.).
Women's games include Villanova at Xavier (Fox Sports 2, 7 p.m.).
NASCAR runs its Stratosphere 200 (Fox Sports 1, 9 p.m.).
Women's college gymnastics include Georgia at LSU (ESPN2, 9 p.m.).
Men's college hockey includes Penn State at Notre Dame (NBC Sports, 7 p.m.) and North Dakota at Colorado College (CBS Sports, 10 p.m.).
Daytime Talk
Kelly Ripa and Ryan Seacrest: Katy Perry, Lionel Richie, Luke Bryan, Kevin Nealon. The View: Katy Perry, Lionel Richie, Luke Bryan, Lionel Richie. The Talk: Chloe Grace Moretz, Ethan Peck. Ellen DeGeneres: T Pain, John Mayer. Wendy Williams: Jenny McCarthy, Sherri Shepherd (Rerun). The Real: Lydian Nadhaswaram.
Late Talk
Stephen Colbert: Noah O'Donnell, John Dickerson, Gayle King, Bianna Golodryga, Spike Lee (rerun). Jimmy Kimmel: Ben Affleck, Dane Cook, Bring Me the Horizon (rerun). Jimmy Fallon: Ryan Seacrest, Jack Whitehall, Shin Lim. Seth Meyers: John Mulaney, Stacy Abrams (rerun). James Corden: Nina Dobrev, Terry Crews, Jack & Jack (rerun). Carson Daly: Eliza Couple, Aurora, Anna Konkle, Maya Erskine (rerun).