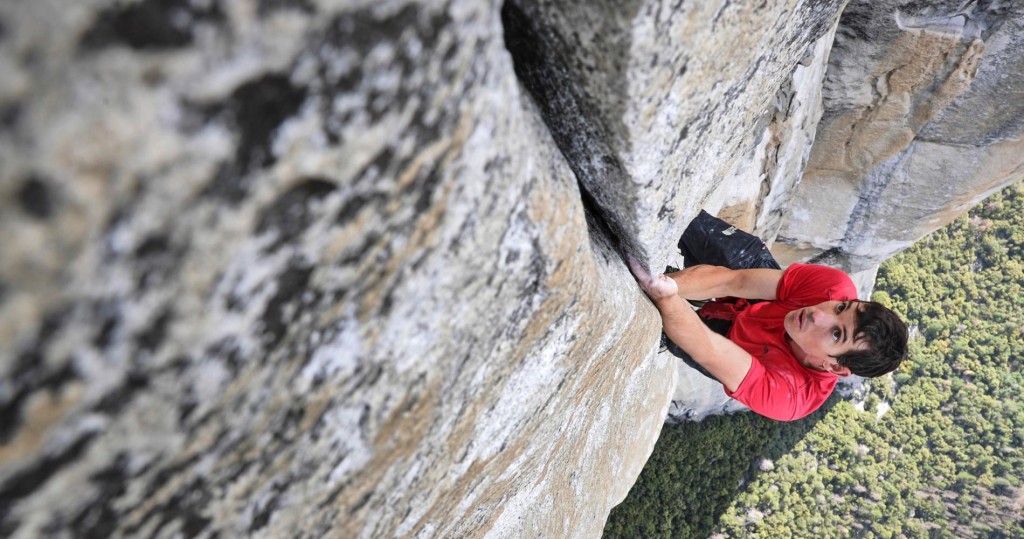 The heights and depths of human possibility are explored in two extraordinary documentaries tonight.
The uplifting one — way, way and sometimes uncomfortably too far up — is "Free Solo" (National Geographic, 9 p.m.), a week after it won its oscar. It's the sensitive story of Alex Hannold's determination to climb the famous face of Yosemite's El Capitan without ropes or equipment. It's brainy, harrowing and even has a little romance, as a new girlfriend aids his dream. The filmmakers, too, are friends and try to determine whether they are encouraging the dangerous behavior by attempting to chronicle it. And chronicle it they do, in breathtaking photography. Tonight's premiere is commercial free.
The super disheartening two-part documentary is "Leaving Neverland" (HBO, 8 p.m.), which got its own attention at Sundance and has lately been included in news cycles. In it, two grown men, one of them famous choreographer Wade Robson, change the stories they've long been telling others, including families and courts, that Michael Jackson did not molest them when they stayed over his house in Neverland.
Robson and James Safechuck, who first appeared with the tarnished king of pop in a Pepsi commercial, tell their stories thoughtfully and carefully, but in wincing detail. The real villains are their clueless and starstruck mothers, who allowed it all to occur because they were seduced by the lavish lifestyle. Can we ever listen to "Billie Jean" again? Even big fans owe it to themselves to consider the stories before wholesale dismissal causes to become as blind as the mothers. Part two is Monday.
Are there are still singers who somehow haven't been discovered? The 17th season of "American Idol" (ABC, 8 p.m.) — and the second on this network — begins with fixed chairs and the same judges from last time – Katy Perry, Luke Bryan and Lionel Richie. Auditions begin in Kentucky, Idaho, Los Angeles, New York and Denver.
A former "Idol" judge has her own competing talent contest, "World of Dance" (NBC, 8 p.m.).
"The BET Social Awards 2019" (BET, 8 p.m.) concentrates on the extremes of social media, hosted by DC Young Fly and Jess Hilarious.
It never quite found a consistent tone in its first season, between broad social satire and serious crime saga, so "Good Girls" (NBC, 10 p.m.) is back for a second season. Also back for a second season" "Very Cavallari" (E!, 10 p.m.).
There's a Holidazzle boat party on "High Maintenance" (HBO, 10:30 p.m.).
Pete wonders whether he's over his head with Kat on "Crashing" (HBO, 10 p.m.).
Ed Harris narrates the documentary "The Bush Years: Family, Duty, Power" (CNN, 9 p.m.).
Earlier, another news special explores "Saudi Arabia: Kingdom of Secrets" (CNN, 8 p.m.).
"Madam Secretary" (CBS, 10 p.m.) tries to bring U.S. troops ho
A new show is less a food fight than a culinary competition, "Family Food Showdown" (Food, 8 p.m.).
On "Charmed" (CW, 9 p.m.) a demon might be responsible for a mysterious death on campus.
Homer steals the car of Comic Book Guy on "The Simpsons" (Fox, 8 p.m.).
A seventh season starts for "Bar Rescue" (Paramount, 10 p.m.); a tenth for "Naked and Afraid" (Discovery, 8 p.m.).
On "God Friended Me" (CBS, 8 p.m.) a woman disappears the night before her wedding and is found in a coma.
Louise wins a contest to be Principal for a day on "Bob's Burgers" (Fox, 8:30 p.m.).
"Supergirl" (CW, 8 p.m.) tries to apprehend Manchester Black.
Eva deals with the rising costs for her wedding on "The Real Housewives of Atlanta" (Bravo, 8 p.m.).
On "When Calls the Heart" (Hallmark, 8 p.m.), Carson admits he cares more about Faith than he thought.
Rodney takes the family to Arizona on "Meet the Peetes" (Hallmark, 9 p.m.).
"NCIS: Los Angeles" (CBS, 9 p.m.) investigates the murder of a journalist writing an expose on a failed military operation.
Frank's injury causes complications on "Shameless" (Showtime, 9 p.m.).
"The Walking Dead" (AMC, 9 p.m.) fights a threat that is dividing them.
A week after the Academy Awards, Turner Classic Movies reaches its 31st day of Oscars, with two costume wins by Edith Head, "Sabrina" (8 p.m.) and "The Heiress" (10 p.m.) followed by the soap opera epics "Raintree" (12:15 a.m.) and "Giant" (3:15 a.m.). And all day are classic film adaptations from the stage: "A Midsummer Night's Dream" (5 a.m.), "Pygmalion" (7:30 a.m.), "Our Town" (9:30 a.m.), "Abe Lincoln in Illinois" (11 a.m.), "Baby Doll" (1 p.m.), "Mourning Becomes Electra" (3 p.m.) and "California Suite" (6 p.m.).
NBA action includes Houston at Boston (ABC 3:30 p.m.) and Memphis at Oklahoma City (NBA, 7 p.m.).
Hockey has Washington at Rangers (NBC, 12:30 p.m.), Nashville at Minnesota (NBC Sports, 7:30 p.m.) and Chicago at San Jose (NBC Sports, 10 p.m.).
Men's college basketball has St. John's at DePaul (Fox Sports 1, noon), South Florida at Connecticut (CBS Sports, noon), Notre Dame at Louisville (CBS, 1:30 p.m.), Wichita State at SMU (CBS Sports, 2 p.m.), Tulane at Temple (ESPNU, 2 p.m.), Creighton at Marquete (Fox Sports 1, 3 p.m.), Michigan at Maryland (CBS, 3:45 p.m.), Washington at Stanford (ESPN2, 4 p.m.), East Carolina at Tulsa (ESPNU, 4 p.m.), Boston College at Georgia Tech (ESPNU, 6 p.m.) and Arizona State at Oregon State (ESPNU, 8 p.m.).
Women's games include North Carolina at Duke (ESPN2, noon), Mississippi State at South Carolina (ESPN2, 2 p.m.), Depaul at Creighton (Fox Sports 2, 2 p.m.),
NASCAR runs its Pennzoil 400 (Fox, 3:30 p.m.).
There is final round play in the Honda Classic (Golf, 1 p.m.; NBC, 3 p.m.).
Two AAF football games have San Antonio at Birmingham (CBS Sports, 4 p.m.) and Atlanta at Arizona (NFL, 8 p.m.).
College lacrosse has Maryland at Notre Dame (ESPNU, noon).
Sunday Talk
ABC: Reps. Jerrold Nadler and Kevin McCarthy, Washington Gov. Jay Inslee. CBS: National Security adviser John Bolton, Sen. Doug Jones, Rep. Adam Schiff. NBC: Sen. Mark Warner, Rep. Jim Jordan. CNN: Bolton, Sens. Warner and John Kennedy, Rep. Justin Amash. Fox News: Bolton, Rep. Debbie Dingell.