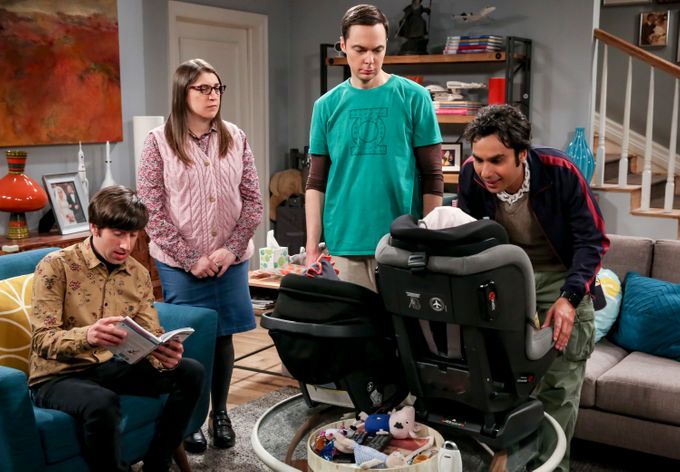 I had the opportunity to witness a run-through of tonight's episode of "The Big Bang Theory" (CBS, 8 p.m.) when I was out in Los Angeles last month. It was oddly fascinating as the cast walked through the story of Penny and Bernadette at a sales convention, and Wolowitz staying home to babysit.
What was funny was to see a 2019 comedy set up the way "I Love Lucy" invented contemporary sitcoms, with parallel sets (some of them built for that particular episode; others the familiar home base used each week). For the run-through, there would be one scene, partly unseen by the audience way on one end of Warner Bros' Stage 25, then they'd cut and walk down all the way to the other end for a scene that was still unseen for its extreme angle.
Oddest of all was a group who followed all the action whose job it was to force laughs at all the spots the script assumed there would be laughs. Strange,  especially since, frankly, not much of it raised an honest titter in the stands. The guest stars of the show literally phoned their parts in – Christine Baranski as Leonard's mom, and, with a single "Wah" Pamela Adlon providing the baby's voice.
For all the hubbub over "Big Bang Theory" and its final season, Adlon's is the better half hour with her "Better Things" (FX, 10 p.m.), which returned last week for a new season. Tonight, she's a victim in a zombie movie, coping mostly with the heat.
The single word description for tonight's "Broad City" (Comedy Central, 10 p.m.) could probably fit most episodes: "Shenannigans."
Your TGIT shifts tonight with the second season premiere of "For the People" (ABC, 10 p.m.), the legal drama full of young people working for the U.S. District Court for the Southern District of New York and the return of the firehouse yarn "Station 19" (ABC, 9 p.m.), which involves an overturned car. Starting the night off is a new "Grey's Anatomy" (ABC, 8 p.m.), in which Maggie reveals more about her personal life.
Also back for a new season, the brash school comedy "A.P. Bio" (NBC, 8:30 p.m.), alongside a new "Superstore" (NBC, 8 p.m.).
In the new series "The Order" (Netflix, streaming), a college student joins a group battling dark forces.
Amy has a complicated relationship with her brother on "Brooklyn Nine-Nine" (NBC, 9 p.m.), in an episode where Lin-Manuel Miranda guest stars.
On "The Other Two" (Comedy Central, 10:30 p.m.), Chase gets a nosebleed.
MG and Landon go missing on "Legacies" (CW, 9 p.m.).
"Young Sheldon" (CBS, 8:30 p.m.) tries to learn the violin.
Bonnie consults a therapist on "Mom" (CBS, 8:30 p.m.).
"Will & Grace" (NBC, 9:30 p.m.) are celebrating Valentine's Day a little late.
The final four learn about smelly Macau delicacies on "Top Chef" (Bravo, 8 p.m.).
"Backyard Envy" (Bravo, 10 p.m.) has its first season finale with a job fixing an upstate farm for a wedding.
Clem learns about Nick's ex on "Fam" (CBS, 9:30 p.m.).
On "Gotham" (Fox, 8 p.m.), Gordon is shot and hallucinates in the hospital.
Peace talks are initiated on "The Orville" (Fox, 9 p.m.).
A final battle occurs on the fifth season finale of "The Rap Game" (Lifetime, 10 p.m.).
"Braxton Family Values" (WeTV, 10 p.m.) introduces a lie detector test.
The Net Zero house is completed on "The This Old House Hour" (PBS, 8 p.m., check local listings).
Sam and Dean enlist Rowena to help them stop a flesh-eating demigod on "Supernatural" (CW, 8 p.m.).
On a new "Building Off the Grid" (Discovery, 9 p.m.), winter gets the best of a straw bale cabin in Maine on.
A woman disappears on Halloween night in Bend, Ore., on "Dead of Night" (Investigation Discovery, 9 p.m.).
"S.W.A.T." (CBS, 10 p.m.) looks into a carjacking ring.
Angela is blindsided on "Growing Up Hip Hop" (WeTV, 9 p.m.).
On "RuPaul's Drag Race" (VH1, 10 p.m.), queens must act out blockbuster movies.
Kenya Moore, Wendi McLennon-Covey and Macklemore are suckers tonight on "Hollywood Medium with Tyler Henry" (E!, 8 p.m.).
A lie detector test is introduced on "Braxton Family Velues" (WeTV, 10 p.m.).
Turner Classic Movies salutes the Fourth Estate Thursday nights this month with Journalism in the Movies, a 21-film salute starting with films that shows its intersection with politics. So: "All the President's Men" (8 p.m.), "Citizen Kane" (10:30 p.m.), "All the King's Men" (12:45 a.m.), "Meet John Doe" (2:45 a.m.) and "They Won't Forget" (5 a.m.).
NBA action has Indiana at Milwaukee (TNT, 8 p.m.) and Oklahoma City at Portland (TNT, 10:30 p.m.).
Hockey has Columbus at Pittsburgh (NBC Sports, 7 p.m.).
Spring baseball includes Minnesota vs. Boston (ESPN, 1 p.m.) and Oakland vs. San Francisco (MLB, 9 p.m.).
Men's college basketball has Cincinnati at Central Florida (ESPN2, 7 p.m.), Iowa at Wisconsin (ESPN, 7 p.m.), Temple at Connecticut (CBS Sports, 7 p.m.), Indiana at Illinois (Fox Sports 1, 8 p.m.), SMU at Houston (ESPN, 9 p.m.), UCLA at Colorado (ESPN2, 9 p.m.) and California at Stanford (ESPNU, 11 p.m.).
Men's college lacrosse has Loyola at Duke (ESPNU, 7 p.m.).
Daytime Talk
Kelly Ripa and Ryan Seacrest: Ricky Gervais. The View: Brie, Annette Bening, Janice Dean. Ellen DeGeneres: Jennifer Lopez (rerun). Wendy Williams: Dina Lohan. The Real: Boris Kodjoe, Jay Hayden, Grey Damon, Okieriete Onaodowan, Alberto Frezza.
Late Talk
Stephen Colbert: Sean. Cory Booker, Pamela Adlon, Mumford & Sons. Jimmy Kimmel: Kate Beckinsale, Jason George, Sam Fender. Jimmy Fallon: Adam Sandler, Stephen Merchant, Big Bird, Metro Boomin with Gunna (rerun). Seth Meyers: Ice T, Paul Schrader, Tucker Rule (rerun). James Corden: Cole Spouse, Don Levy, the Jonas Brothers. Carson Daly: Carmen Ejogo, Mt. Joy, Rhenzy Feliz (rerun). Conan O'Brien: Judd Apatow.