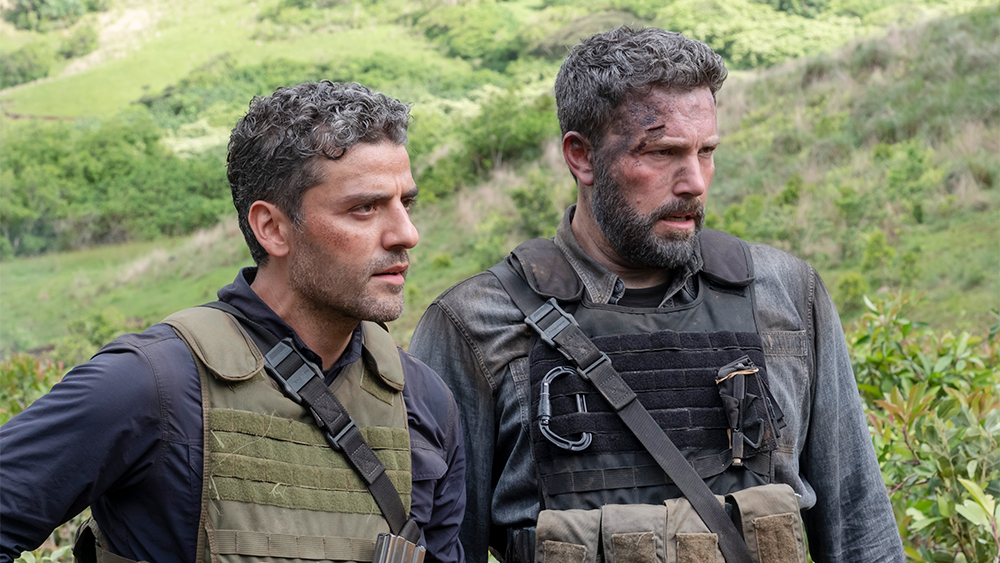 The troubled thriller "Triple Frontier" (Netflix, streaming)  from J.C. Chandor ("A Most Violent Year"), which was picked up by the streaming service after Paramount pulled the plug on a production with Channing Tatum and Tom Hardy, finally sees the light of day. Now starring Ben Affleck, the the big screen-style, cartel-robbing caper that is set near the borders of Paraguay, Agentina and Brazil, also features Oscar Isaac and Charlie Hunnam, among others. And it's also playing on some big screens.
There's been far more drama away from the camera than there could possibly be in a new episode of "Empire" (Fox, 8 p.m.), but yes, Jussie Smollett's character is in it.
Presumably, the world's best is named on the first season finale of "The World's Best" (CBS, 9 p.m.). And yes, one of the finalists is a ventriloquist.
There's three on the Edge of Extinction, and the former tribes switch up to become three new ones on "Survivor" (CBS, 8 p.m.).
Looking forward to a new "Full Frontal with Samantha Bee" (TBS, 10:30 p.m.).
"Documentary Now!" (IFC, 11 p.m.) stars Fred Armisen as a superman who goes looking for the creator of "The Far Side" comic strip.
Gretchen's anxiety coms to a head at a work event on "You're the Worst" (FXX, 10 p.m.).
Johnny and Moira hit a cat on "Schitt's Creek" (Pop, 10 p.m.).
Andrea offers to host the memorial service for her great uncle on "I'm Sorry" (truTV, 10 p.m.).
"Whiskey Cavalier" (ABC, 10 p.m.) travels to Rome to stop a terrorist attack.
Beverly stars in her own public access cooking show on "The Goldbergs" (ABC, 8 p.m.).
On "All American" (CW, 9 p.m.), Spencer learns the real reason his dad left.
Lainey goes to her high school reunion on "Schooled" (ABC, 8:30 p.m.).
On "Riverdale" (CW, 8 p.m.), Veronica reveals a damaging secret to Betty.
Alex is sent to the emergency room on "Black Ink Crew" (VH1, 9 p.m.).
If you're not already sick of Chris Harrison, he's on an episode of "Single Parents" (ABC, 9:30 p.m.).
"Tiny House Nation" (A&E, 10 p.m.) returns for a tiny fifth season.
Perhaps it's a metaphor for television: "Sinkholes: Swallowed Alive" (Science, 10 p.m.).
On "Modern Family" (ABC, 9 p.m.), Mitch, Cam and Phil crash Jay's hiking tip to find eagles.
After giving birth, "Star" (Fox, 9 p.m.) jeopardizes her career.
"Project Runway All Stars" (Lifetime, 9 p.m.) have to design modern ball gowns.
Penny licks an egg on "The Magicians" (Syfy, 9 p.m.).
"The Real Housewives of New York City" (Bravo, 9 p.m.) go to the Hamptons.
Chester has taken over Shabnam's house on "Deadly Class" (Syfy, 10 p.m.).
"Drop the Mic" (TNT, 10 p.m.) pits Jason Mitchell vs. Adina Porter and David Faustian vs. Joey Lawrence.
Antonio row, Ice Cube, Bill Nye and G-Eazy are on "Snoop Dogg Presents the Joker's Wild" (TNT, 10:30 p.m.).
Movies about missionaries are on Turner Classic Movies tonight with "The Bitter Tea of General Yen" (8 p.m.), "Hawaii" (9:45 p.m.), "The Inn of the Sixth Happiness" (12:45 a.m.) and "Rain" (3:30 a.m.).
Half of TCM's day is taken up with more Frederic March films left over from Tuesday night, with "The Adventures of Mark Twain" (8 a.m.), "Christopher Columbus" (10:15 a.m.), "It's a Big Country" (noon), followed by three with Errol Flynn, "The Charge of the Light Brigade" (1:45 p.m.), "Adventures of Don Juan" (4 p.m.) and "Desperate Journey" (6 p.m.), co-starring a former president.
NBA action includes Brooklyn at Oklahoma City (ESPN, 7 p.m.) and Golden Gate at Houston (ESPN, 9:30 p.m.).
Hockey has Chicago at Toronto (NBC Sports, 7 p.m.) and New Jersey at Edmonton (NBC Sports, 9:30 p.m.).
Spring baseball includes Atlanta vs. Washington (MLB, 1 p.m.), Cleveland vs Kahsas City (MLB, 4 p.m.) and San Diego vs. Angels (MLB, 9 p.m.).
Men's college basketball includes Clemson vs. N.C. State (ESPN, noon), Virginia Tech vs. Miami (ESPN, 2 p.m.), Butler vs. Providence (Fox Sports 1, 7 p.m.), Louisville vs. Notre Dame (ESPN2, 7 p.m.), Oklahoma State vs. TCU (ESPNU, 7 p.m.), Bucknell at Colgate (CBS Sports, 7:30 p.m.), West Virginia vs. Oklahoma (ESPNU, 9 p.m.), Syracuse vs. Pittsburgh (ESPN2, 9 p.m.) and DePaul vs. St. John's (Fox Sports 1, 9:30 p.m.).
In women's games, it's Boise State vs. Wyoming (CBS Sports, 10 p.m.) in the Mountain West championship.
Daytime Talk
Kelly Ripa and Ryan Seacrest: Keira Knightley, Colton Underwood. The View: Jay Leno, Colton Underwood. The Talk: Fran Drescher. Ellen DeGeneres: Lupita Nyong'o, Chaka Khan. Wendy Williams: Ryan Destiny. The Real: Yvette Nicole Brown, Cynthia Bailey.
Late Talk
Stephen Colbert: Patricia Arquette, Ian McShane, Strand of Oaks with Jason Isbell and Amanda Shires. Jimmy Kimmel: Matt LeBlanc, Winston Duke, Tomberlin. Jimmy Fallon: Mark Buffalo, Jim Jeffries, Normani with 6lack. Seth Meyers: Ricky Fervais, Asia Kate Dillon, James Bay, Allison Miller. James Corden: Sharon Osbourne, Sam Richardson, Ryan Conner. Carson Daly: Danielle Radcliffe, Snail Mail, Michael Zegen (rerun). Trevor Noah: Karamo Brown. Conan O'Brien: Kathy Bates.