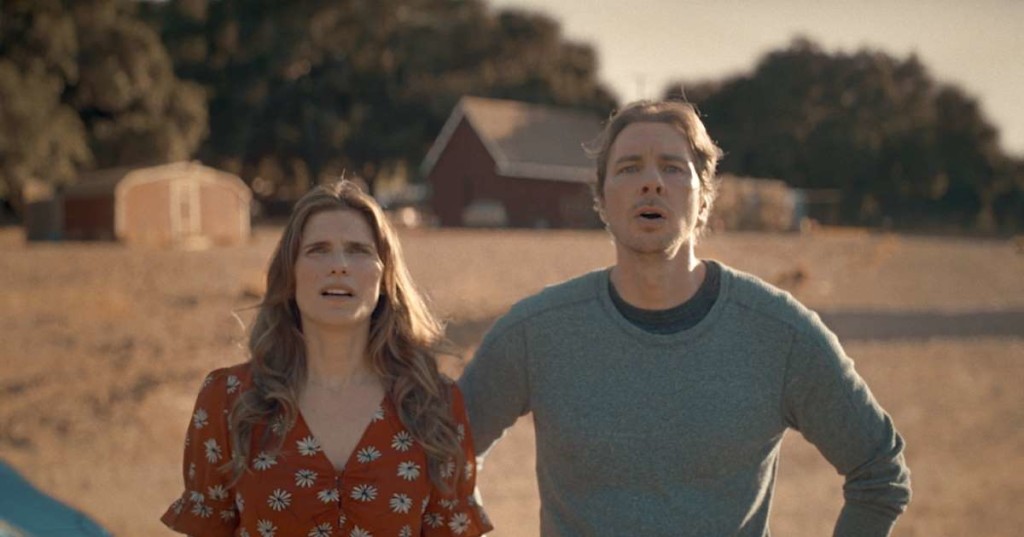 In a premise as old as "Green Acres," Dax Shepard and Lake Bell play a New York couple who abruptly move to a Nebraska farmhouse in the new "Bless This Mess" (ABC, 9:30 p.m.). With Ed Begley Jr. and JT Neal among the colorful locals that include Ed Begley Jr., Pam Grier and Lennon Parham. It all sounds a little forced but it comes in part from Elizabeth Meriwether who created "New Girl." To depict Nebraska, though, they've got to do a little more to up the Go Big Red factor and get rid of the mountains in the background.
A better family picture can be found in the new "There She Goes" (BritBox, streaming), starring David Tennant as the head of a family dealing with a daughter born with rare chromosomal disorder that causes severe disabilities and behavioral issues. How the family copes is the basis of the series, based on creator Shaun Pye's own family.
The rise of Jim Crow eliminates any advances after the Civil War in the concluding chapter of "Reconstruction: America After the War" (PBS, 9 p.m., check local listings) that also tracks how Civil War statues were erected decades later to send their own message.
How the two dancers met is covered in tonight's "Fosse / Verdon" (FX, 10 p.m.).
The football star Junior Seau is profiled on "30 for 30" (ESPN, 9 p.m.).
"The Big Interview with Dan Rather" (AXS, 8 p.m.) begins its ninth season with an interview with Steve Perry of Journey, a far step from his Watergate reporting.
Katie tries to get everyone to stop using their phones for a day on "American Housewife" (ABC, 8 p.m.).
The Top 14 on "MasterChef Junior" (Fox, 8 p.m.) go on a chicken cookout.
Shay reconnects with her old skate crew on "The Last O.G." (TBS, 10:30 p.m.).
"The Rookie" (ABC, 10 p.m.) ends its first season with a big exam.
Sharpe takes a major step in her personal life on "New Amsterdam" (NBC, 10 p.m.).
The rapper French Montana performs on "NCIS: New Orleans" (CBS, 10 p.m.).
On "Mexican Dynasties" (Bravo, 10 p.m.), Doris investigates Sam.
Katie sees Sarah in a new light on "The Village" (NBC, 9 p.m.).
Someone's missing from Camille's bridal shower on "The Real Housewives of Beverly Hills" (Bravo, 9 p.m.).
There's a major revelation on "Roswell, New Mexico" (CW, 9 p.m.).
On "Little People, Big World" (TLC, 9 p.m.) Amy proposes a new plan for the farm.
An American diplomat is killed while being used as a pawn on "FBI" (CBS, 9 p.m.).
On "Blackish" (ABC, 9 p.m.) Jack gets into trouble.
Peggy gets William to join the church choir on "The Kids are Alright" (ABC, 8:30 p.m.).
On "The Voice" (NBC, 8 p.m.), winners of the cross battles are named.
"The Flash" (CW, 8 p.m.) is suspicious about his daughter.
Jane freezes her eggs for an article on "The Bold Type" (Freeform, 8 p.m.).
"NCIS" (CBS 8 p.m.) has a 9/11 themed story.
Fans continue to dedicate their favorite films on Turner Classic Movies with the choices: "The Gold Rush" (8 p.m.) and "Gettysburg" (9:45 p.m.), followed by two other Civil War tales, "Glory" (2:15 a.m.) and "The Red Badge of Courage" (4:30 a.m.).
During the day, the 98th anniversary of the birth of Peter Ustinov is marked with movies in which he was featured (and a couple that he directed) with "Lola Montes" (7 a.m.), "Lady L" (9:15 a.m.), "Billy Budd" (11:15 a.m.), "Beau Brummell" (1:30 p.m.), "Hot Millions" (3:30 p.m.) and "The Sundowners" (5:30 p.m.).
NBA playoffs continue with Orlando at Toronto (TNT, 8 p.m.), San Antonio at Denver (NBA, 9 p.m.) and Oklahoma City at Portland (TNT, 10:30 p.m.).
Stanley Cup playoffs have Tampa Bay at Columbus (CNBC, 7 p.m.), Islanders at Pittsburgh (NBC Sports, 7:30 p.m.), Winnipeg at St. Louis (CNBC, 9:30 p.m.) and San Jose at Vegas (NBC Sports, 10:30 p.m.).
Baseball includes Boston at Yankees (MLB, 6:30 p.m.).
College baseball includes Butler at Purdue (Fox Sports 1, 7 p.m.).
Daytime Talk
Kelly Ripa and Ryan Seacrest: Mark Hamill, Lake Bell. The View: Priyanka Chopra Jonas, Preet Bharara (rerun). The Talk: Rick Fox. Ellen DeGeneres: Trevor Noah, James Bay, Julia Michaels. Wendy Williams: Christie Brinkley.
Late Talk
Stephen Colbert: Laurie Metcalf, Ramy Youssef, Cage the Elephant. Jimmy Kimmel: Martin Short, Katie Stevens, Christine and the Queens. Jimmy Fallon: Alex Rodriguez, Ashley Benson, Jade Bird. Seth Meyers: Julia Louis-Dreyfus, Mark Hamill, Ashley Longshore. James Corden: Rob Lowe, Elle Fanning, Blood Orange. Carson Daly: Pablo Schreiber, Robert Delong, Madeline Brewer (rerun). Trevor Noah: Sen. Bernie Sanders (rerun). Conan O'Brien: Taylor Tomlinson.