If tonight is the heralded finale of "Game of Thrones" (HBO, 9 p.m.), why were they striking the sets last week?
Daenerys may have been going off the deep end last week in destroying King's Landing, but who'd even want to rule a place that is pretty much ashes now? For all of the killing in this warry (half) season, an awful lot of the main characters are still alive and apparently impervious to death. With feature-length episodes (and budgets) tonight's farewell will still please probably no one, but still demands to be seen.
A less heralded finale is the one for "Les Miserables" (PBS, 9 p.m., check local listings) which has been a pretty good miniseries.
It's preceded by the eighth season finale of "Call the Midwife" (PBS, 8 p.m., check local listings).
All kinds of stressful things happen in the season two finale of "Barry" (HBO, 10:22 p.m.).
"Supergirl" (CW, 8 p.m.) tries to stop Lex Luthor's takeover of Washington, D.C., in the fourth season finale.
Macy's newfound power is a pain on the first season finale of "Charmed" (CW, 9 p.m.).
The limited series "The Red Line" (CBS, 8 p.m.) comes to a conclusion as well.
On the 10th season finale of "NCIS: Los Angeles" (CBS, 10 p.m.), there will likely be another cliffhanger.
This used to be a much bigger deal: The season finale of "American Idol" (ABC, 8 p.m.). This year, it's down to such non-household names as Alejandro Aranda, Laine Hady and Madison VanDenbug. One wins after a show that also includes performances from Adam Lambert, Weezer, Kool & the Gang,  long ago winner Carrie Underwood and the three current judges, Luke Bryan, Lionel Richie and Katy Perry.
Villanelle has become a person named Billie for her latest job on "Killing Eve" (AMC, BBC America, 8 p.m.).
"Our Cartoon President" (Showtime, 8 p.m.) tries to be as bad as Ann Coulter wants him to be.
Mary Pat resurfaces on "Good Girls" (NBC, 10 p.m.).
Gizelle goes into therapy on "The Real Housewives of Potomac" (Bravo, 8 p.m.).
Catherine schemes to marry England's Prince Harry on "The Spanish Princess" (Starz, 8 p.m.).
On "A Discovery of Witches" (AMC, BBC America, 9 p.m.), Diana learns why she was spellbound in the first place.
Lucas sets up a new library in town on "When Calls the Heart" (Hallmark, 9 p.m.).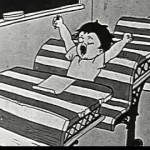 Hardly ever seen, there were 70 silent cartoons issued from Bray Productions 100 years ago starring Bobby Bumps. Turner Classic Movies shows 14 of them tonight, over 90 minutes, starting with "Bobby Bumps Gets a Substitute" (12:30 a.m.). Then comes two animated features from 1978 and 1983, "Watership Down" (2 a.m.) and "Twice Upon a Time" (3:45 a.m.). The evening begins with two screenplays by Horton Foote, "To Kill a Mockingbird" (8 p.m.) and "The Trip to Bountiful" (10:30 p.m.).
NBA Playoffs have Milwaukee at Toronto (NBA, 7 p.m.).
Stanley Cup playoffs have St. Louis at San Jose (NBC, 3 p.m.).
Baseball includes Houston at Boston (MLB, 1 p.m.) and Cubs at Washington (ESPN, 7 p.m.).
Final rounds are played in the PGA Championship (TNT, 11 a.m.; CBS, 2 p.m.) and the U.S. Senior Women's Open (Fox Sports 1, 3 p.m.).
Hockey's IIHF world championships have U.S. vs. Germany (NHL, 10 a.m.) and Russia vs. Switzerland (NHL< 2 p.m.).
College baseball includes Alabama State vs. Southern (ESPNews, 12:30 p.m.).
College softball has NCAA regional tournaments (ESPN, ESPN2, noon; ESPNU, 5 p.m.).
Men's college lacrosse includes Penn State vs. Loyola (ESPNU, noon) and Yale vs. Pennsylvania.
There is also some rodeo, with the Ty Murray Invitational (CBS, 1 p.m.).
Sunday Talk
ABC: Reps. Tulsi Gabbard and Seth Moulton, former Gov. John Hickenlooper. CBS: Acting Homeland Security Secretary Kevin McAleenan, Sen. Kirsten Gillibrand, Rep. Adam Schiff. NBC: Sen. Bernie Sanders. CNN: Sen. Mitt Romney, Gov. Steve Bullock, Rep. Pramila Jayapal. Fox News: Sens. Amy Klobuchar and Pat Toomey.