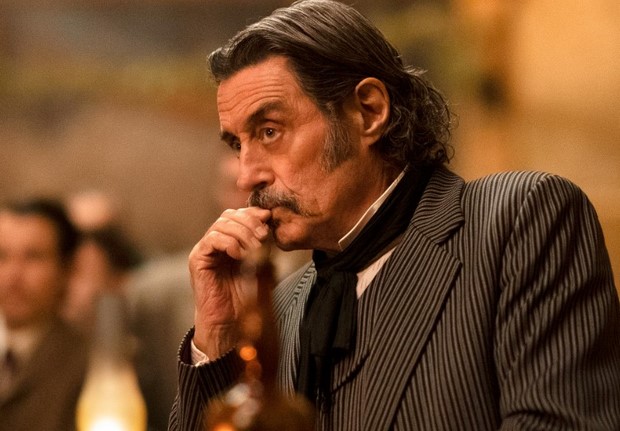 Of course there was disappointment when the rich and singular Western "Deadwood" was canceled abruptly after three seasons in 2006. For years, fans were promised a pair of movies to wrap up the story. And it's kind of a miracle that even one finally got made 13 years later.
The other miracle about "Deadwood: The Movie" (HBO, 8 p.m.) is that just about everybody in its stellar cast made a point to return and David Milch's series once more mixes a Shakespearean type dialogue with (somehow less noticeable) vulgarties. South Dakota's statehood celebration in 1899 is the excuse to bring back all manner of characters back to town, 10 years after the show's last action. Among those traveling back to Deadwood are Molly Parker's lovelorn bank officer, Robin Weigert's Calamity Jane to Gerald McRaney's evil George Hearst, now a U.S. Senator in California.
They are added to just about every one of the show's memorable cast — a testament to how beloved the show was to them as well. They include Timothy Olyphant's upstanding lawman, to Ian McShane's brooding bar owner Al Swearengen, now in failing health. Plus all the great character actors from Dayton Callie as Charlie Utter and William Sanderson as Mayor E.B. Farnum to Brad Dourif's exasperated doc.
Trixie and Sol are expecting a child by now and there are some faces that are famous for things they've done since then, from Kim Dickens to Anna Gunn.
You'll be surprised how much all the stories will come back to you (and if you need a nudge, there's a few quick flashbacks). It seems like too much a challenge to wrap every story neatly in two hours; the joy of the original is how the stories could unfold while taking time with the flowery and philosophic dialogue.
The underlying emotion of the work, superbly directed by Daniel Minahan, and the constant theme about inevitable decline is underscored by Milch's own battles with Alzheimer's behind the scenes.
It's a warming, welcoming and well made farewell, even as HBO seems to be dumping it on a random Friday night instead of giving it a wider Saturday or Sunday night showcase.