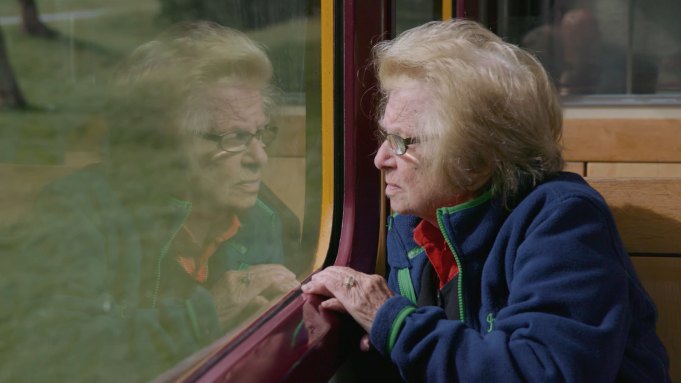 The story of the impish sex therapist and Holocaust survivor, now 90, is told in the documentary, "Ask Dr. Ruth" (Hulu, streaming), the hit at Sundance, premiering tonight. She reveals details about being a sharpshooter as a young woman in Israel and answers most questions of filmmaker Ryan White. Though she does say, "You will never know how much money I have, and you will never know with whom I'm sleeping. Next question."
"Bad Times at the El Royale" (HBO, 8 p.m.), Drew Goddard's neo-noir thriller with Jeff Bridges, Dakota Johnson, Jon Hamm and Chris Hemsworth, makes its premium cable debut. Also on tonight, Claire Foy and LaKeith Stansfield in the spy saga "The Girl in the Spider's Web" (Starz, 8 p.m.) and Paul Dano's directorial debut, an adaptation of Richard Ford's "Wildlife" (Showtime, 9 p.m.), with Jake Gyllenhaal and Carey Mulligan.
After the recent restrictive laws in Georgia, even Jane Austen probably regrets the setting of the latest remake of her classic, "Pride and Prejudice: Atlanta" (Lifetime, 8 p.m.), a version with Jackée Harry, Juan Antonio and Tiffany Hines.
Syfy counters the latest box office Godzilla with its own "Monster Island" (Syfy, 9 p.m.), with a series of kaiju creatures and a cast with Eric Roberts and Toshi Toda.
Kellie Pickler and Wes Brown return for "Wedding at Graceland" (Hallmark, 9 p.m.), the sequel to their  2018 "Christmas at Graceland." The new movie comes not only with  Elvis' famous house, but also his first wife, Priscilla Presley co-starring.
Prime time baseball has Boston at Yankees (Fox, 7 p.m.). Other games today include Minnesota at Tampa Bay (MLB, 1 p.m.), Milwaukee at Pittsburgh (Fox Sports 1, 4 p.m.), and Philadelphia at Dodgers (NBC, Sports, 8 p.m.).
Not big enough for a Saturday night prime time showcase is Game 3 of the Stanley Cup Finals with Boston at St. Louis (NBC Sports, 8 p.m.), relegated to cable. Lest we be denied a rerun of this week's premiere of "Songland" (NBC, 8 p.m.).
Five couples' relationships in North Carolina are tracked in the new "To Have and to Hold: Charlotte" (OWN, 10 p.m.).
An attack from Standard Oil brings the family together on "The Son" (AMC, 9 p.m.).
"Dodo Heroes" (Animal Planet, 9 p.m.) looks at a seal rescue outfit in Ireland.
A potion meant to make Morty attractive infects the world on a new "Rick and Morty" (Cartoon Network, 9:30 p.m.).
"Trading Spaces" (TLC, 8 p.m.) designs in the woods.
Those who fail to learn from History — that is to say, the History channel — are doomed to four house of reconstituted "Mountain Men" (History, 8 p.m.). Do they put this stuff on a loop?
"Iyanla: Fix My Life" (OWN, 9 p.m.) tries to repair an entire family.
Mating is tough for the mouse deer on "Secret Life of the Zoo" (Animal Planet, 11 p.m.).
As if you've forgotten any detail: "O.J. Trail of the Century 25 Years Later" (Investigation Discovery, 10 p.m.).
There is third round play in the French Open (Tennis, 5 a.m.; NBC, noon).
There is also third round play in golf's U.S. Women's Open (Fox, 2 p.m.) and the Memorial Tournament (Golf, 12:30 p.m.; CBS, 3 p.m.).
Auto racing includes the GT World Challenge (CBS Sports, 11:30 a.m., 4:30 p.m.), the IMSA SportsCar Championship: Detroit (NBC Sports, 12:30 p.m.), the Pocono Green 250 (Fox Sports 1, p.m.), Detroit Grand Prix Race 1 (NBC, 3:30 p.m.) and the Route 66 Nationals (Fox Sports 1, 7 p.m.).
The College Softball World Series games today begin with Washington vs. Minnesota (ESPN, noon) and Florida vs. Alabama (ESPN, 2:30 p.m.),
Bowling has its PBA playoffs (Fox, noon).
And the X Games (ESPNews, 11:30 a.m.; ESPN2, 2:30 a.m.) continue from Shanghai.
Jason Isbell & the 400 Unit and Amanda Shires play a 2017 "Austin City Limits" (PBS, 11 p.m.).
The Emma Thompson-hosted "Saturday Night Live" (NBC, 11:30 p.m.) with the Jonas Brothers, is rerun.