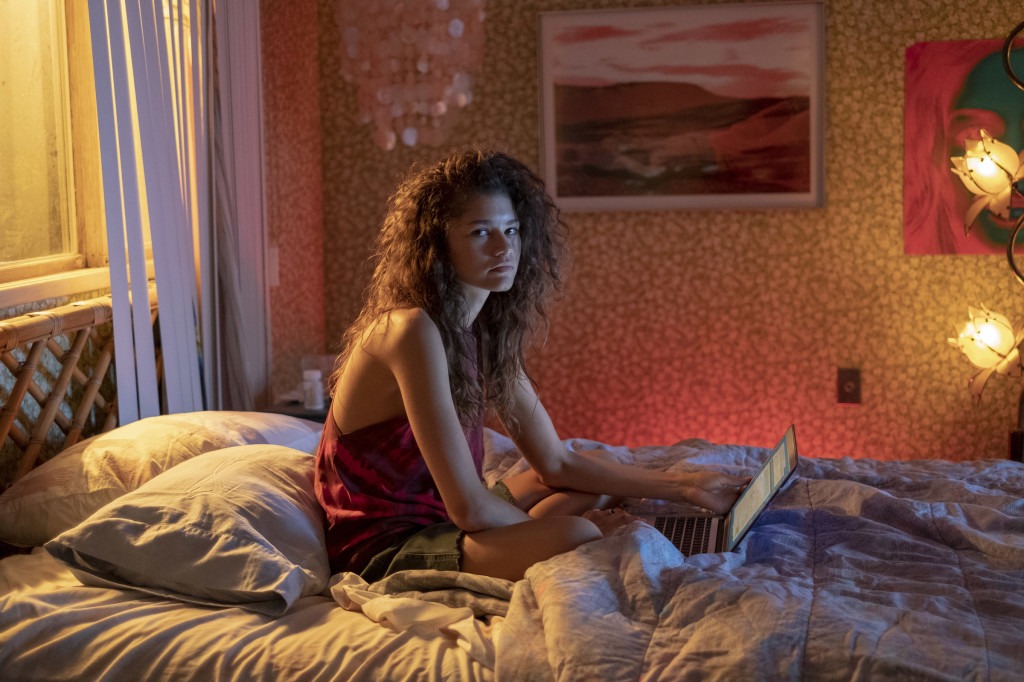 As if to ensure Nettlix doesn't have the corner on especially edgy turning-of-age teen dramas, here's "Euphoria" (HBO, 10 p.m.), an adaptation of an Israeli series that plunges former Disney Channel star Zendaya into a story of drugs and more drugs, sex and relationships. Expect disapproving response from parents. Hunter Schaefer, Maude Apatow, Sydney Sweeney and Nika King are in the cast; the hip hop star Drake is one of the producers. It's grim as can be, but probably more realistic than most such show.
In the sturdy new "City on a Hill" (Showtime, 9 p.m.), Kevin Bacon goes full character actor as a broken down FBI agent who agrees to help the new assistant district attorney (Aldis Hodge) go after racism and corruption in Boston in the 1990s. Ben Affleck and Matt Damon are executive producers; Michael O'Keefe, Jill Hennessy and Gloria Reuben are part of the cast. It's got a flinty energy
An historical drama about women struggling in the early American colony must have slipped by me, but here's season three of "Jamestown" (PBS, 10:30 pm., check local listings), starring Sophie Rundle, Naomi Battrick and Niamh Walsh, and from the makers of "Downton Abbey."
It follows a sixth-season start to the popular British prequel "Endeavour" (PBS, 9 p.m., check local listings).
At last, CBS decides to fill the summer schedule by sharing one of its best offerings from its streaming-only service, in "The Good Fight" (CBS, 9 p.m.), the online sequel to its fondly-remembered "The Good Wife."
Emma considers alternative sources of income on the first of two new episodes of "Vida" (Starz, 9 p.m.).
On "American Princess" (Lifetime, 10 p.m.), Amanda has surprised visitors at the Renaissance Festival.
There are different levels of terrible music. The youthful version can be found in the "ARDYs: A Radio Disney Music Celebration" (Disney, 8 p.m.).
Border separations is the topic on "The Weekly" (FX, 10 p.m.).
The mayhem likely continues on "Luther" (BBC America, 8 p.m.).
"Our Cartoon President" (Showtime, 8 p.m.) fakes a handshake with the troops.
The third episode of "NOS4A2" (AMC, 10 p.m.) is titled "The Gas Mask Man."
Emmett takes a step to adulthood on "The Chi" (Showtime, 10 p.m.).
It's not exactly WWII, but here's a look at early computer game turf battles on "Game Changers: Inside the Video Game Wars" (History, 9 p.m.).
Cassie and Sam honeymoon in a winery on "Good Witch" (Hallmark, 8 p.m.).
"Fear the Walking Dead" (AMC, 9 p.m.) is maneuvering through its fifth season.
Tough sailing on "The Real Housewives of Potomac" (Bravo, 8 p.m.).
"Claws" (TNT, TBS, 9 p.m.) is back for season two with a second episode on two networks.
Kim has psoriasis on "Keeping Up with the Kardashians" (E!, 9 p.m.).
And if there are more women to avoid, they can be found on the new "sMothered" (TLC, 10 p.m.).
It's Halloween in the French Quarter on "Southern Charm New Orleans" (Bravo, 9 p.m.).
"The Great Food Truck Race" (Food, 9 p.m.) makes it to Hilton Head.
Joshua Malina, Cedric the Entertainer, D.L. Hugely and George Lopez play "To Tell the Truth" (ABC, 10 p.m.).
Turner Classic Movies marks Father's Day with "Daughters Courageous" (6 a.m.), "Edward, My Son" (8 a.m.),  "A Family Affair" (11:45 a.m.), "East of Eden" (1:15 p.m.), "The Courtship of Eddie's Father" (3:30 p.m.), "A River Runs Through It" (5:45 p.m.), "Life with Father" (8 p.m.) and "Father of the Bride" (10:15 p.m.).
Then comes Lon Chaney in the silent "Tell It to the Marines" (midnight), and two from Chantal Ackerman, "News from Home" (2 a.m.) and "Les Rendezvous d'Anna" (3:45 a.m.).
The morning noir is "Pickup on South Street" (TCM, 10 a.m.).
Baseball includes Philadelphia at Atlanta (MLB, 1 p.m.) and Cubs at Dodgers (ESPN, 7 p.m.).
The women's soccer world cup continues with Sweden vs. Thailand (Fox Sports 1, 9 a.m.) and U.S. vs. Chile (Fox, Telemundo, noon).
The UEFA U-21 Euro has Spain at Italy (ESPNU, 3 p.m.), Haiti vs. Bermuda (Fox Sports 2, 6 p.m.), and Nicaragua at Costa Rica (Fox Sports 1, 8:30 p.m.).
Final rounds are played in the U.S. Open (Fox, 2 p.m.).
Auto racing includes the M&M's 200 (Fox Sports 1, noon), Thunder Valley Nationals (Fox Sports 1, 2 p.m.) and the American Ethanol 250 (Fox Sports 1, 5:30 p.m.).
WNBA action has Seattle at Connecticut (ABC, 3:30 p.m.).
College baseball world series has Louisville vs. Vanderbilt (ESPN, 2 p.m.) and Auburn vs. Mississippi State (ESPN2, 7:30 p.m.).
Track and field has the Boston Games (NBC, 4:30 p.m.).
The major league rugby final has Seattle vs. San Diego (CBS, 4 p.m.).
Sunday Talk
ABC: Donald Trump, Alexandria Ocasio-Cortez. CBS: Pete Buttigieg, Secretary of State Mike Pompeo, Sen. Tom Cotton, Rep. Adam Schiff. NBC: Buttigieg, Rep. Steve Scallise. CNN: Buttigieg, Beto O'Rourke. Fox News: Pompeo, Sen. Bernie Sanders.