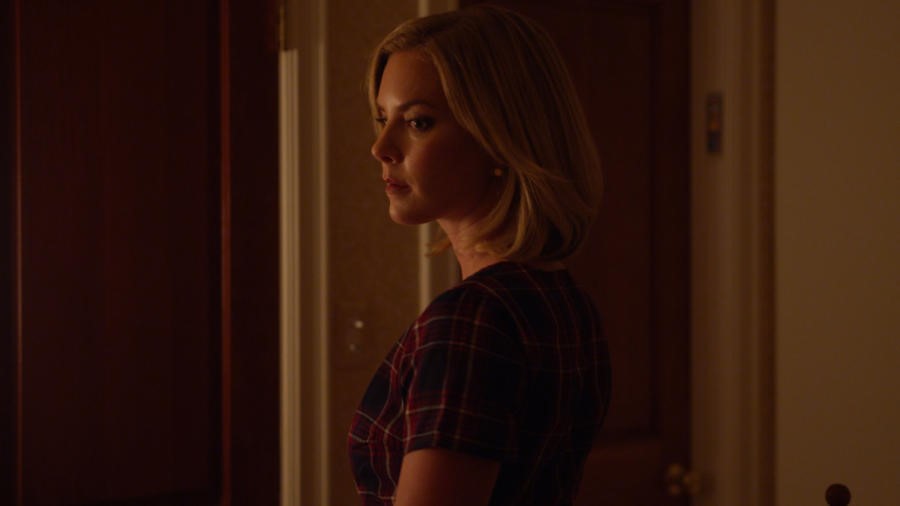 Cindy Busby stars as a manic new stepmom in the made-for-TV "The Wrong Stepmother" (Lifetime Movies, 8 p.m.), which also features Vivica A. Fox, Corin Nemec, Tracy Nelson, Calli Taylor and McKinley Blehm.
It's the first of four consecutive Friday night movies featuring and produced by Fox. Coming up this month are: "The Wrong Boy Next Door," "The Wrong Mommy" and "The Wrong Tutor." Which are not to be confused with the other actual Lifetime movies, "The Wrong Student," "The Wrong Car," "The Wrong Woman," "The Wrong Son," "The Wrong Boyfriend" and "The Wrong Mother." Which all sounds like pretty much the wrong direction.
Obviously not a big day for new content on TV. It's the rare Friday when even Netflix doesn't have one new title to unleash, let alone the usual half dozen. They probably are counting on you to finish up season 3 of "Stranger Things" (Netflix, streaming), which dropped yesterday. Its horror bits are pretty cheesy, but I can see why people enjoy this cast and the 80s details.
On "Los Spookys" (HBO, 11 p.m.), the group agrees to help the U.S. ambassador fake her own abduction in order to get the visas they need to get to Hollywood. But something goes wrong with an enchanted mirror.
Elsewhere, "Savage Builds" (Discovery, 10 p.m.) an Excalibur sword.
It's Earth against the Galaxy-Hopping Hate-Beast That Eats Planets, a monster with a terrible name, on "Marvel's Agents of S.H.I.E.L.D." (ABC, 8 p.m.).
Kathryn helps Caden's recovery on "MotherFatherSon" (Starz, 10 p.m.).
Terrible vacation plan: "Ghosts of Morgan City" (Travel, 9 p.m.).
Did Hollywood's greatest year occur 80 years ago? That's the premise of the Friday showcase this month on Turner Classic Movies, starting with "The Four Feathers" (6 a.m.), "Dodge City" (8:15 a.m.), "On Borrowed Time" (10:15 a.m.), "Young Mr. Lincoln" (noon), "The Old Maid" (1:45 p.m.), "Only Angels Have Wings" (3:45 p.m.), "Ninotchka" (6 p.m.), "The Wizard of Oz" (8 p.m.), "The Hunchback of Notre Dame" (11:15 p.m.), "Gunga Din" (1:30 a.m.), as well as the 2009 documentary "1939: Hollywood's Greatest Year" (10 p.m.). Later comes David Cronenberg's 1977 "Rabid" (3:45 a.m.).
Baseball includes Yankees at Tampa Bay (MLB, 7 p.m.) and San Diego at Dodgers (MLB, 10 p.m.).
There's third round play at Wimbledon (ESPN, 6 and 11 a.m.).
A full roster of the NBA summer league has Croatia vs. Detroit (NBA, 3 p.m.), Milwaukee vs. Philadelphia (ESPN2, 3:30 p.m.), Cleveland vs. Minnesota (NBA, 5 p.m.), China vs. Miami (ESPNU, 5:30 p.m.), Brooklyn vs. Dallas (NBA, 7 p.m.), Chicago vs. Lakers (ESPN, 7:30 p.m.), Golden State vs. Charlotte (NBA, 9 p.m.), New Orleans vs. Knicks (ESPN, 9:30 p.m.), San Antonio vs. Orlando (NBA, 11 p.m.) and Denver vs. Phoenix (ESPN, 11:30 p.m.).
WNBA action includes Indiana at Dallas (CBS Sports, 8 p.m.) and New York at Phoenix (CBS Sports, 10 p.m.).
Soccer's Africa Cup of Nations has Morocco vs. Benin (beIn Sports, noon) and Uganda vs. Senegal (beIn Sports, 5 p.m.).
NASCAR runs its Firecracker 250 (NBC Sports, 7:30 p.m.).
In the International Softball Cup it's U.S. vs. Japan (ESPN2, 6 p.m.).
Daytime Talk
Kelly Ripa and Ryan Seacrest: Ricky Gervais, DJ Pauly D, Lance Ulanoff, Goo Goo Dolls. The View: Neil Patrick Harris, David Burtka (rerun). The Talk: Mario Lopez, Gina Torres. Ellen DeGeneres: Reese Witherspoon (rerun). Wendy Williams: Blac Chyna (rerun). The Real: Aldis Hodge (rerun).
Late Talk
All reruns: Stephen Colbert: Bill Hader, James Bay. Jimmy Kimmel: Celine Dion, Chris Tucker. Jimmy Fallon: Sting, KJ Apa. Seth Meyers: Jordan Peele, John David Washington, Alec Benjamin. Carson Daly: Rhys Darby, Drab Majesty, Rhett & Link.