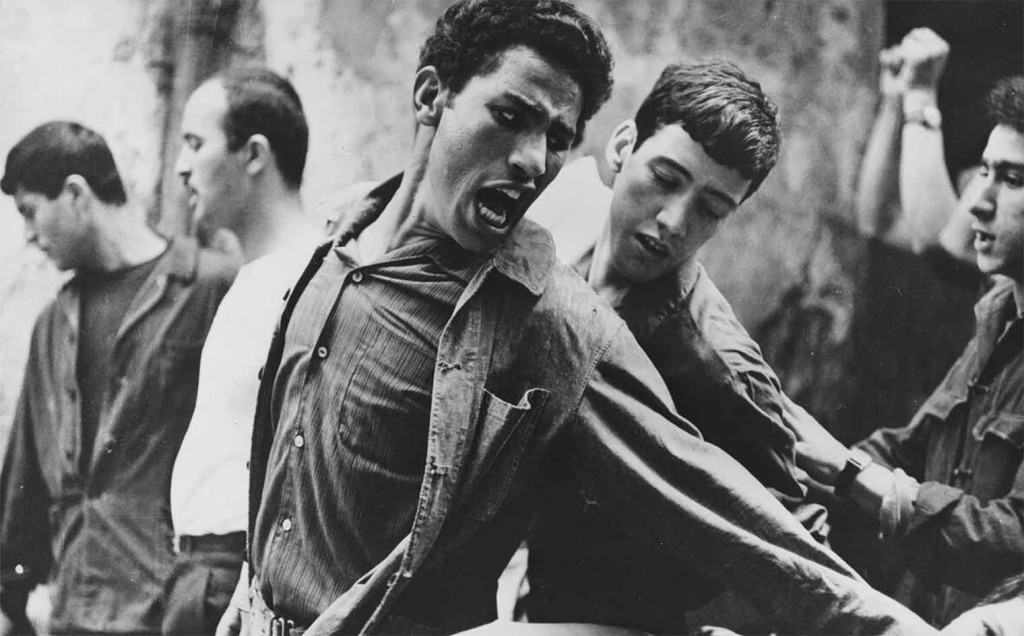 It's an Algiers double feature on Turner Classic Movies with Gillo Pontecorvo's 1966 "The Battle of Algiers" (8 p.m.). Ana DuVernay introduces the influential film about the Algiers overthrow of the occupying French Foreign Legion in 1957, shot on the streets it took place.
It's paired with the 1938 crime film "Algiers" (10:15 p.m.) with Charles Boyer, Sigrid Gurie and Hedy Lamarr.
Then comes the midnight noir, "The Tattooed Stranger" (midnight), about a Central Park murder, and two topical films from the late 70s and early 80s, "The China Syndrome" (1:30 a.m.) with Jane Fonda and Jack Lemon, and "Absence of Malice" (3:45 a.m.) with Paul Newman and Sally Field.
The comedian talks about his considerable weight loss on his stand-up special "Lavelle Crawford: New Look Same Funny!" (Showtime, 10:35 p.m.).
Party pools are the focus of "Best. Pool. Ever." (HGTV, 10 p.m.), which may also be the goal of "Pool Hunters" (HGTV, 9:30 p.m.), making its premiere. There's also a new show about homeowners who want to expand an existing watering hole, with "Supersize My Pool" (HGTV, 9 p.m.). And the evening begins with "Pool Kings" (HGTV, 8 p.m.).
Rami Malek performs his Oscar-winning role as Queen lead singer Freddie Mercury as "Bohemian Rhapsody" (HBO, 8 p.m.) has its premium cable debut. Also premiering tonight: the dystopian thriller "Hotel Artemis" (Showtime, 9 p.m.) with Jodie Foster and Sterling K. Brown, and the horror flick "The Possession of Hannah Grace" (Starz, 8 p.m.) with Shay Mitchell, Grey Damon and Kirby Johnson.
On the made-for-TV romance "Love Unleashed" (Hallmark, 9 p.m.) Jen Lilley and Christopher Russell play a couple who meet at a puppy party.
Less cheery is the TV movie "Trapped Model" (Lifetime, 8 p.m.) in which a photo session leads to a kidnapping. Its cast includes Lucy Loken, Wes McGee and Kiki Harris.
"Dodo Heroes" (Animal Planet, 9 p.m.) visits the wombat sanctuary.
A poisoned cat is treated by "Dr. Jeff: Rocky Mountain Vet" (Animal Planet, 8 p.m.).
An Arctic superstorm rattles "Deadliest Catch" (Discovery, 9 p.m.).
"Million Dollar Mile" (CBS, 8 p.m.) continues its competitions.
A capybara gives birth on "Secret Life of the Zoo" (Animal Planet, 11 p.m.).
A man tries to form a relationship with his three sons after abandoning them nearly 30 years earlier on "Iyanla: Fix My Life" (OWN, 9 p.m.).
A pregnancy test is taken on "To Have and To Hold: Charlotte" (OWN, 10 p.m.).
Sports are all over prime time tonight with baseball of Philadelphia at Mets (Fox, 7 p.m.) and NASCAR's Coke Zero Sugar 400 (NBC, 7:30 p.m.).
Other baseball today includes Texas at Minnesota (MLB, 2 p.m.), Yankees at Tampa Bay (MLB,, 5 p.m.) and Colorado at Arizona (Fox Sports 1, 10 p.m.).
It's England vs. Sweden (Fox, 11 a.m.) for a third place title in the women's soccer world cop.
Soccer's Africa Cup of Nations round of 16 has Nigeria vs. Cameroon (beIN Sports, noon) and South Africa at Egypt (beIN Sports, 3 p.m.).
WNBA action has Minnesota at Connecticut (ESPN2, 2 p.m.).
The NBA Summer League, earthquakes willing, has Utah vs. Oklahoma City (NBA, 3 p.m.), Detroit vs. Portland (ESPNU, 3:30 p.m.), Milwaukee vs. Atlanta (NBA, 5 p.m.), Philadelphia vs. Boston (ESPN, 5:30 p.m.), Indiana vs. Memphis (NBA, 7 p.m.), Lakers vs. Clippers (ESPNU, 7:30 p.m.), Houston vs. Dallas (NBA, 9 p.m.), Washington vs. New Orleans (ESPN, 10 p.m.), China vs. Sacramento (NBA, 11 p.m.) and Toronto vs. Golden State (ESPN, midnight).
There is third round play at Wimbledon (ESPN, 8 a.m. and noon).
Golf's 3M Open (Golf, 1 p.m.; CBS, 3 p.m.) has third round play.
Softball's international cup has Mexico at U.S. (ESPN2, noon) as well as Puerto Rico at U.S. (ESPN2, 4 p.m.).
Horse racing has its Belmont Oaks Invitational (NBC, 4 p.m.).
And the 106th Tour de France (NBC Sports, 6:30 a.m.) begins in Brussels in honor of the 50th anniversary of the first Tour de France win of Eddy Merckx.
Miranda Lambert plays a 2017 edition of "Austin City Limits" (PBS, 11 p.m., check local listings).
The Jason Momoa-hosted "Saturday Night Live" (NBC, 11:30 p.m.) is rerun, with musical guests Mumford & Sons.